4/6/1968 - No surprise whatsoever to the family and friends of Pink Floyd, weary of the energy required to continue pretending he is still a viable performer with the band, the group officially announces that songwriter and guitarist Roger Keith "Syd" Barrett, is no longer a member as the musician becomes yet another cautionary tale of the hazards of rock-and-roll fame.
Barrett
Born to a middle-class family living in Cambridge, England on 1/6/1946, Barrett is the fourth of five children born to a prominent local pathologist and his wife. Leading a normal life growing up, Barrett is well liked (one of his childhood friends is future Pink Floyd member, Roger Waters), and though he doodles on the ivories of a piano occasionally, at first he prefers writing and drawing to music. At ten years old though his focus changes when he gets a ukulele ... a natural, that instrument mastered, at eleven he begins playing banjo, and at fourteen he takes up acoustic guitar. By fourteen, he also begins using the nickname, Syd (as a tribute to a jazz bassist named Sid "The Beat" Barrett). And as a teenager, he has his world disrupted for the first time when his father dies of cancer in 1961. Huge hole in his life, his mother encourages him to move past his grief by opening her living room to musical gigs by Barrett and the group he is playing in (and formed), Geoff Mott and the Mottoes.
Barrett - 18 Months
Barrett With Chimp - Six
Camping - Thirteen
High School - 1961
Off to the Cambridge Technical College's art department, where Barrett becomes friends with future Pink Floyder, David Gilmour, the guitarist becomes a huge fan of the Beatles, and then the Rolling Stones (and once those influences take hold, he becomes inspired by Bob Dylan), influences that push him towards songwriting (he begins playing a raw version of his song, "Effervescing Elephant," in 1964). At the same time he begins writing his own tunes, he joins the band that will become Pink Floyd ... a group of musicians (Barrett on guitar and lead vocals, Roger Waters on bass and vocals, Nick Mason on drums, and Richard Wright on keyboards and vocals) that calls themselves "The Adabs," then "The Screaming Adabs," then "Sigma 6," and then "The Meggadeaths. When Barrett joins the band in 1965, the group is performing under the name of "The Tea Set" (sometimes also spelling it, "The T Set") ... there is a problem though with the name that surfaces during a concert ... another band playing at the same concert is also calling themselves "The Tea Set." No problem, in an instant, Barrett comes up with a new name for the group based on two blues musicians he admires, Pink Anderson and Floyd Council ... and so the group becomes the "Pink Floyd Sound" (the "Sound" part will of course soon be dropped). Also in 1965, Barrett begins his descent into drug addled psychosis when he takes his first acid trip (during one of his first trips, Barrett sits naked in a bathtub, screaming over-and-over again, "No rules, no rules!").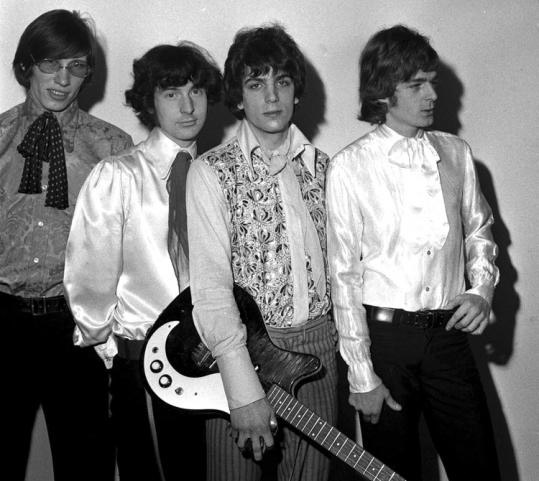 Original Members - L To R - Waters, Mason,
Barrett, and Wright
Playing cover versions of American R&B songs mixed with original material, the band, pushed by Barrett (at the time he is reading Grimm's "Fairy Tales," Tolkien's "The Hobbit" and "Lord of the Rings," and Carlos Castaneda's "The Teachings of Don Juan") begins improvising riffs during concerts on guitar and keyboards like jazz musicians. Quickly gaining a following, the band has it's first successes in 1966 and 1967 as they acquire a competent management team, record their first album ("The Piper at the Gates of Dawn ... a title copped from the name of the seventh chapter of Kenneth Grahame's classic childhood tale, "The Wind in the Willows" ... of the eleven songs on the album, six are written by Barrett, two are co-written by Barrett, and his guitar playing and vocals are featured on two others ... the first single released is "Arnold Layne," which reaches #20 on the British music charts, the second, "See Emily Play," does even better, getting to #6 ... both are Barrett compositions), have their music appear in the film, "Tonite Let's All Make Love in London" (a 16-minute version of "Interstellar Overdrive" and "Nick's Boogie"), and become the house band of the London haven for psychedelic movie playing gigs at London's UFO Club.
First Album
At The UFO Club - 1967
As Pink Floyd's stocks begin their rise to super-stardom, Barrett's sadly go into rapid decline. Whether from a genetic source, his personality, repeated acid trips (and dabbling with other drugs), or a combination of all factors, Barrett, once described as a happy, friendly free soul, becomes increasingly depressed and begins to withdraw from the band and society at large ... increasingly he hallucinates, talks in meaningless riddles, has intense mood swings, memory lapses. periods of catatonia, vanishes for days and weeks, and develops a blank, dead-eye stare that freaks out his band mates and friends. And his train wreck moments become legendary ... he thanks Las Vegas for their applause while on stage in Los Angeles, a often strums only one chord through an entire performance, during a San Francisco performance of "Interstellar Overdrive" he slowly detunes his guitar, asked questions on Pat Boone's talk show, he answer each by just blankly staring into the television camera, he similarly stares and offers terse answers during the band's appearance on Dick Clark's American Bandstand, locks his girlfriend in a room for three days, feeding her by shoving biscuits under the door, during a bad trip has his friend's lock him in a linen cupboard, beats a girlfriend over the head with a mandolin, more than once during recording sessions he forgets to bring his guitar, damages studio equipment, and is often unable to hold his pick, before a 1967 performance he paints his hair with crushed Mandrax tranquilizer pills and a full tube of Brycreem (which the stage lights turn into a goo that melts all over his face), and teaching the band a new song he calls, "Have You Got It Yet?," Barrett changes the arrangement each time the band tries to play his song as he screams at them, "Have you got it yet?"
Barrett
And the band reacts in stages, first supplementing their sound by having David Gilmour join the group to keep the music moving while Barrett more and more often mindlessly wanders around the stage at first believing they will be like the Beach Boys and Brian Wilson, with Barrett staying home creating new works of art that the other members of Pink Floyd then take on the road ... but even that doesn't help as the guitarist sinks deeper and deeper into his own world (the group asks renown psychiatrist R. D. Laing for help, but after listening to a taped recording of a conversation of Barrett's, the mind doctor declares the musician "incurable."). Deeper and deeper to the point where he is cut out of the band's activities almost totally ... in 1968, driving to a concert at Southampton College, the band decides not to pick up Barrett for the gig (and the guitarist doesn't even notice), an operational mode that continues until Barrett gets the boot. Caught between living with Barrett and being a member of Pink Floyd, Richard Wright begins lying to his roommate each time the band has a concert or recording session, telling him that every time he leaves, he is going out for cigarettes (and is horrified to often return after hours or days, to find Barrett in the same position as when Wright left, sometimes with a burnt out stub of a cigarette or joint in hand ... with Barrett asking when he returns from another adventure in catatonia, "Have you got the cigarettes?" Too much finally, on 4/6/1968, Pink Floyd announces what has already taken place ... founding member Syd Barrett is no longer a member of the band (big change from album #1 to record #2, on "A Saucerful of Secrets, Barrett will have only one song, "Jugband Blues").
1968 - Gilmour Joins The Band
Front Cover - A Saucerful Of Secrets - Artwork Created
No More Barrett
But Barrett's story doesn't end with his bouncing from Pink Floyd. For a year, the guitarist drops out of the public eye, but returns briefly to try a solo career that produces two very forgettable albums, ("The Madcap Laughs" and "Barrett," both released in 1970). And for a time, like some kind of musical ghost, unannounced, he shows up at Pink Floyd concerts and recording sessions (in one famous incident, trying to join his former band for a concert in Ibiza, he skips check-in and customs and runs out on to the runway and attempts to flag down a jet to Spain). In 1972, he forms a band with friends called "Stars" ... which he quits the day after the group receives a bad review for a Cambridge concert that takes place at the city's Corn Exchange. His last moments as a professional musician take place in 1974, when his former friend a Pink Floyd manager convinces him to put down some tracks at the Abbey Roads Studios (three days working on 11 "songs," only one of which is titled, poignantly, "If You Go, Don't Be Slow."
First Album Cover
Second Album Cover
Barrett
The Look
Falling Apart
Madness!
Music career over, Barrett returns home to Cambridge and lives with his mother for a time, moves back to London for a few weeks, and then goes back to Cambridge, living off royalty checks from Pink Floyd (inducted into the Rock And Rock Hall Of Fame as a member of the group in 1996, Barrett does not attend the ceremony) and basically becomes a recluse (only his sister Rosemary will have any kind of regular contact), while gardening and working on abstract paintings. His last contact with the world of music he once was a major player in takes place in 2002 when he signs 320 copies of photographer Mick Rock's book, "Psychedelic Renegades," that includes a number of shots of Barrett in his prime.
Induction
Health destroyed by acid and not taking care of himself for years and years, he fights diabetes for several years before dying at the age of 60 in his Cambridge home from pancreatic cancer. Gone but not forgotten, upon his death his boyhood friend and fellow Pink Floyd member, David Gilmour will state, "We are very sad to say that Roger Keith Barrett - Syd - has passed away. Do find time to play some of Syd's songs and to remember him as a madcap genius who made us all smile with his wonderfully eccentric songs about bikes, gnomes and scarecrows. His career was painful short, yet he touched more people than he can ever know." Indeed, for the record, Paul McCartney, Pete Townshend, Blur, Kevin Ayers, Gong, Marc Bolen, Tangerine Dream, Julian Cope, David Bowie, Jimmy Page, Brian Eno, the Sex Pistols, The Damned, XTC, and Robyn Hitchcock will all acknowledge Barrett as a musical influence, a person that liked to have work with, or both ... once upon a time, he was that good!
Transformed
Barrett
4/6/1968 - "See ya Syd!" ... Pink Floyd gives the boot to founding member Syd Barrett.
Barrett's Favorite Guitar - Mirror
Covered Fender Esquire
Once Upon A Time