4/25/1932 - Unsurprisingly given the company he is keeping, Arthur Dunlop's body is discovered on the isolated shores of Frenstad Lake in Wisconsin, killed by his common-law wife's youngest of four sons, and the son's Canadian best friend ... the lady in Dunlop's life is Arizona Donnie Clark Barker, who will soon be known to police agencies around the country as Ma Barker, and the two killers are her 30-year-old son, Fred, and future Public Enemy #1, Alvin "Old Creepy" Karpis.
Mother to a brood of thieves and murderers (all four of her sons will die from gun wounds, as will she), in 1928 after she kicks her husband George Barker out of the house over their continuing battles about the criminality of their four sons (the catalyst is George's refusal to support his son Lloyd after he robs a mail truck and is arrested), Ma shacks up with a jobless old man that makes her happy, Arthur Dunlop. A seemingly happy pair about the live their golden years in Oklahoma, everything begins to come unraveled when Freddy Barker is paroled from prison in 1931 and moves in with the couple, and is soon joined by the friend Freddy has made in the Kansas State Penitentiary at Lansing while serving time for burglary, Alvin Karpis. Base camp established in Tulsa, Oklahoma, the boys are soon pulling off burglaries in the area ... until they draw too much heat to themselves, and with proceeds from the pair's first bank robbery, buy Ma a small, ten-acre farm and house (a four room cottage on a knoll where anyone approaching the farm can be seen way ahead of their arrival) in Missouri that the foursome next move into. It too is ruined as a base of operations (along with everyone's Christmas plans for 1931) when Freddy and Karpis are approached by West Plains, Missouri, Sheriff C. R. "Roy" Kelly (investigating the recent robbery of the town's McCallon's clothing store the men have pulled off, among the booty, showing the crooks still need some seasoning, are fifty neckties, stolen by men who usually don't wear ties) while parked in a stolen blue DeSoto at a gas station (they are having two flat tires fixed) and cold bloodily gun the lawman down (45-years-old, Kelly leaves behind a widow, who serves out the sheriff's term in office).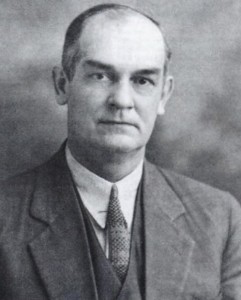 Fleeing just ahead of the arrival of a posse of lawmen, the group makes their way to the shelter of a criminal safe house outside of Joplin, Missouri run by a confidence crook named Herbert "Deafy" Farmer. There, the crook suggests they will be even safer if they move north to St. Paul, Minnesota, where for a fee, the corrupt police force will leave the outlaws alone, and where Freddy and Karpis can make the contacts necessary to become big time bank robbers by hanging out at the town's notorious Green Lantern tavern run by Harry Sawyer (bank robbers Harvey Bailey and Frank "Jelly" Nash are regulars there, as is gangster wannabe, George "Machine Gun" Kelly). So its off to St. Paul, where the group rents a place from Helen Hannegraf (who lives next store, where she makes bootleg whiskey out of sauerkraut in the basement, which her son Nick then sells at the family's speakeasy, the Drover's Tavern) at 1031 South Robert Street as the Anderson Family. Settling in as seemingly normal while Freddy and Karpis pull off burglaries and make friends with the local crooks, the Anderson's drive Helen's granddaughter to the local Catholic school and pick her up when school is over, become friends with local children who walk Ma's dog for her for the fee of a nickel or a candy bar, and Dunlop drinks bootleg whiskey with Nick Hannegraf's brother, Pete (not amusing Freddy or Karpis in the least as the old man gets loquacious when hammered).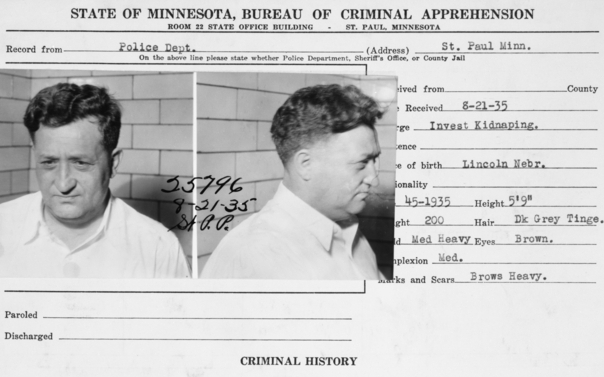 As wished for, Freddy and Karpis are soon asked to join in a robbery planned by another Karpis convict pal, killer Larry DeVol (who will kill eleven people before being gunned down himself in Enid, Oklahoma in 1936), that also includes veteran bank robbers Thomas Holden and Bernard Phillips. Almost perfect, the gang hits Minneapolis' Northwestern National Bank and Trust Company on 3/29/1932 and holding the 28 patrons and employees at gunpoint, the outlaws remove $75,000 in cash, $6,500 in coins, and $185,000 in bonds ... the big time indeed! But thanks to one of the Hannegraf's, there latest hiding place in St. Paul is discovered by the police and the group is on the road once more.
Thumbing through a copy of the latest edition of True Detective magazine, Nick Hannegraf is shocked to see the two Anderson boy's faces in an article about the killing of Sheriff Kelly ... no best buddy to the neighbors with reward money in play, after warning his mother, he races to the nearest police station and makes his announcement about the crooks ... and waits and waits and waits as he is shuffled from department to department. Shuffling that is a stall for the corrupt Chief of Police, Thomas "Big Tom" Brown, to call Harry Sawyer with a warning, who in turn warns the Barkers. Out the door in seconds (in fact the door is left open in their hurry to leave) and down the road in two cars, when a police raiding team arrives about thirty minutes later, they find the radio on, the gas for the stove going, a half eaten meal on the kitchen table, Ma's brown fur coat, pairs of new shoes Freddy has just purchased, a closet full of clothes with all the labels torn off, a fishing box, a portable radio, a camera with pictures inside of Ma, a suitcase containing twelve .45 automatic shells, four .16-gauge shotgun shells, and two pistol cleaners, and under the rug, a $500 bond stolen in 1931 from the Farmers Savings Bank of Alden, Iowa (rushing to remain ahead of the law, the bandits do pause long enough to steal Mrs. Hannegraf's expensive silverware).
The Crooked Police Chief Brown
Ma With The Holiday Spirit
Unaware they have been ratted out by their next store neighbor, the deadly minds of Freddy and Karpis instantly gravitate to the person they believe is responsible for their almost getting caught in a town that was suppose to be safe, the 73-year-old whiskey brained motor mouth they are traveling with, Ma's Arthur Dunlop. Headed for Kansas City by way of Webster, Wisconsin, denials ignored, the travelers make a stop at Frenstad Lake and leave Dunlop behind, naked, with a killing .45 slug in his head (meant for a watery grave and never being found, Freddy and Karpis are unable to drag Dunlop's body over 100 yards of bog to the waters of the lake), left behind also near the body is a woman's black glove, covered in blood. Adios Arthur!
The murder just another crime on the men's resumes, before Freddy is killed and Karpis is arrested and sent away to Alcatraz, there will be more killings of both policemen and civilians, numerous bank and payroll robberies, killings of gang members thought to be "suspect" in some manner, the execution of a doctor for a botched job of plastic surgery, two kidnappings, a train robbery, an escape made by plane for the first time, and four hour machine gun battle with the FBI ... sadly for cops of the Midwest, the robbers themselves, and anyone in between them, the Barker-Karpis Gang is just getting started!