4/28/1908 - Awakening to the smell of smoke in his second floor room, recently hired farmhand Joe Maxson finds the house of his employer, Belle Sorenson Gunness, on fire. Screaming Belle's name and those of her children, Maxson gets no response, and barely having enough time to save himself, jumps out of a window in his underwear, and runs to the town of La Porte, Indiana for help. By the time the old fashioned hook-and-ladder fire wagon gets to the farm the house is a total loss and the cleanup begins ... in which the bodies of Belle's three children are found, plus that of a female corpse with its head decapitated. Opening clues to a mystery that still exists, the Indiana community will soon be horrified to discover that a female serial killer has been living in their midst for years!
Belle With Three Of Her Children She Will Murder
Born Brynhild Paulsdatter Storseth to a Selbu, Norway stonemason and his wife in 1859, the youngest of eight children, her childhood is seemingly normal, with the first unsettling event in her life being an attack by a local rich man at a country dance while she is pregnant that causes Belle to miscarry her child (or so the story goes). Friends and family will claim she is never the same after the incident, but it is only guessing as to what the real catalyst is for the madness that will manifest itself in her adult years on the other side of the Atlantic Ocean. Nothing to tie her down with the child she was carrying gone and its father out of the picture, following the example of her older sister Nellie, in 1881 she immigrates to America, where she changes Bryhild to Belle and begins working as a servant (by this time she is a woman of six feet that weighs in the neighborhood of 200 pounds, and is extremely strong). In 1884 she marries her first husband, Mads Sorenson, and two years later the pair opens a confectionery store in Chicago (not successful, the business mysteriously catches fire and the couple collect insurance money which they use to buy a lovely new home) ... and they have four children. And then the deaths begin. All four children die allegedly from acute colitis (with symptoms that also mirror poisoning), and grant their parents another insurance payday, then, on the only day that two life insurance policies overlap on Mr. Sorenson, he kicks the bucket too from heart disease (though one local doctor will think strychnine poisoning is much more plausible) ... affording the widow Belle yet even more insurance money (over $250,000 in today's currency).
Black Widow
Hunting for a new husband, in 1901 Belle marries Norwegian-born Peter Gunness, and the pair move to La Porte, Indiana ... where with slight variations, her new family suffers the same fate as her Chicago one did ... Peter's infant daughter passes only a week after the marriage from uncertain causes while alone with Belle, and Peter, while cooking in the kitchen, somehow manages to knock over a sausage-grinding machine from a shelf that crushes in his skull ... a tragedy which gets the grieving widow still another insurance settlement (during this period she gives birth to a son named Phillip, and when her foster daughter, Jennie Olsen, vanishes, tells people the girl has gone away to a Lutheran College in Los Angeles ... though Jennie's body will be later found buried at the La Porte farm). And with those leavings, she turns from family and starts vanishing men that respond to the personal ads she starts running in Chicago newspapers that reads: Comely widow who owns a large farm in one of the finest districts in La Porte County, Indiana, desires to make the acquaintance of a gentleman equally well provide, with view of joining fortunes. No reply by letter considered unless sender is willing to follow answer with personal visit. Triflers need not apply.
Jennie Olsen
One after another, assisted by the handyman she has hired for a regular wage and her sexual favors, Ray Lamphere, suitors assets become Belle's and their bodies go into the Indiana ground, or are chopped up and fed to the hogs. How many are killed is unknown, but most experts place the number of Belle's victims at being between 25 to 40 ... and the count could have gone even higher if not for the persistent inquires of Asle Helgelian, searching for his missing bachelor brother, Andrew, and Lamphere falling in love with Belle. Monies withdrawn from her accounts, Lamphere fired for his amorous intentions and the town notified as such when she advises the local sheriff she can't get the man to leave her farm, Belle is at first thought to be a victim of the fire when a dental crown matching her teeth is found next to the charred adult female corpse (tests later will show that the temperature of the fire should have destroyed the intact bridgework, and two witnesses will claim to have seen a friend of Lamphere plant the teeth evidence next to the corpse moment's before the bridgework is "discovered") found at the farm. And the culprit is at first deemed to be Lamphere ... who does his cause no good when he asks arresting officers if Belle and the children survived the fire, before being told there was a fire (and there is an eyewitness that testifies to seeing Lamphere running down a road leading away from the Gunness home just before it catches fire ... a youth Lamphere threatens as he passes with death should he open his mouth about the handyman's presence). And then the truth begins seeping out as Lamphere realizes from his cell he has been played too.
The Missing Andrew Helgelian
Lamphere
After The Fire
Admitting to helping Belle dispose of the bodies of men she has poisoned with strychnine or killed with a meat cleaver after drugging their coffee or food (by the farm hands' count, Belle has murdered 42 men), soon on trial for arson and murder (he will be found guilty of arson, but acquitted of the murder charges ... sentenced to 20 years at the Indiana State Prison in Michigan City, Lamphere dies there from tuberculosis in December of 1909), Lamphere states that the fire was a ruse for the pair to flee and make a fresh start in Chicago, but that when he went to their rendezvous spot, Gunness is a no show ... a tale which dovetails nicely into the fact that the decapitated body is that of a woman only 5'3" inches tall and weighing about 130 pounds (Lamphere will claim that the cooked cadaver belongs to a woman from Chicago Belle hired as a housekeeper before drugging the victim, bashing her head in, decapitating the corpse, and then throwing the clue filled head into the deep waters of a nearby swamp ... the head is never located), and the fact that once a 12-man team starts digging (a team which includes a local miner named Louis "Klondike" Schultz, who instead of using his sluice box to look for gold, sifts through acres of wetted earth seeking human bones), bodies, and pieces of bodies are found all over the farm.
Searching
The Hog Pen Area Where Eleven Bodies Will Be Found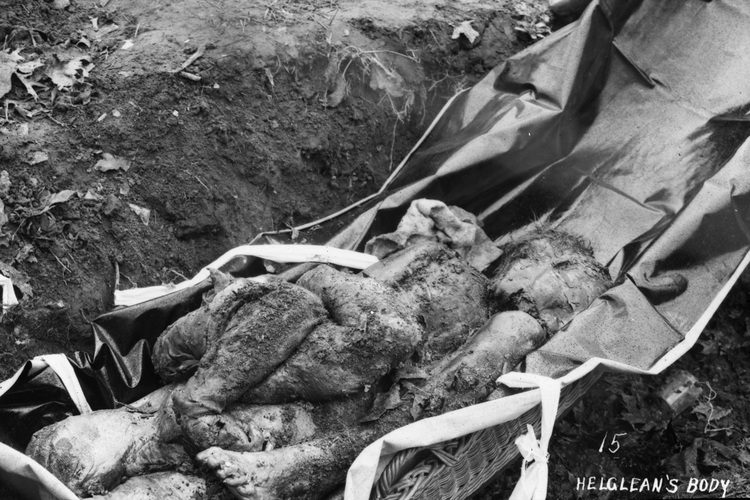 The Missing Helgelian
Sluicing For Bones
Killer unmasked, wanted posters for Belle go up around the country, but it is too late, as of 4/28/1908, Gunness is never seen again ... although there will be sightings of her up to 1931 (in Mississippi), from Chicago to San Francisco, Los Angeles to New York ... becoming a bogey monster parents frighten their children with. And there will be bodies identified as Belle that are dug up over the years and tested, but never conclusively matched with existing DNA evidence. Murderer gone, whatever happened to Belle after the fire remains a mystery to this day.
Young Monster
Rest In Peace