4/24/1935 - Tired of drinking to excess, partying with prostitutes, and sitting around in a variety of Toledo, Ohio whorehouses reading popular magazines of the day, Public Enemy #1, 27-year-old Alvin "Old Creepy" Karpis, the most hunted man in America, decides he needs the rush of adrenaline in his system once more that he can only get from pulling off a major criminal score, and so, risking even more law-and-order heat, with two other men, he robs a payroll shipment intended for the workers at the Youngstown Steel & Tube plant in Warren, Ohio, in between the money being transferred from a train to an armored car (actually just a modified truck with only a single guard/driver) for final transportation, and arrival at the manufacturing facility.
Marble champion to the country's #1 outlaw in the span of two brief decades, by 1935, Karpis is the last major Depression Era desperado still standing ... Machine Gun Kelly is arrested screaming "Don't shoot G-men" (or so the story goes), Bonnie & Clyde have been turned to Swiss Cheese on a lonely Louisiana road, Dillinger has been shot in the back outside Chicago's Biograph Theater, Pretty Boy Floyd has been gunned down trying to run into a copse of trees near East Liverpool, Ohio, and Baby Face Nelson has left in a hail of bullets gun battle that takes the lives of two FBI agents. And the Barker-Karpis Gang has been decimated too ... escaping after being arrested, Volney Davis is in hiding (and in June, will soon become Melvin Purvis' last arrest for the FBI), Doc Barker is about to go on trial for his part in the 1934 kidnapping of St. Paul banker (an endeavor discovered because the outlaw has not heeded Karpis' advice to wear gloves will pouring gas into a car used in the kidnapping ... the discarded can is found and with the prints on it, the FBI is off and running in its pursuit of the Barker-Karpis Gang), Edward Bremer (on his way to a life sentence in Alcatraz that will result in the murderer's death trying to escape in 1939), master yeggs, Harvey Bailey, Thomas Keating, and Francis Holden are all in prison, Larry DeVol is in a Minnesota insane asylum (but not for long, escaping, he will be gunned down after killing a cop in Enid, Oklahoma in 1936), and Karpis' best friend, crazy Freddy Barker has been eliminated, along with his Ma, during a four hour machine gun battle with FBI agents along the shores of Lake Weir, outside of Ocklawaha, Florida. Gone, but the missing are no lesson to Karpis at all ... oth
er than to think smarter and be more careful than his former companions were.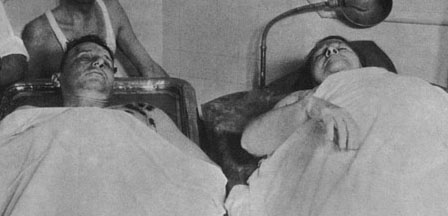 Freddy & Ma - January, 1935
Thievery seemingly in his blood, Karpis has been out of action since shooting his way out of police trouble in an Atlantic City hotel and kidnapping a doctor while making his escape, when buddy Fred Hunter (a blackjack dealer Karpis meets at the Harvard Club while hiding out in Toledo, Ohio the previous year, starting the journey that will lead to Alcatraz Island and a failed 1943 escape attempt) suggests robbing the payroll of the Youngstown Steel & Tube Co.
Investigating the idea, Karpis believes the robbery can be achieved, but will need two other bandits to pull it off, with Hunter not participating because of his association with the company through a friend, and the possibility of his identification as Warren is his hometown. With Hunter out and other outlaws refusing to participate for fear of the heat hanging with Karpis will generate, choosing his next associates as best he can, Karpis goes with a known commodity from his Barker-Karpis days, outlaw Harry Campbell, the man Karpis has been with since fleeing Florida after Ma's and Freddy's deaths (including the Atlantic City shootout and doctor kidnapping), and a new partner, the only person he can find, a heroin addict in need of a score to buy his next fix that lives with a whorehouse madam in the city of Canton, a Fred Hunter friend named Joe Rich.
Under Arrest - 1936 - Fred Hunter
Team put together and plan practiced, the men arrive at the Warren train station and wait for the money to arrive, staying in their escape car after Karpis thinks the trio looks too conspicuous standing on the empty station platform, noticing the station master's eyeballs on them several times (they are all wearing overcoats to hide the weapons they are carrying. There, the veteran outlaw wonders not about how addict Rich will perform, but whether he has been right selecting Campbell, who argues that the job should be called off after spotting a black cat along the railroad tracks. No bad mojo whatsoever, right on time in the afternoon, the train arrives and the payroll is moved by two couriers to the truck and driver who have also been waiting ... when the unescorted vehicle leaves for the plant, the trio of crooks drives along in front of it until the group arrives at a railroad crossing and stops. Out in a flash and pointing .45 automatics at the driver, the man responds to the threat coming his way by throwing his pistol into the street, raising his hands, and letting himself be taken hostage. Moving again quickly, Campbell and Rich get in the truck with their hostage, and following Karpis, make their way safely to an abandoned shed on the outskirts of town. Despite Campbell's black cat worries, the robbery has come off without a hitch (indeed, it will be weeks before the FBI even knows Karpis was involved and local hoods are originally arrested for the crime).
Truck broken into (the driver is tied up and left where he can be found), Karpis finds exactly what he was expecting in a burlap sack in back ... bricks of cash that when counted after being dumped on the floor of the shed amount to $72,000 in cold, hard cash. A big payday, Rich instantly shows why Karpis will not use him on his next job ... so excited at the payday that his coming his way, the addict takes out his syringe, drain's water from the truck's radiator, boils a dose of morphine, shoots up, and high as a kite, proposes that the trio should next attack the Federal Reserve in Cleveland (busted for his drug use, Rich will try to barter his way to freedom by offering to provide information on the robbery, but at first, the Feds don't believe the junkie).
Flush with ill-gotten gains, Karpis and Campbell return to their haunts in Toledo, Ohio, posing for a month as gamblers before Campbell falls in love. Treating himself to a $10, 18-year-old hooker, Campbell has his heart stolen and proposes two nights later, and in less than a month's time, is married and living in a trailer behind his new mother-in-law's Ohio home (coming out of retirement to help Karpis rob a train in 1936 and escape in a plane, he begins his journey to a long stay on Alcatraz Island and at Leavenworth after being arrested in a 1936 raid on the property led by J. Edgar Hoover himself). The love of his life, and mother of his only child (a boy being brought up by Karpis' parents that the desperado will never see), Dolores Delaney, already behind bars on harboring charges after the Atlantic City shootout (in which she is wounded by a Karpis bullet while the outlaw is firing at the police), Karpis is far from coming close to being domesticated, and is soon on the road once more, with Fred Hunter as his traveling companion. Dust in the wind seemingly, in the men's last year of freedom before being arrested in New Orleans in 1936, on their odyssey nowhere, the pair will take a drive to and through the state of New York, wander through New England, going as far north as a tourist camp in Maine, return to Toledo, visit old friends in St. Louis and Tulsa, laze about Lake Hamilton outside of Hot Springs, Arkansas, drive down to Texas and then along the Gulf Coast all the way to Florida, return to Lake Hamilton (Hunter leaves for a brief time to go to New York to take in a heavyweight boxing bout between Joe Louis and Max Baer at Madison Square Gardens (that is also attended by J. Edgar Hoover), join the ranks of Jesse James and Butch Cassidy by robbing a train stopped at the Garrettsville, Ohio station (the take of only $34,000 disappoints Karpis, who had expected a payday in six figures ... and just missed it when an expected payroll unexpectedly changes its movement schedule), escape to the Lake Erie town of Port Clinton, fly to Memphis (with two landings to refuel), drive back to the Hot Springs, drive back into Texas for some fishing (barely missing being caught in a series of FBI raids that take place at their Arkansas hiding places), make a stop in Biloxi, rent apartment in New Orleans, return to Hot Springs to pick up Karpis' latest girlfriend, a 32-year-old madame named Grace Goldstein (her real name is Jewel Laverne Grayson and her parents believe see owns a hat shop), where now as a foursome (Hunter has Connie Morris along for the ride, a teenage runaway turned prostitute that works for Goldstein), the group drives to Florida for a vacation before returning to New Orleans where Hunter and Karpis have a destiny date with the FBI.
Pymouth Karpis And Hunter Are Arrested In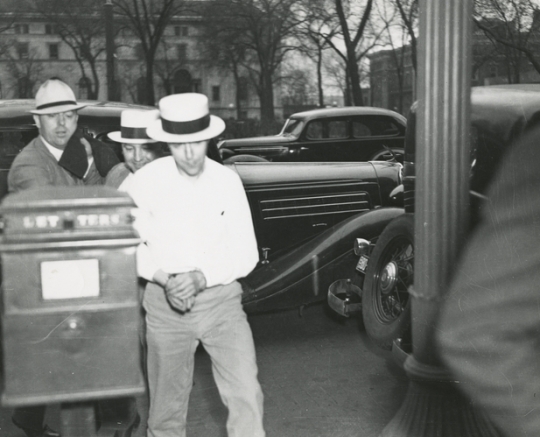 Busted in what is purported to be J. Edgar Hoover's first arrest (Karpis and Hunter tell far different stories about the FBI chief's lack of involvement until after ... and stupidity ... no one brings handcuffs along, so Karpis is bound with an FBI agent's tie ... and lost taking Karpis to custody, the arrested outlaw will have to give the driving agent directions to the holding cell at the post office ... asked how he knows the way, he will jokingly state that he knows because he and Hunter were thinking of robbing the place), the public enemy (killer outlaw Al Brady will be next atop the list ... until he is gunned down by the FBI on the streets of Bangor, Maine in September of 1937) will plead guilty to the Bremer kidnapping to escape the death penalty, be sentenced to life in prison, serve 26 years on Alcatraz Island (the most time by any prisoner), teach Charlie Manson to play guitar while the two are serving time at the Federal prison on Washington's McNeil Island, get paroled in 1969 and deported back to his birthplace of Canada (he will have a horrible time getting a passport because he is one of the few people to ever have his fingerprints successfully removed ... after the skin is taken off with scalpel a
nd his fingertips are dipped in acid), writes two books about his criminal experiences, and moves to Torremolinos, Spain (the residents think he is just a doddering old fool, creating fantasies of bank robberies and gun fights, never dreaming he is the real McCoy!) ... where his life ends at the age of 72 in 1979, after an accidental overindulgence in sleeping pills, long journey finally over.
Just Before Leaving Alcatraz
Gone!
Where The Public Enemy Now Resides