3/2/1978 - No laughs to be found in the incident (at first), Swiss authorities discover the body of perhaps the most famous comedian to ever live has been kidnapped from his grave in the village of Corsier-sur-Vevey (on the shores of beautiful Lake Geneva) ... two months after his death from a stroke at the age of 88, Sir Charles Spencer "Charlie" Chaplin has gone missing.
A success story of epic proportions, Chaplin is born into extreme poverty to two London music hall entertainers in 1889. Soon the father is gone (an alcoholic, Charles Chaplin Sr. will die from cirrhosis of the liver at the age of 38) and before he is nine, mother unable to pay the bills, he is twice sent to workhouses for the poor. At fourteen, suffering from the ravages of syphilis and malnutrition, his mother is placed in a mental asylum (she will pass in 1928, while her son is at the height of his fame). Escape from the reality of his real life is found in acting ... a talent he has seemingly been born with, beginning his stage career at the tender age of five. Better roles and bigger paydays with experience, at sixteen he scores the part of a pageboy in a London production of Sherlock Holmes, at nineteen, with help from his half brother Sydney, he becomes a member of the traveling comedy company and is soon the group's star ... and as such, with the group on tour, Chaplin visits the United States for the first time in 1910. On his second tour of America, he discovers movies, and the movies find him ... giving up the Fred Karno tour (another young Englishman in the group is Stan Laurel of future Laurel & Hardy fame), in 1913, at the age of twenty-four, he signs a contract to make comedies for the Keystone Studio of Mack Sennett at $150-per-week.
First Film - At Left - "Making A Living" - 1914
Creating a character now universally known as The Tramp in 1914, Chaplin quickly moves from short movies to feature length productions ... and as producer, director, writer, and star of his own products, created in his own studio, he becomes the most popular entertainer in the world. A rich and successful life, there are also few warts along the way ... he is attacked in the British media for not fighting in WWI, gets 17-year-old actress Mildred Harris pregnant and marries her (it is a false alarm, but later when Harris really is with child, their son will be born deformed and dies three days after his birth ... the couple divorces in 1920), marries 16-year-old actress Lita Grey after he gets her pregnant (he is 35 at the time ... they have an ugly divorce in 1926 in which Grey claims Chaplin has "perverted sexual desires" ... the cash settlement Chaplin gives Grey for ending the matter, $600,000, is the largest cash divorce award to that time), marries 21-year-old actress Paulette Goddard in 1932 (they divorce in Mexico in 1942, but remain friends), loses a paternity suit to a former girlfriend even though blood tests show he couldn't be the father, and never becoming a U.S. citizen, because of his association with the Communist Party (with J. Edgar Hoover helping in the smearing), is not allowed back in the United States after filming Limelight in Europe (his triumphant return to American will take place in 1972, when he accepts a Honorary Oscar from actor Jack Lemon at the 44th Academy Awards ... his standing ovation goes on for twelve minutes) in 1952. He finally finds the love of his life in 1943, marrying the 18-year-old daughter (I think I sense a pattern here!) of playwright Eugene O'Neill (the mind behind the Pulitzer Prize winning play, A Long Day's Journey Into Night), Oona, ... who remains his partner unto the comedians death (54 when they marry, and still a goat, the union produces eight children!).
The Tramp Eating A Shoe In The Gold Rush
The Tramp In Modern Times
With Buster Keaton In Limelight
Settling in Switzerland, Chaplin lives happily with his wife and children (hosting celebrities and dignitaries at his estate), and is made a Knight by Queen Elizabeth II in 1975 (too weak to kneel, he is knighted by the queen while sitting in his wheelchair). Health deteriorating in his 80s, the comedian dies in his sleep in the early morning hours of Christmas Day, 1977. Per his wishes, he is buried at the Corsier-sur-Vevey cemetery (actor James Mason is also buried there) on December 27th in small, private ceremony (giving tribute to Chaplin's talents, comedian Bob Hope will state, "We were lucky to have lived in his time.").
The Family - 1961
Body missing a few weeks later, Oona soon receives a call from the body-snatchers ... come up with $600,000 and she can have her husband's cadaver back (and if she doesn't, not only won't Charlie be returned, something awful might also happen to her children). A no-go, she responds that Charlie would have found the grave crooks' demands "ridiculous." Her outlook only frustrates the thieves into even more threatening phone calls ... and the local cops use the stupidity of the thieves to set a trap up by bugging the phones in the Chaplin home (in another scheme, they send out a disguised police officer with a fake ransom ... and arrest a local postman who thinking the cop is acting suspicious, follows him to the phony drop site), and putting watchdogs on all 200 phone booths in the region. Sure enough, on 5/17/1978, 11 weeks after Chaplin is dug out of his grave, the crooks make another call to Oona from one of the public phones being monitored, and the police sweep in and arrest two men who quickly confess to the crime ... out-of-work immigrant motor mechanics (political refugees after their countries turn communist), 24-year-old Roman Wardas from Poland, and 38-year-old Gantscho Ganev of Bulgaria.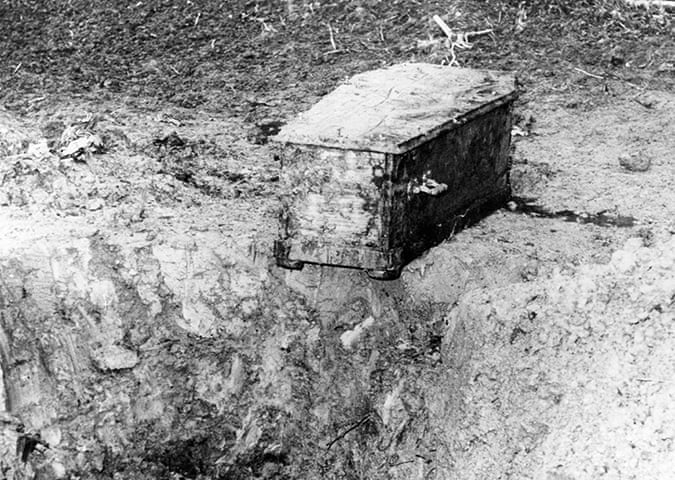 Photo Of The Casket Sent To Oona
Crime solved, Chaplin's coffin is pulled out of its latest home ... in a nearby farmer's cornfield (outside the nearby village of Noville) and returned to his place in the cemetery ... with a big change, this time around he is entombed in concrete (as is his wife when she finally passes in 1991). Upset at first that his cornfield has been abused, the owner will later put on plaque on the spot, noting that for a brief time, the world famous comedian slept right there. Found guilty at their trial, Ganev is given a 18-month suspended sentence, and his partner, Wardas, considered to be the crime's "mastermind," receives a four year sentence. Contrite over their deed, both men write letters to Oona apologizing for the crime ... to which Oona writes back, all is forgiven.
Chaplin's Home In Switzerland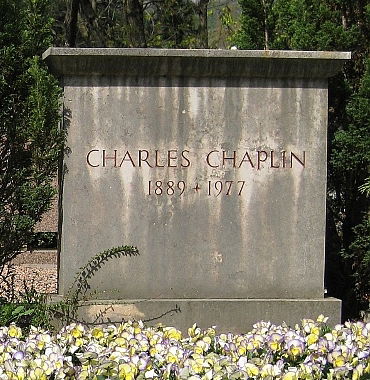 3/2/1978 ... a comic ending to a comic's story ... rest in peace Charlie!