Slam dunk for choosing a factoid for today when it includes monsters, Colorado Springs, and the United States Marine Corps ... happy birthday to "The Man of a Thousand Faces," the one-and-only, Leonidas Frank "Lon" Chaney!
Chaney - 1919
Born in Colorado Springs on 4/1/1883, April Fool's Day, to Frank and Emma (a mix of French, English, Scottish, and Irish descent) Chaney, two deaf parents who teach at the Colorado School for the Education of Mutes (now the Colorado School for the Deaf and Blind, started by Chaney's maternal grandfather, Jonathan Ralston Kennedy in 1874), Chaney early learns the art of pantomime to communicate with his mom and dad ... a talent that will serve him well when he starts to make silent movies. His stage career begins in 1902 ... and there he finds love for the first time, marrying 16-year-old singer Frances Cleveland Creighton in 1905 (the couple's only child, son Creighton Tull Chaney will later become Lon Chaney, Jr. in Hollywood). But martial bliss will not be lasting, and when during a run at the Majestic Theater in downtown Los Angeles, Frances tries to commit suicide by drinking mercuric chloride, Chaney finds himself unemployed when the show is killed because his wife no longer can sing (a divorce soon follows). Looking for work, he drifts into the nearby growing movie business, first at Universal Studios, using his mastery of make-up to get part after part (he also becomes a world class contortionist), from bit roles in the background to character parts to star turns (and he marries again, a chorus girl from his vaudeville days, Hazel Hastings).
Colorado School for the Deaf and Blind
Frances
Jr. As The Wolfman
His breakthrough performance comes in 1919, in The Miracle Man (it will be voted the favorite movie of the year by readers of Photoplay magazine, beating out director D.W. Griffith's Broken Blossoms and The Birth of a Nation, and Charlie Chaplin's The Kid) playing Frog, a crook who pretends to be a cripple that is miraculously "cured" by a con artist (sadly, most of the film is now lost). From there, Chaney will star in hit after hit until his death.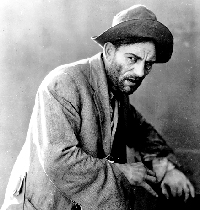 Frog
Chaney And His Makeup Kit
As The Vampire In London After Midnight
In Laugh Clown Laugh
As Mr. Wu
In The Road To Mandalay
With Joan Crawford In The Unknown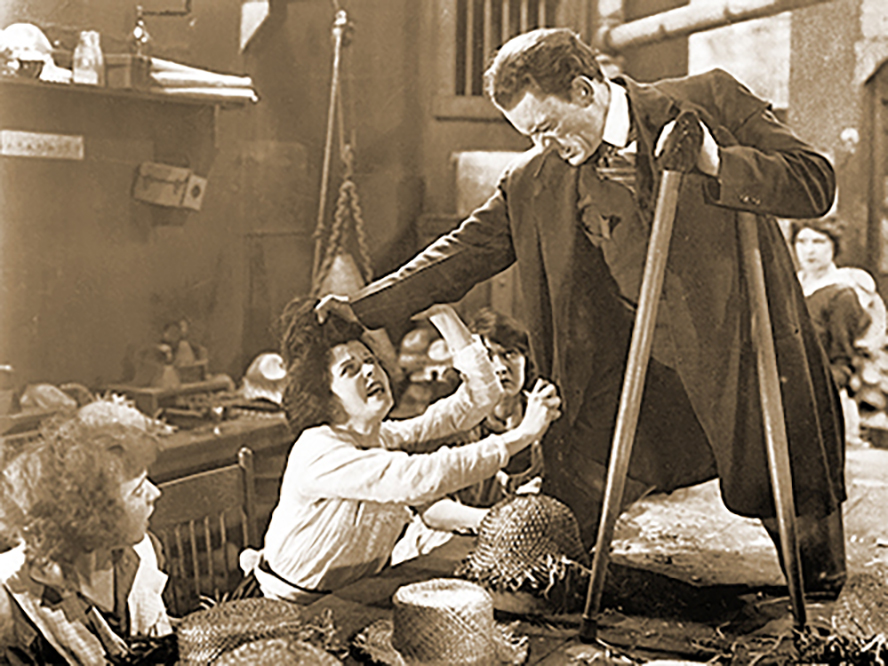 Legless In The Penalty
His two biggest hits, the movies he is most still remembered for are playing Quasimodo in the 1923 version of The Hunchback of Notre Dame, and the murderer Erik in 1925's The Phantom of the Opera. For Quasimodo he will play the part with 20-pound plaster hump on his back, in a harness that keeps Chaney in a hunch throughout filming. As Erik, Chaney will paint his eye sockets black to achieve a skull-like effect, pulled his nose up and pinned it in place with a wire, enlarge his nostrils with more black paint, and put a set a jagged false teeth in his mouth (another time and place, the makeup is so unexpected and horrific that it causes some audience members to faint, scream, and flee theaters across the nation). A trooper, in both roles he is in pain during the filming because of the makeups he has created!
Movie Poster
Esmeralda Gives The Whipped Hunchback Water
Quasimodo
Movie Poster
In Erik's Underground Lair
The Big Reveal!
And surprise-surprise, he also has a major hit in his own face, playing Sergeant O'Hara, a tough United States Marine drill instructor with a heart of gold in the 1926 MGM production, Tell it to the Marines (it will be the biggest money maker of Chaney's career, and the second most popular movie of 1926/1927). A huge success at the box office, the movie also endears Chaney to the Marine Corps and Chaney will become its first honorary member from the motion picture industry (upon his death, the Corps will provide a chaplain and Honor Guard for Chaney's funeral).
Movie Poster
Sgt. O'Hara
Already a huge star, with the distinctive voice Chaney has also been blessed with, it is believed he will become even bigger as the movie industry transitions from silent film to "talkies." Such does not turn out to be the case however ... in 1929 he is diagnosed with bronchial lung cancer, which is in turn exacerbated by artificial snow from the movie he is filming lodging in his throat, and seven weeks after the release of the talking remake of The Unholy Three (only five years after his 1925 silent version ... he is that popular!), he suffers a throat hemorrhage in Los Angeles and dies at the age of 47 on Tuesday, August 26, 1930.
Movie Poster - 1925
Movie Poster - 1930
Chaney will be buried at Forest Lawn Memorial Park Cemetery in Glendale, California in an unmarked crypt. At the funeral, his pallbearers will be a who's-who's of Hollywood's elite ... Paul Bern (an MGM director, screenwriter, and producer who is married to Jean Harlow when he commits suicide at the age of 42), Hunt Stromberg (who will direct the Thin Man movies for MGM), Irving Thalberg (MGM's Head of Production), Louie B. Mayer (MGM's boss man!), Lionel Barrymore (an Academy Award winning actor for A Free Soul), Wallace Beery (an Academy Award winning actor for The Champ), Tod Browning (the future director of Dracula), Lew Cody (a silent film acting buddy), and Ramon Novarro (Hollywood's first Ben Hur!). Away from the funeral, at the same time, all the studios in Hollywood and every office at MGM observe two minutes of silence to honor Chaney.
National News
Unmarked Crypt - Forest Lawn Memorial
Cemetery - Glendale, California
Gone but not forgotten ... Chaney will be played in a 1957 Universal biopic by legendary actor James Cagney (who doesn't come close to being Chaney in his famous film roles), has books and documentaries made about his life (including a recent edition of the PBS show, American Masters), gets a star on Hollywood's Walk of Fame, has his makeup kit shown by the Los Angeles County Museum, gets two U.S postage stamps, and in Colorado Springs, the place of his birth, has a small theater named in his honor (a 235 seat venue that often plays his silent movies, with one chair bearing a small golden name plate honoring Jay M. Bobinette, my movie-loving little brother that I miss every single day!)
Stamp
Stamp
Star!
Happy Birthday Mr. Chaney ... you made many days matter for the better with screams and tears ... thank you!
Becoming The Phantom