3/23/1964 - On this day, legendary Jewish character actor Laszlo Lowenstein suffers a stroke in Los Angeles, California, and dies at the relatively young age of only 59. Legendary? Who the HELL is this Laszlo goof you might be wondering ... and as always, you probably know Lowenstein by his more famous Hollywood name ... for Lowenstein is actually, the one, the only ... Mr. Peter Lorre (oh, and the fact that I use to be able to do a mean impression of the man had nothing to do with this selection for today).
Acting on the stage in Vienna at the age of 17, Lorre becomes an international star playing a child murderer in Fritz Lang's "M" (based loosely on the real life murders of the Vampire of Dusseldorf, Peter Kurten) in 1931. Fleeing Germany because of his Jewish background once Hitler comes to power, Lorre will use his celebrity to score the crucial role of evil spy Abbott in Alfred Hitchcock's first version of "The Man Who Knew Too Much."
And with that hit added to his resume, the doors to Hollywood open ... but again, the role that scores features Lorre playing a very strange bad guy ... as he will be typecast throughout his career ... this time in 1935 as the demented surgeon Dr, Gogol (who replaces the accident wrecked hands of a concert pianist with those of an executed knife throwing killer) in MGM's "Mad Love."
Despite being born in the Slovakian region of Austro-Hungarian Empire, little kids around the country learn to love Lorre, when for three years, he plays the brilliant Japanese detective, Mr. Moto, in a series of B-Movie films for 20th Century Fox (during the same period, he wisely turns down the Basil Rathbone role as Baron Wolf von Frankenstein in the horror classic, "The Son of Frankenstein," and misses playing Quasimodo in "The Hunchback of Notre Dame" when MGM cancels its plans to film Victor Hugo's novel).
Then it is on to RKO, where in 1940, he plays a menacing stranger in the movie many film historians believe to be the first in the new genre, film noir, "Stranger on the Third Floor," along with sharing the screen with horror film legends Boris Karloff and Bela Lugosi in a musical comedy mystery (and major turkey!) starring band leader Kay Kyser called "You'll Find Out." Also in 1940, he captures convict Clark Gable trying to escape from the French penal colony of "Strange Cargo."
Selling his services for the best contract available (and now a naturalized United States citizen), it is at Warner Brothers that he has roles in some of best movies ever produced by that studio ... as black bird hunter Joel Cario opposite Humphrey Bogart in "The Maltese Falcon," battling Bogart as the German spy Pepi in "All Through the Night," playing Japanese agent Baron Ikito, he tries to capture invisible spy Jon Hall in "Invisible Agent," as Signor Ugate, the killer who gains "the letters of transit" that fire the plot of 1943's Best Picture Oscar winner, "Casablanca," helps Gene Kelly escape from a German prison camp in "The Cross of Lorraine," stars as Soviet spy Nikolai Zaleshoff in the George Raft thriller, "Background to Danger," is Bogart's convict buddy Marius in the thriller, "Passage to Marseille," plays the Dutch writer Cornelius Leyden in the spy thriller, "The Mask of Dimitros, is a member of Paul Henreid's Norwegian resistance team in 1944 thriller, "The Conspirators," plays a drunkard named Johnny West in the crime drama, "Three Strangers," is Victor Emmric, Sydney Greenstreet's macabre artist friend in "The Verdict" (future Dirty Harry director Don Siegel's first movie in-charge), and is the out-of-his-gourd basket case strangler Hillary Cummins in "The Beast with Five Fingers" (my personal favorite ... when he goes off thinking the hand is after him it is Lorre playing Lorre playing Lorre ... carpet chewing acting at its best!)
The Beast with Five Fingers
During the 1940s, Lorre also convinces Warner Brothers, to let him lend his talents to Frank Capra's production of the Cary Grant black comedy, "Arsenic and Old Lace," playing alcoholic plastic surgeon, Dr. Herman Einstein. And in another comedy, he gives fits to Bob Hope and Dorothy Lamour (along with Lon Chaney, Jr.) in "My Favourite Brunette."
With Raymond Massey In Arsenic And Old Lace
Post WWII and into the 50s and 60s, Lorre turns include playing the very first James Bond villain in the 1954 television adoption of Ian Fleming's "Casino Royale," taking on Burt Lancaster over a bag of diamonds in "Rope of Sand," being the boat buddy of Kirk Douglas's harpooner, Ned Land, in the Walt Disney production of "20,000 Leagues Under the Sea," teaming up with Bogart in the caper movie, "Beat the Devil," playing comic Russian Comrade Brankov in the Fred Astaire - Cyd Charisse MGM musical, "Silk Stockings," guarding a kidnapped Jerry Lewis in the comedy, "The Sad Sack," also going underwater as retired Commodore Lucius Emery in the movie version of Irwin Allen's "Voyage to the Bottom of the Sea," playing a steward on the SS Carnatic during David Niven's travels in "Around the World in 80 Days," burying his wife alive (and her black cat) in Roger Corman's Edgar Allen Poe ripoff, "Tales of Terror" (co-starring with Basil Rathbone and Vincent Price), spends time aloft with Red Buttons, Fabian, Sir Cedric Hardwicke, Barbara Eden, and Chester the Chimp in the Irwin Allen production of Jules Verne's "Five Weeks in a Balloon, as Dr. Aldolphus Bedlo, assays the inept wizard transformed into a raven in "The Raven," also featuring Vincent Price, Boris Karloff, and as Bedlo's son, a young actor named Jack Nicholson, gets sand between his toes as Mr. Strangedour in the hideous Annette and Frankie vehicle, "Muscle Beach Party," and God help him, in his last role, shares the screen again with maniac unfunny funnyman, comedian Jerry Lewis, in "The Patsy."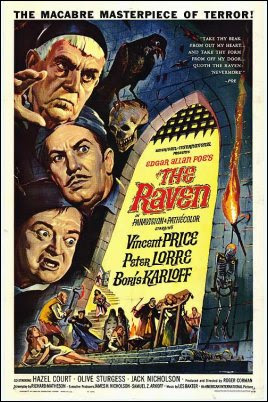 Poe Is Turning In His Grave!
Chronic gallbladder troubles medicated with morphine prove to be Lorre's undoing, and he strokes out in 1964 at the age of 59. Gone, but not really gone at all because of the movie roles he played ... and that still provide entertainment to millions of film lovers around the world ... thanks Laszlo ... rest in peace (and ignore that your voice and mannerisms have been hijacked by the demented cartoon Chihuahua, Ren Hoek, in the animated Nickelodeon TV series, The Ren & Stimpy Show).
In His Breakthrough Role In M