3/16/1988 - Falling in love with cars and speed since he builds a soapbox derby vehicle as a child out of the family washing machine and the wheels from his sister's skates, Marion Lee "Mickey" Thompson becomes one of the greatest names in automotive and car racing history. Nicknamed "The Speed King" by his many fans, Thompson puts together a career in racing and business that includes competing in 10,000 races (of which he wins 500), building the first slingshot dragster in 1954 (it will be the template for other drag racers until "Big Daddy" Don Garlits introduces the rear-engine digger in 1971), going 272.31 mph in a car he designs and builds (1958), a year later, increasing his speed to 332.809 mph, and in 1960 at the Bonneville Salt Flats, setting a world record and becoming the first American to go over 400 mph on the ground (406.60 in his four engine Challenger 1, breaking the mark of British racer, John Cobb), being an owner or partner in 27 companies, holding 100 major patents, designing the tire that has now become the standard for Indy 500 races, creating an early version of the rescue equipment now known as "The Jaws of Death," inventing a water-filled plastic vehicle barrier (and there is also time for two wives and a baby son) ... a life that brings him millions of dollars and even opens the doors to the White House (he is a JFK guest after setting his speed record). Setting more speed and endurance records than anyone else in automotive history, it is also a life that has been a dance with death that Thompson has somehow survived more times than a cat with its full quota of lives ... two speedboat crashes and 27 hospital stays for broken bones (that includes breaking his back four different times) and other injuries. Though not racing at all, in 1988, Thompson's luck with the Grim Reaper finally runs out.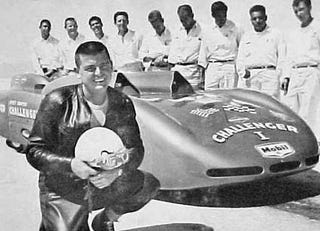 With Callenger I Car And Team
Speedboat Mickey
Leaving their gated-community, up-scale home (the house includes a 13 car garage) in Bradbury, California (about 45 miles north of the Orange County community of Irvine, just east of Monrovia in the foothills of the San Gabriel Mountains) in the 5:55 dark of an early morning (for separate trips by Mickey, to a just joined Irvine health club, and by Trudy, his wife of 17 years, to the office of the Mickey Thompson Entertainment Group at Anaheim Stadium), Mickey opens the garage door to let his wife back the couple's Toyoda van out, while he walks towards his own car. And then the normal morning quiet is destroyed as two armed black men in jogging attire, each about six feet in height and somewhere between 20 to 30 years in age, step out of the bushes decorating the front yard and open fire on the Thompson's ... Mickey is shot in the legs and abdomen, while Trudy is wounded and begins crawling away from the vehicle. Pleading, "Please don't hurt my wife! Please don't hurt my wife!" Thompson is forced to watch one of the gunmen put a killing bullet in his wife's head, then the other gunman does the same to Mickey. An obvious hit and not a robbery ($4,000 in cash is on the pair and Trudy is wearing over $70,000 in jewelry), the killers flee on 10-speed bikes, almost colliding with a neighbor taking her dog to a behavior class, go through a break in a fence, down an embankment, and vanish along a jogging path that had once been a railroad right-of-way.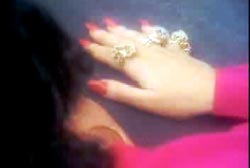 Some Of The Untouched Jewelry
Alerted by neighbors responding to the sounds of gunfire (one rushes out of his house and chases after the men, firing a round from his revolver at the men before they vanish), police soon arrive at the scene and begin investigating the crime ... and in asking the standard question of friends and family of the deceased pair, "Do you know anyone who might have done this or were their enemies?" one name is continually stated and becomes the #1 suspect in the case, Thompson's former business partner, Michael Frank Goodwin.
A Navy brat from Pensacola, Florida ... Goodwin is an intelligent over-achiever who loves talking about himself and getting his way, with a very violent temper (running his own company, he will go through crying secretaries as if they are kernels of popcorn). Enrolling at San Diego State, he goes from studying mechanical engineering to seeking a degree in marketing, makes money hosting TGIF parties in which he charges women fifty cents and men a dollar fifty for entry, and drops out of school six credits shy of graduation. Joining a small promotion firm, with his gift of gab on full bore, he soon cons his way upward, and becomes a major rock promoter, living the life of an emperor in an ocean-view mansion in Laguna Beach while orchestrating concert tours for Ray Charles. Jimi Hendrix, The Doors, The Rolling Stones, The Beach Boys, the Supremes, Sonny and Cher, Petulia Clark, and Janis Joplin. Weary of the unrelenting stress of managing massive entertainment egos, after coordinating Janis Joplin's final tour, Goodwin and his wife buy a beat-up Volkswagen van and spend a couple of years lazily touring North and South America ... relaxing, until Goodwin reads a motorcycle magazine in a bathroom in a Belize hotel and comes up with the idea of presenting motorcycle races in football stadiums, what he will call "the Superbowl of Motocross." A huge success almost immediately (at one point, Goodwin will claim to make $600,000 in a single day), but still looking for more, in 1984, he approaches Thompson about combining forces in an expanded, merged company (Thompson has started managing stadium shows featuring racing trucks) that will feature the world famous racer's name.
Contracts signed, with an 18-month "engagement" period in which either partner can back out of the agreement, Thompson and Goodwin start fighting over finances almost immediately, the plug is pulled on the merger, and the lawsuits begin ... fourteen in all that inch there way through the Southern California judicial system, that upset the men more and more, with the 6'3", 200 pound Goodwin spluttering out death threats against Thompson and his family to seemingly anyone who will listen ... death threats which Thompson takes seriously. Suits finally heading for a climax (Thompson will win a judgment of $768,000 which causes Goodwin to declare bankruptcy in a move to keep his assets from his former partner), the racer hires a guard to watch his house, asks the Sheriff Department for more patrols, begins wearing a bullet-proof vest, loads a shotgun with buckshot for home protection, avoids standing in front of lit windows at night, and varies his work routine ... precautions that all prove in vain.
Suspect identified, it at first appears that Goodwin will escape judgment for the twin murders ... transferring over $400,000 to an off-shore banking account in the Caribbean, grabbing $200,000 in gold coins, with his wife, the businessman sails away from the States in his 57-foot, single-masted yacht, "Believe." Far away from angry partners and lawsuits, he spends two years spear fishing and taking underwater photography, then spends another two years enjoying the ski life of Aspen, Colorado. Believing his own words when discussing taking out Thompson, "They'll never catch me. I'm too smart," in 2001 he returns to Southern California and is quickly arrested for the murders ... his smart has been checkmated by the relentlessness and determination of Thompson's sister, Collene Campbell.
Composed of the same Irish grit as her brother, Thompson's sister leads a hugely successful life in Orange County in which she becomes mayor of San Juan Capistrano and is connected to political movers-and-shakers at the state and national levels ... and she has experience with the judicial system and cold cases. In 1983, when her 27-year-old son vanishes, Campbell personally solves the case, discovering her son, in a drug deal gone bad, has been flown out to sea from a Fullerton airport and dropped in the ocean from 2,000 feet (the killers will eventually get life sentences for the crime). Three days before his murder, Thompson calls his sister and discusses his fears about murder, and with that seed planted, when Thompson is actually killed, Campbell begins a mission to put Goodwin behind bars ... keeping the case in the news, getting the crime highlighted on TV shows like America's Most Wanted and Unsolved Mysteries, hiring private investigators, maintaining contact with the police and prosecution, and offering a $1,000,000 reward for information that results in the capture and conviction of the killers. Wearing the St. Christopher medal her brother wore in races, and diamond necklace her mother gives her on her deathbed, with the demand her daughter not take it off until her son's killer is brought to justice, she attends over a five year period before the case comes to trial. all 70 court appearances of Goodwin, and is in attendance for each day of the six week trial that finally starts in November of 2006, and its five days of jury deliberations.
Goodwin And Public Defender Elena Saris
A case that produces 40,000 pages of discovery (in 114 boxes), 1,000 "witness" interviews, is supervised by four different lead investigators, and creates a sixty-one volume police murder book, at trial, fifteen individuals will testify to hearing Goodwin make death threats against Thompson's life, and lots of other compelling circumstantial will be presented, but what sways the jury most is the testimony of neighbor Ronald Shields. Dots connected after watching the case discussed on TV (compliments once again of Collene Campbell ... another witness at the same time comes forth with details on Goodwin personally confessing to hiring the murders, but prosecutors decide not to use her testimony during the trial), Shields testifies to the presence of a man in a rusted out Chevy Malibu station wagon, days before the murder, watching the Thompson house through a pair of binoculars ... a man, 13 years later, Shields picks out of a lineup ... Michael Goodwin. On January 4, 2007, nineteen years after the twin killings, despite a lack of any physical evidence of a connection to the deaths, Goodwin is found guilty of two counts of murder and sentenced to life in prison without the possibility of parole ... bowing his head at the announcement of his sentence, Goodwin mutters, "I didn't do it. I didn't do it."
Sentence appeal denied, Goodwin's home is now a cell at California's High Desert State Prison. Case not fully closed however, with the $1,000,000 reward for information about the slayings still open, so far the actual trigger men in the murders have not been located.
Witness Recreations Of The Culprits
3/16/1988 ... the sporting world loses one of its giants with the assassinations of Mickey and Trudy Thompson