2/28/1900 - Outlawry a family business far too often in the opening of the American West, on a snowy day in Dodson, Missouri (a farming community near Kansas City), the infamous Hole-in-the-Wall Gang, and the Logan Family of Montana (by way of Kentucky, Iowa, and Missouri), lose a valued member to accurate lawman gunfire.
Three Of The Logans - L to R - John, Harvey, and Lonie
Taking their place alongside the tainted blood criminal antics of the murderous Harpe Brothers (robbing and murdering travelers moving over the "Natchez Trace" after the American Revolution), the Youngers, the James Brothers, the train robbing Renos, the Espinosa Brothers (racist murderers of white settlers in Colorado at the time of the Civil War), New Mexico bandits, Black Jack and Sam Ketchum, the McCarty's (destroyed robbing a Delta, Colorado bank, bit not before mentoring a young Butch Cassidy), the Tombstone Clantons and McLaureys, and the Daltons (related through their mother to the Younger Clan), the Logans begin their journey into infamy like so many other desperadoes, through a lack of parental guidance. Of Welsh-Scot heritage (with a touch of Cherokee Indian thrown in), the William Henry Neville Logan and Eliza Jane Johnson marriage will result in the birth of five brothers (and one daughter, Arda ... along with six baby girls dying in childbirth), beginning with James (1860 ... he will go straight and end his days as a successful businessman in San Jose, California, passing at the age of 65 in 1925), and continuing with Henry "Hank" (1862), Harvey (1867), John (1870), and concluding with Lorenzo "Lonie" (1872) ... a family in need of parenting by 1876, when Eliza and her latest baby die in childbirth (Eliza is 35-years-old at the time) and father William is wanderlusting about the West (family lore will have him eventually dying in prison after murdering a man), the Logan brood is farmed out to a couple of aunts in Missouri already struggling to raise families of their own ... a Missouri in which the James-Younger outlaw band are considered heroes, and still very much alive and operating.
Wild and wanting to be cowboys (a desire with which the Logans also infect their cousin, Bob Lee), Hank (leaving a wife behind) and Harvey are the first to leave Missouri ... cowboying in Texas, making a cattle drive to Pueblo, Colorado (where they are involved in a saloon brawl), working for the Circle Diamond ranch in Wyoming, and eventually, starting up a ranch of their own in Montana (with former outlaw, Jim Thornhill) ... and they drop their last names and start going by Curry (some say in tribute to a friend they have made on their travels, outlaw rustler "Flat Nose" George Currie ... or it might have been to stop Hank's wife from finding the men ... and since older brother Hank always calls his younger brother Harvey "Kid," the future Wild Bunch member becomes Kid Curry). And over a short period of time, Johnny, Lonie, Arda, and Bob Lee all show up in Montana too. Respected by the locals as hard workers and excellent horsemen (except when any of the brothers has been drinking), ranching operation going well, and money coming in from the saloon Lonie and Bob Lee begin running (along with contributing time to ranch chores), the Logan/Curry Family seem to have excellent future prospects, until things begin to go sour in 1889.
Thinking he is a gunfighter, in 1889, Johnny Logan makes an unarmed German sheepherder and former cowboy named Olsen dance in a saloon by shooting at the man's feet, but doesn't do as well when the men again meet on a local trail, both now armed, and Logan has his horse shot out from under him, and as he tries to pull himself out from under the mount, takes rounds in his right arm and right elbow, damage that will result in the amputation of his lower arm (the sheepherder rides away with only a hole in his hat) Next, Hank, the eldest of the Logan boys in Montana and the voice of reason that keeps his hot tempered brother Harvey in check, decides to visit James Logan in California, and during the trip, dies of an undetermined illness. And without Hank to provide grounding and caution, the Logans' friendship with a local mountain man and miner named Powell "Pike" Landusky (he is the founder of the closest town to the Logans' ranch, and has killed multiple whites and Indians in his life) degenerates from anger over a loaned plow returned broken by Landusky, a Landusky property gate that Harvey enjoys jumping over on his horse, jealousy over the school teacher Harvey is interested in boarding at the Landusky home, and Lonie dating and then getting pregnant Landusky's step-daughter, Elfie, to the point where Landusky walks about town telling anyone who will listen as to how he is going to kill Harvey and Lonie someday soon with his bare hands. Landusky gets his first chance when the brothers are arrested on trumped up assault charges that will later be dropped, and are turned over to Landusky's deputy and town jailer, Landusky himself. Chained in Landusky's milk house, the boys are punched and kicked, vilely insulted (along with their mother), threatened with a knife to have their balls cut off, have tobacco juice spat in their faces, and as a final insult, are urinated on ... and once released, Harvey boils over.
True West Magazine - Landusky In Bear Hat
Two days after Christmas of 1894, with Lonie and Thornhill covering the other patrons and owner of the Jake Harris saloon, Harvey walks up to Landusky, and without saying a word, clobbers the bigger man in the face. Fight on, Logan is bloodied, but bests Landusky in a brawl that trashes a major portion of the saloon. Rising to leave, Logan sees Landusky go for a gun in his pocket ... but instead of being shot dead, when the gun catches on Landusky's coat, Thornhill tosses Logan his gun, and it is Landusky that goes to the local Boot Hill. In the aftermath, Harvey flees, and Lonie and Thornhill are arrested, and all three are tried on murder charges ... which a judge almost instantly dismisses as a justifiable homicide. Die cast though, Harvey now considers himself an outlaw and begins actually living the part ... with brother Lonie not far behind (Johnny would probably have begun riding the Hoot Owl Trail with his siblings too, but before he gets the chance, in a dispute over a piece of local land, he fatally loses another gunfight to local rancher Jim Winters' shotgun ... while cousin Bob Lee moves to Colorado to try his hand at prospecting).
True West Magazine - The Death Of Pike Landusky
Kid Curry Killing Pike Landusky
Making Hole-in-the-Wall, Wyoming their base of operations, and calling themselves the Roberts brothers, in 1895, Harvey and Lonie join with Flat Nose George, Walt Puteney, Tom O'Day, and a never identified sixth man in robbing the bank of Belle Fourche, South Dakota (it is also said that the brothers kill Johnson County Deputy Sheriff Billy Deane during this period). A plan to rob the bank in Red Lodge, Montana goes less well, and when Harvey is shot in the hand and arrested prior to the job by a posse looking for rustlers, Lonie helps break his brother and the Sundance Kid out of jail, providing the horses they ride away on. Unknown still to law enforcement, Harvey and Lonie nonetheless go into hiding after the break, Harvey working as a cowboy in Nevada and New Mexico, while Lonie continues running a Montana saloon. But it is just a short break until their next adventure together, robbing the westbound Union Pacific Overland Flyer #1 near Wilcox, Wyoming.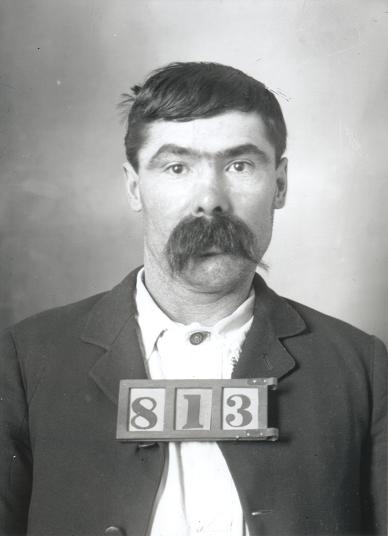 One of the West's most famous train robberies (featuring the central members of the Wild Bunch except for Butch Cassidy, a blown bridge, blowing the door off the express car of obstinate messenger, Charles Woodcock, bank notes covered in raspberry sauce, and Harvey killing Converse County Sheriff Josiah Hazen with a rifle shot of more than 75 yards when the man's posse gets too close to the escaping bandits) Harvey and Lonie are joined on the 1899 Wilcox, Wyoming job by outlaws Harry "The Sundance Kid" Longabaugh, Ben "The Tall Texan" Kilpatrick, Will "News" Carver, and "Flatnose" George Currie. Successful to the tune of $50,000 in cash, a number of unsigned bank notes, a quantity of gold, 19 scarf pins, 29 gold-plated sets of cuff buttons, and 4 Elgin watches, the job nonetheless is a downward turning point for the gang ... transport insured, the Pinkerton Detective Agency now joins the hunt for the outlaws, and will not give it up until all the men involved are either chased out of the country, put behind bars, or killed.
True West Magazine - The Wilcox Robbery
The Express Car After The Wild Bunch Visited
And the first to feel the heat is Lonie!
The Famous Fort Worth Photo Of The Wild Bunch -
L To R Standing - Carver & Logan
L To R Sitting - Longabaugh, Kilpatrick, Cassidy
Working out of the agency's Denver office, the Pinkertons assign two of their best cowboy/detectives to investigating the Wilcox train robbery (from 2,000 active agents and 30,000 reserves!), Charlie Siringo and W. O. Sayles ... and in no time at all, the Roberts brothers are identified as the Curry brothers, the Curry brothers are found to be the Logans, and law enforcement attention is drawn to Landusky, Montana ... before accelerating into other regions of the West. Thinking his identity as an outlaw will remain a secret, Lonie returns to Montana after the robbery and escape from the Hazen posse, and uses $500 of his Wilcox money to buy into a Harlem, Montana (he also invests in mining equipment, hoping to find a strike in the nearby rich gold ore digs) bar room, which becomes the Bowle & Curry Club Saloon, and reunites with his cousin, Bob Lee. For a brief time, life is good ... Lonie is a respected businessman (a new bar and decorations are added to the saloon), rents a two-story house for his wife, Elfie Landusky, and their two children, puts a new bar in the saloon, is photographed helping put the ink to the town's first newspaper, plans a holiday marksmanship contest behind the bar (with 30 gobblers as prizes), and plays the banjo and fiddle at local dances. The good life all comes apart though when breaking some of the big robbery bills down, the post office sends the money to a bank in Fort Benton and it is identified as coming from the Wilcox job by numbers, tears from the dynamite, and raspberry stains. Swooping in to arrest Lonie and Lee, the Pinkertons (masquerading as a cowboy looking for work, Siringo becomes friends with both Elfie and Jim Thornhill) discover the men have fled just days before ... too many questions asked of the locals about the pair, the pair are tipped off by friends, secretly sell the saloon, and head south (showing their true colors, before they leave, they also steal the raffle money recently raised to help pay the medical bills of a local, Miss Clara Hindler).
Taking a series of train rides out of the state, the men eventually reach the mining town of Cripple Creek, Colorado, where Lee finds a job dealing stud poker at the Antler Club. Thinking they will draw less attention separated, Lonie, now calling himself Frank Miller, departs a few days later for his childhood home of Dodson, Missouri, and a visit with his aunt (after receiving a registered letter to that name from friend and Logan ranching partner, Jim Thornhill). Safe for the moment, both men however repeat their earlier mistake and eventually spend more Wilcox money ... and the Pinkertons pounce (Lee will be arrested in Colorado and sentenced to ten years behind bars for being in possession of stolen property in the form of Wilcox cash ... released in 1907, he returns to Missouri and finds work in the Dodson region as a bartender).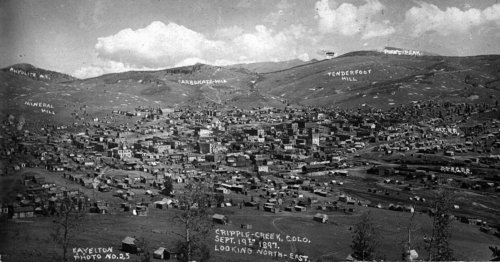 Target location discovered (a letter to Elfie in Landusky from her husband in Dodson is intercepted by the Pinkertons), an intense snowstorm delays a raid on the Lee home in Dodson, but when the storm breaks the next day, the authorities make the two hour, sixteen mile trip from Kansas City to the Lee farmhouse fully armed, in two buggies, the next morning (six men in all, three locals and three Pinkertons). There, in the two story, five bedroom house sitting on a small hill that he grew up in, Lonie is sitting at the kitchen table having breakfast with his aunt when he sees the lawmen advancing on the farmhouse. Not even offering a quick goodbye to his aunt (who is unaware any of the Logans have become outlaws, and have also involved her son in their misdeeds), Lonie jumps into his overcoat and hat, and bolts out the door and into the snow. Not seeing the second buggy of local lawmen and Pinkertons, he heads towards the farm's south gate that opens on to Dodson Road. Encumbered by the snow and his heavy clothing, holding his Colt .45 in his hand (he also is carrying a Smith & Wesson .38 revolver), makes a classic last outlaw run towards a mirage of freedom, in Lonie's case, a treeline 200 yards to the south of the farm ... so close, but forever far away. Ignoring yells for his surrender, Lonie makes the gate, but stepping through, staggers, regains his balance, and then pitches forward into a snowbank that reddens with the outlaw's life blood, downed by a volley of 12 pistol shots from the posse, one of which hits him in the head. Gone at only 28, the Logan Family has been reduced again, and the Wild Bunch has lost its first gang member to a bullet death ... in the coming years, he will soon have a lot of company.
At The Morgue
One of the last to go is Harvey (if he is actually does get shot down, there is major controversy surrounding his purported death near Parachute, Colorado under the alias Tap Duncan in June of 1904), who in the years that follow his brother's death will participate in all the major robberies of the Wild Bunch, kill five more peace officers in gunfights, ride hundreds of miles out of his way to kill Jim Winters, the rancher who shot down his brother Johnny in 1889, with Butch and Sundance in Argentina, organizes and participates in the robbery of a Great Northern Coast Flyer train near Wagner, Montana (his gang takes away $65,000 in the robbery), seriously wounds two police officers in a Nashville, Tennessee saloon brawl, and escapes from the Nashville jail by lassoing a guard around the neck with a lariat he makes from his cell bedding ... leaving his mark on Wild West history, as one of its most murderous outlaws of all time, the infamous Kid Curry.