3/6/1934 - Enraging already stunned authorities, only three days after breaking out of the Crown Point jail using a wooden pistol, John Dillinger goes back into action, robbing the Security National Bank and Trust Company of Sioux Falls, South Dakota.
Dillinger
Hamilton
It is a crisp, clear morning of 35 degrees, when at around 9:50 am, a dark green Packard sedan slowly pulls up in front of the large banking establishment at Ninth Street and Dakota Avenue. The car contains six heavily armed men ... John Dillinger and John Hamilton (behind the wheel of the vehicle) have shared many previous dangers together, but for the first time they will be working with a new set of outlaw partners ... Homer Van Meter, a bank robbing friend from their days together within the confines of the Michigan City prison, Eddie Green, an expert at "jug marking" that has cased jobs for Frank Nash and the Barker-Karpis Gang, Tommy Carroll, a thief since 1924 with a San Antonio lawman's murder already on his resume, and Lester Gillis, aka Baby Face Nelson, a maniacal bandit and killer that takes immense pleasure in firing his weapon at anything that might be considered the slightest of threats. It is a group of hard cases not to be trifled with!
Homer Van Meter Eddie Green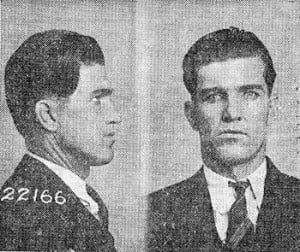 Tommy Carroll
Baby Face Nelson
Duties agreed to, Hamilton stays behind the wheel of the gang's car, Carroll brings a machine gun out from under his overcoat and takes up a position at the entrance of the bank, and Nelson, Green, Van Meter, and Dillinger, free their weapons, step inside the establishment, and fan out to execute the robbery. "This is a holdup!" Baby Face Nelson exclaims. Cashier Don Lovejoy, having seen the men exit their vehicle and fearing they might be robbers, pushes an alarm button as soon as the announcement is made, a move that sets off a loud clanging bell, while nearby, the switchboard operator drops below her desk, and unseen by the outlaws, calls out on her phone that a bank robbery is in progress (contacting the local radio station, her call will go out over the local airwaves and provide the citizens of Sioux Falls with a "play-by-play" description of events inside the bank). For a few brief moments, chaos reigns inside the bank as the alarm bellows, Nelson stalks about demanding to know who signaled the cops, and conflicting instructions to put hands in the air, face in various directions, or lie down are screamed at the more than two dozen employees and patrons inside the building. Finally some semblance of order is achieved with Nelson and Van Meter herding everyone into the center of the bank, while Green and Dillinger set about raiding the teller stations and the vault, with the assistance of threatened bank president China R. Clarke and head teller Robert Dargen. "If any of you wants to get killed, just make some move," Van Meter snarls at the hostages, and he means it.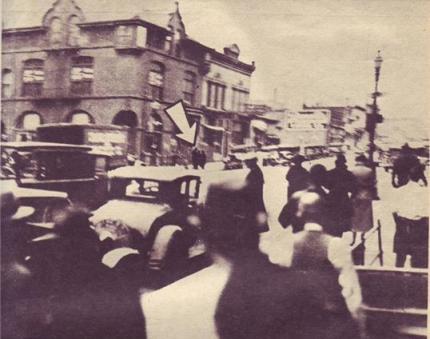 Robbery in progress - arrow points to Tommy Carroll
Drawn by the alarm, police and citizens begin to converge on the bank, a crowd that will grow to over a thousand individuals before the gang leaves Sioux City, many thinking they are watching a crime movie being filmed (a rumor to that effect having been started by Van Meter days before when he was in town casing the bank). As they arrive, Carroll disarms and takes hostage Patrolman Homer Powers, a fingerprint expert, Officer Roy Donahue, Chief of Police Monty Parsons, and Detective F. C. White. Unfortunately, motorcycle Patrolman Hale Keith never reaches Carroll's position at the front of the bank. Seeing the policeman run up Ninth Street, an already alarm agitated Nelson jumps on the desk of trust officer Adolph Lodmell and unleashes a volley a machine gun lead at Keith through one of the bank's street windows. "I got one, I got one," Nelson bellows with delight as the cop goes down with bullet piercings of his abdomen, right thigh, upper right arm, and a shattered right wrist. Though hurt badly, after the robbery Keith will by taken by ambulance to nearby Sioux Valley Hospital, receive two blood transfusions, get worked on by four emergency doctors, and eventually manage to be one of the few to ever recover from a violent encounter with the trigger happy malicious gunman.
Dillinger
Signaling it is time to leave after fifteen minutes inside, Van Meter fires two shots into the ceiling with his .45 automatic and the gang gathers a group of hostages to use as human shields, then exits the bank with $49,500.00 in cash in their possession. Scrambling inside the Packard, the bandits force bank clerks Mildred Boswick, Alice Blegen, Emma Knoback, and Mary Lucas, and teller Leo Olson to stand on the running boards of the car. Despite the shield of hostages, just arrived Patrolman Harley Chrisman ducks into Maxwell's, a hardware store next to the bank, grabs cartridges and a hunting rifle, and begins firing at the departing Packard's engine. Scoring several hits to the radiator, the car immediately begins smoking and slows to a crawl as the bandits debate whether to continue on in their wounded vehicle, or car jack a different means of transportation.
1934 Packard Super 8 Sedan
Never going faster than 25 miles-per-hour, the vehicle limps out of town, assisted by Nelson, Dillinger, and Carroll scattering flat tire producing roofing tacks into the street in its wake (there will be over a dozen irate motorists with ruined rubber scattered over three states before the day comes to an end). Headed south on U.S. 77, four miles outside of Sioux City the vehicle gives up the ghost and the outlaws are forced to abandon the Packard ... just as a local farmer named Alfred Musch has the misfortune to drive up in an old Dodge ... and just as their pursuers, in the form of Sheriff Melvin Sells and court reporter H. M. Shoebotham in one car, and Deputy U.S. Marshal Art Anderson, Deputy Sheriff Lawrence Green, and Patrolman Chrisman, arrive in another. Transferring extra gas cans, their loot, and their weapons to their new ride, but leaving behind their hostages for lack of room, the gang continues their flight from the robbery, heading east towards the town of Schnider, crossing the Big Sioux River and moving into Iowa near the town of Granite, turning southeast towards the town of Inwood, and then finally going north in the direction of Minnesota ... eventually, using back roads, gunfire that keeps their pursuers at bay, and more roofing tacks, despite two planes trying to track their route, the outlaws vanish. By evening, the men are back in Green's St. Paul apartment dividing their loot ... and finalizing the planning of their next March heist, a robbery of the First National Bank of Mason City, Iowa.
Headlines