3/8/1952 - A tragedy takes place in Brooklyn when twenty-four-year-old Coast Guard veteran and amateur detective Arnold Schuster is gunned down for his roll in the February capture of notorious bank robber, Willie "The Actor" Sutton.
Schuster
Looking for any angle that might put Sutton back in custody (he is a 1947 escapee from the Philadelphia County Prison), authorities have sent out wanted posters of the dapper dressing outlaw to clothing shops and tailor stores across the country hoping a sighting might be reported. Schuster, employed in his father's tailoring business as a pants-presser, sees Sutton's picture every day for two years at work. On February 18th though, the picture becomes real when the tailor instantly recognizes the robber on a Brooklyn subway. Following the thief to a garage where he is having his car's battery replaced, Schuster notifies police and Sutton is quickly arrested.
Willie "The Actor" Sutton
Instant celebrity follows for Schuster as his role in Sutton's capture is covered in newspaper, radio, and television reports, he receives a citizenship award from a watch company, and even makes an appearance on the game show, "I've Got A Secret." Unfortunately his act of identifying Sutton to authorities does not sit well at all with one member of the New York underworld, a murderer who's nicknames of "Lord High Executioner" and "The Mad Hatter" fit his personality and criminal tactics perfectly ... the former head of the mob's killing arm, Murder, Inc., gangster Umberto "Albert" Anastasia.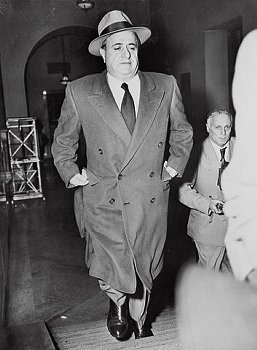 The Mad Hatter
Watching television, Anastasia goes berserk when he sees an interview with Schuster. "I can't stand squealers Hit that guy!" the mob boss proclaims. Order given, order carried out. Intending to go to a neighborhood party, Schuster walks home from the tailor shop to change his clothes before attending ... a short distance of only about a mile he will never complete. On the way home he chats with friends he meets on the street who are also on their way to the party. It is roughly 9:00 in the evening. About ten doors from his home, a solitary gunman jumps out of the darkness he has been hiding in and fires at Schuster with a dump weapon ... a .38 revolver stolen from a U.S. Army shipment consigned to go to Japan that will be found in an empty lot five blocks from the crime scene. A message murder, the young man is shot twice in the groin and once in each of his eyes. Watching television down the block, his father, mother, and sixteen-year-old brother find out about the crime when a news bulletin about the killing interrupts the program the family is in the middle of watching.
Schuster Crime Scene
No one will ever be held responsible for the crime, but years later the murder is "solved" when Mafia member, Joseph "Joe Cargo" Valachi, breaking the underworld's code of Omerta, testifies before a U.S. Senate Committee as to how the hit came about. The information is too late to prosecute Anastasia though since the mob boss had already reaped what he had spent his entire adult life sowing ... in the way of a reorganization of Lucky Luciano's former crime family due to his support of Frank Costello, on orders from Vito Genovese, "The Lord High Executioner" is himself executed at the Park Sheraton as he sits in a barber's chair at the hotel with a hot towel about his face while awaiting a shave.
Albert is retired
A horrible tragedy, some good however does eventually come from Schuster's death. Sued by the tailor's family for New York City's failure to protect Schuster, establishing a precedent, the state's highest court finds that there is a protection obligation when police ask the public to come forward with help on cases. Not enough to ever replace the son and brother that has been lost, in 1958, the Schuster Family is awarded a settlement of $41,000 from the city.