3/4/1944 - A first in American crime takes place at Sing Sing Prison in Ossining, New York, when a mob boss actually receives death for the host of crimes he has committed ... the zapped unfortunate is the notorious Jewish racketeer, Louis "Lepke" Buchalter (the nickname comes from a variation on "Lepkeleh," Yiddish for "Little Louie").
Sing Sing Prison
First coming to the attention of authorities when he is arrested for breaking and entering (and found wearing mismatched stolen left shoes), Lepke grows up hard and wild on the streets of the Brownsville section of Brooklyn, New York after the death of his father and abandonment of his mother. Using fear and intimidation lessons learned in Brooklyn and during his two early stays at Sing Sing (muscle is supplied by his hulking childhood friend, Jacob "Gurrah" Shapiro), in his twenties the gangster begins building a crime empire by taking over unions associated with the garment businesses of New York City. It is a lucrative association that brings the crook millions of dollars from blackmail, theft, and tribute, and opens the doors to other criminal activities (Lepke will become the kingpin of the narcotics racket in America). Collect, control and protect, Lepke's organization requires numerous killers for its maintenance, and from that need springs what becomes the enforcement arm of organized crime, Murder, Inc.
Lepke Shapiro
Led at first by the extremely hot tempered Bugsy Siegel, the gang of murderers Lepke comes to command are a mixed group of Jewish and Italian thugs that are headquartered at a seemingly innocent candy store in Brooklyn named Midnight Rose's. Taking contracts from a special phone at the back of the business that will see the group kill between 400 to 1,000 individuals in the '30s and '40s, the hit men get a regular salary, an additional fee of from $1,000 to $5,000 for each death they precipitate, medical coverage as required, and the services of the finest defense lawyers in New York if they are arrested. Lepke's chief lieutenants in running the organization are the trusted Shapiro and Mafioso murderer Albert "The Lord High Executioner" Anastasia, while receiving assignments are a cast of sociopaths that includes Abe "Kid Twist" Reles (a master of the technique of driving an ice pick through the ear of his victims), Harry "Pittsburgh Phil" Strauss (said to hold the group's record for most murders at over 100 killings), Martin "Buggsy" Goldstein (a joking dolt, he will ask the judge in his murder case if he can pee on his leg), Mendy Weiss (in one murder he participates in, the owner of a candy store will be shot seventeen times), Charles Workman (the thug that will take out Dutch Schultz and three of the gangster's men in 1935 at Newark's Palace Chop House), Albert "Tick-Tock" Tannenbaum (the killer that partners with Bugsy Siegel to take out Harry "Big Greenie" Greenberg in Los Angeles), Harry "Happy" Maione (so named because he always wore a scowl on his face), Frank "The Dasher" Abbandando (a connoisseur of fine cars and clothes, and raping young women), and Louis Capone (the owner of an Italian pastry shop who dabbled in murder when he wasn't busy with his baking).
Louis Capone
"Happy" "The Dasher"
"Pittsburgh Phil" "Tick-Tock"
Weiss
At the height of his criminal career, Lepke is one of the most powerful gangsters in the country (his friend, Lucky Luciano, is the other) and is pulling in $50 million a year. The success however puts a huge target on his back, one that can be quantified to a reward of $50,000 for information leading to his arrest, and with state and Federal prosecutors gunning for his hide, the mobster goes into hiding ... he will grow a mustache as a disguise, spend time in a home with secret panels and hiding holes, run all his business decisions through Anastasia, Reles, and Shapiro, and constantly be on the move. Weary of being on the run, convinced by a group of his fellow crooks that a deal is in place that will allow him to only face lesser Federal charges, Lepke's downfall begins when he lets radio personality broker his surrender to FBI chief, J. Edgar Hoover, in 1939.
Winchell
Days into captivity he discovers there is no deal in place whatsoever ... wanting his lucrative rackets, he has been betrayed by Luciano and mob boss Thomas Lucchese. Now under the control of the authorities, Lepke is first sentenced to 14 years behind bars on narcotics charges, then is turned over to New York Special Prosecutor Thomas Dewey, who wins a racketeering case against the mobster that adds another 30 years to life to the crook's guilty time. A worse betrayal and sentence however occurs when Reles is arrested for a number of murders, and realizing he will be put to death if found guilty, decides to instead become a government witness and testify to the crimes of his fellow killers in Murder, Inc., and their leader, Lepke (union thug Max Rubin also saves his own skin by squealing on the mob boss).
Reles
Put on trial in 1940 by the state of New York for the 1936 murder of candy store owner and former truck union executive, Joseph Rosen (the gangster fears Rosen will go to police with tales of transportation strong-arming), Lepke, along with Mendy Weiss and Louis Capone, the two thugs that carried out the contract killing, are found guilty and sentenced to death.
Capone & Weiss
Guilty, but not without power and resources still, Lepke fights the conviction for four years ... years that also allow him to achieve a measure of revenge against his enemies. Moey "Dimples" Wolinsky, the Lepke "friend" that convinces him to surrender to Hoover at the behest of Luciano is turned into Swiss cheese while dining in a Manhattan restaurant, and although under the 24-hour protective custody of six police detectives, Reles is located at the Half Moon Hotel on Coney Island and flung to his death from the window of his sixth-floor room.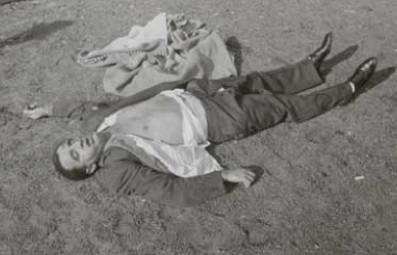 Reles after being launched
Appeals used up, unwilling to sing himself for a lesser sentence, two-day stay over, in 1944 it is finally time for Lepke to receive what he has doled out to so many over the course of his criminal career ... death. After a last meal of salad, shoestring potatoes, and roast chicken (also ordered by his subordinates), within minutes of each other, first Capone, then Weiss, then Lepke are fried into passing on the Sing Sing Prison electric chair.
"Old Sparky"
When it is his turn, Lepke has no last words and jumps into the chair as if he is eager to move on ... he is forty-seven-years-old when his heart is stopped by the state of New York.
Louis "Lepke" Buchalter