3/1/1979 - Unlike so many of his contemporaries in crime who go out at a young age in a hail of bullets or with a jolt of juice while strapped down in an electric chair, maestro bank robber (he will be known as the "Dean" of American bank robbers) Harvey John "Old Harve" Bailey dies quietly in Joplin, Missouri, from kidney failure at the age of 91.
Mr. Bailey
Born into a Scotch-Irish family in West Virginia in 1887, he will be brought up in Missouri while tales of Jesse James and Cole Younger are still fresh memories for the state's residents. Heroes to the youth, as an adult he will make their takes look like chump change. Before becoming a legendary criminal, he will help run his parent's farm in Sullivan County, Missouri, work as a railroad fireman, and serve in the United States Army during World War I.
James & Younger
Graduating from petty crimes to driving bootleg whiskey from Canada into Minnesota, seeking bigger paydays, Bailey eventually becomes a safecracker, and then moves up to being a daylight bank robber. Learning the Baron Lamm methodology of taking down scores by bringing military precision and planning to a heist (Bailey will become a master at setting up escape routes by obtaining county surveyor road maps), the bandit will successfully relieve banks and armored cars of their assets for over a decade while working with a who's-who of infamous criminals of the 1920s and 1930s that includes Baron Lamm, Frank Nash, Verne Miller, Alvin Karpis, Freddy Barker, Thomas Holden, Francis Keating, Wilbur Underhill, Eddie Bentz, Larry DeVol, and Machine Gun Kelly.
Bentz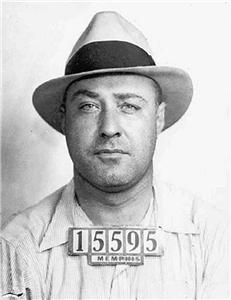 Machine Gun Kelly
He with steal over $2,000,000 in cash securities during his career, a resume that includes:
*Taking $265,000 from the Hamilton County Bank of Cincinnati in September of 1922
*Taking over $200,000 from a truck transferring assets to the Denver Mint in December of 1922.
*Lifting $142,000 from the Bank of Willmar, Minnesota, in July of 1930.
*Removing $2,600,000 from the National Bank and Trust Company of Lincoln, Nebraska, in September of 1930.
*Removing $40,000 out of the Central State Bank of Sherman, Texas, in April of 1931.
*Grabbing $47,000 from the Citizens National Bank of Fort Scott, Kansas, in June of 1932.
*Looting over $10,000 from the First National Bank of Clinton, Oklahoma, in July of 1933.
*Taking $6,000 from the Peoples National Bank of Kingfisher, Oklahoma, in August of 1933.
Bailey
Arrested
by Department of Justice agents
while golfing with robber partners Keating and Holden in 1933, Bailey will escape from the Kansas State Prison at Lansing in 1933 in a crashout that involves ten other convicts and uses the warden of the institution as a human shield. Arrested again by DOJ officers during a raid on an outlaw hideout near Paradise, Texas, he will escape custody a second time by sawing through the bars of his Dallas jail cell in 1933. A boogie-man to law enforcement, his name will be associated as a probable gunman in the St. Valentine's Day Massacre, the Kansas City Massacre, and though he has no involvement whatsoever in the crime, he will be found guilty of being a participant in the 1933 Machine Gun Kelly kidnapping of Oklahoma City oilman Charles F. Urschel.
Alcatraz
Finally caught and kept, Bailey will spend 31 years behind bars at various institutions, including a stint of over twenty hard seasons at The Rock on Alcatraz Island. Paroled from the Seagoville Federal Correctional Institution in Texas in 1964, Bailey will marry the widow of outlaw Herbert Allen "Deafy" Farmer in 1966. Wild ways behind him, he will spend the years he has remaining back in Missouri as a wood worker in a furniture factory, and in 1973, help author J. Evetts Haley tell his tale in Robbing Banks Was My Business: The Story of J. Harvey Bailey.
Old Harve
Rest in peace Mr. Bailey!