3/3/1934 - Already a major news story for helping break his friends out of prison, having those same friends return the favor when he is stuck behind bars in Lima, Ohio, successfully robbing a series of Midwest banks, escaping a police ambush in Chicago, and being captured in Tucson, Arizona, John Dillinger joins the ranks of criminal legends like Jesse James, Billy the Kid, and Butch Cassidy, when he escapes from the "escape-proof" jail of Crown Point, Indiana, using nothing but his wits and a wooden pistol!
Public Enemy #1
Taking advantage of the foolish decision of Sheriff Lillian Holly and Judge William Murray not to keep the outlaw at the Michigan City Prison while awaiting the renewal of his trial for murder, the incredible break begins when guard Win Bryant lets sixty-four-year-old janitor Sam Cahoon into the cell block a few minutes after 8:00 in the morning to begin his usual cleaning duties. However, the day will be different than expected, and Cahoon will not succeed in cleaning a single cell. "Come on, Sam, we're going places," Dillinger declares as he places a gun in the janitor's back and the break is on.
On trial for his life
Four barred doors separating him from freedom, with the help of Herbert Youngblood, a huge black murderer who holds a toilet plunger as a weapon, Dillinger, using first Cahoon, then the seemingly innocent calls for assistance of Deputy Sheriff Ernest Blunk, efficiently lures a mob of guards, trustees, jail employees, and National Guardsmen into captivity, seventeen in all before the escape is complete, and confiscates a set of keys that will unlock the doors to the outside world. Only one man, guard Kenneth "Butch" Houck, offers any resistance, but he is quickly overpowered and locked in a cell while the rest of the hostages decide that Dillinger isn't lying when he says he will kill if need be to gain his freedom. All hostages under control, and fifteen dollars "borrowed" from his captives for traveling expenses, Dillinger then returns to the jail's office area and helps himself to two Thompson submachine guns. The outlaw and Youngblood are now prepared to leave the jail.
On trial
First though, Dillinger takes a brief moment to delight in what he has achieved against better than a million-to-one odds. "This is how tough your little jail is. I did it all with this little wooden pistol," Dillinger laughs as he shows his "weapon" to the horrified men he has taken prisoner. Showboating for posterity, he taps the chunk of tree covered in black shoe polish on the bars of the cells as he makes his exit.
The infamous "wooden pistol"
With Blunk still assisting, Dillinger, now in a raincoat and hat, and Youngblood, go in search of a fast getaway vehicle. A cold and rainy day, they are in luck and encounter none of the lawmen, National Guard, and vigilantes that have been on patrol outside the jail since Dillinger's arrival in February ... the men are all inside, escaping the weather and warming themselves on hot chocolate and coffee ... and why worry, they are guarding an escape proof jail anyway. Circling behind the jail and the Criminal Courts Building, the desperadoes find what they are looking for inside the Main Street Garage.
Scene of the bustout
"What's the fastest car in the garage?" Dillinger asks thirty-one-year-old mechanic Edwin Saager, directing his machine gun at the man. A Ford V-8 is pointed out and quickly filled by Dillinger and Youngblood, and their two traveling companions, Blunk and Saager ... jailer Sheriff Lillian Holley's new car. With Blunk driving (Dillinger is in the front passenger seat, Thompson at the ready on his lap), the unlikely quartet leave the garage, turn on to Joliet Street, and following the speed limit after Dillinger gives his reluctant wheelman a warning not to draw attention their way by going too fast, head west out of town. Relieved to have actually pulled off the break, Dillinger relaxes by sharing his singing voice with his car mates, crooning the words to The Last Roundup: "I'm heading for the last roundup. To the far away ranch of the Boss in the sky. Where the strays are counted and branded there go I. I'm heading for the last roundup. Git along little doggie, git along, git along. Git along little doggie, git along, git along. Git along little doggie, git along, git along. Git along little doggie, git along, git along."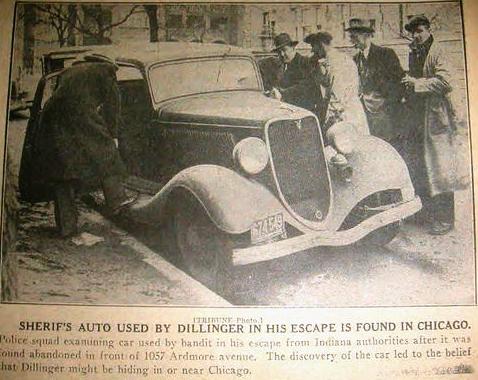 The sheriff's car
And as if knowing the right song to select, the last roundup does approach for many in the aftermath of the escape. Released by Dillinger on a lonely road between Crown Point and Chicago, and given four dollars to find his way home, Blunk will be arrested and indicted (along with Cahoon) on charges he aided and abetted Dillinger in the escape (they will eventually be found not guilty). Sheriff Lillian Holley will burst into tears when she hears the news that Dillinger has left the jail, and becomes a laughingstock for the country (a letter, mailed to Wooden Gun, Indiana will actually be delivered to the correct address in Crown Point). Judge William Murray will go bonkers when the grand jury he convenes to look into the escape, issues a report which finds the judge himself culpable in the matter because of his decision not to put Dillinger in Michigan City, so bonkers that Murray puts the jury in jail until they change their report. And after receiving thanks and a hundred dollar bill from Dillinger in Chicago, Herbert Youngblood will go his own way ... but not far or for very long. Two weeks after the escape, recognized and confronted by three police officers in Port Huron, Michigan, Youngblood will engage in a gun battle that mortally wounds Deputy Sheriff Charles Cavanaugh, but also sends the outlaw to the morgue.
Youngblood
Holley and friend
As for Dillinger, in pulling off his impossible escape, he has set in motion the wheels of his own ultimate destruction. A minor mistake made major, in stealing the sheriff's Ford V-8 across state lines, the outlaw has unknowingly broken the federal Motor Vehicle Theft Act and can at last be officially hunted by J. Edgar Hoover and his Bureau of Investigation agents. Only months away from his death, in the time the bandit has left however he lives a lifetime ... before he is betrayed and gunned down from behind outside the Biograph Theater in July of 1934, he will participate in four more bank robberies, engage in three shootouts with officers of the law, be wounded in the shoulder and leg, survive a violent car crash, enjoy a family reunion in which he poses for pictures holding the wooden gun, humiliate the government agents chasing him several times, experience the bloody deaths of many friends and enemies, and be named Public Enemy #1 on his thirty-first birthday.
Get John Dillinger!
And whether the wooden gun was smuggled into the jail by a bribed guard, carved by Dillinger out of a washboard (a whittled on piece of wood will be discovered after the escape), or just served as a prop to hide the fact that the outlaw had been given a real gun, no one will ever know for sure ... and maybe that's the way it should be when the stories of legends are told, even the criminal ones.
Out back at the reunion with his weapons ... one wood, one real