THE COST OF TREASON
On this day in 1949, 48-year-old Mildred Elizabeth Gillars finds out what happens to folks that jump to the losing side in a world war ... found guilty of one count of treason (she is originally brought up on ten charges) and sentenced to a 10 to 30 year prison sentence (along with a fine of $10,000!) ... 10 to 30 years for making a Nazi propaganda radio show called "Vision of Invasion" ... hard time for "Axis Sally!"
Gillars
Born Mildred Elizabeth Sisk (she will become Gillars in 1911 when her mother remarries) in Portland, Maine, in 1900, she appears to lead a normal life trying to break into show business (if that is EVER actually normal) ... in 1918 she studies dramatic arts at Ohio Wesleyan University (but doesn't graduate), lives in Greenwich Village and takes drama lessons, appears in vaudeville and tours with stock companies, works as an artist's model in Paris in 1929, returns to the United States, moves to Algiers in 1933 and gains coin by serving as a dressmaker's assistant, then in 1934, moves to Dresden, Germany, to study music, and later, teaches English at the Berlitz School of Languages in Berlin. And it is in Berlin where war and love bring darkness into her life.
Gillars
Europe already at war, in 1941, the U.S. State Department begins advising Americans to return home ... but Gillars refuses because she is in love with a naturalized German citizen, Paul Karlson, who tells her if she goes back to the States the couple will never be married (like millions of others, he will die in action on the Eastern Front). So she stays and is working as an announcer at Reichs-Rundfunk-Gesellschaft, the state radio, when word of the Japanese attack on Pearl Harbor goes out to the world. Caught in a country at war with her country, facing joblessness and the prospect of being sent to a concentration camp, Gillars protects herself by signing an oath of allegiance to Adolf Hitler and Nazi Germany.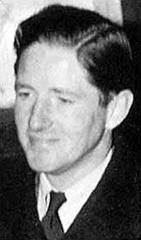 Koischwitz
At first her on-air time is apolitical, but in 1942, 40-year-old Max Otto Koischwitz (and yes, with the other guy a corpse they become lovers), is made the program director of the American Zone of RRG Radio and Gillars on-air role changes. A German with United States citizenship (obtained in 1935 while he is a professor of German literature at Hunter College in New York), anti-Semitic and a heart felt supporter of National Socialism, Koischwitz soon creates radio shows for Gillars that are designed to hurt the morale of American G.I.s fighting in Europe by producing profound states of homesickness (and he gets what he deserves for his inspiration, dying of tuberculosis and heart failure in a Berlin hospital in 1944):
*"Home Sweet Home Hour" featuring tales of the infidelity of soldiers' wives and sweethearts ... each broadcast starting with a mournful train whistle
*"Midge-at-the-Mile" interspersing American songs with hate rhetoric about Jewish people, defeatist propaganda, and assaults on the character of F.D.R. and Churchill
*"G.I.'s Letter-box" and "Medical Reports" discussing wounded and captured American soldiers and airmen with a bent towards terrifying the men's families back in the United States
*"Vision of Invasion," broadcast just prior to the D-Day invasion of Normandy, France, in which Gillars plays an Ohioan woman named Evelyn. a mother that dreams of her son dying a horrific death on a ship in the English Channel participating in the invasion of Occupied Europe
Homeward Bound
Pissing off soldiers and authorities (along with Axis Sally, she is also called the Berlin Bitch), she makes her last broadcast two days before Germany surrender on May 8, 1945, then vanishes, starting a manhunt by special U.S. prosecutor Victor C. Woerheide and Counter Intelligence Corps special agent Hans Wintzen that lasts until she is finally put in cuffs on March 15, 1946 (the important lead that results in her capture comes as a result of a captured B-17 pilot, Raymond Kurtz, that Gillars interviews in his prison camp while using her alias, Barbara Mome).
Headlines
Found guilty, Gillars will be sent to the Federal Reformatory for Women in Alderson, West Virginia, becomes a Roman Catholic, and is paroled in 1961 after serving 13 years behind bars. Out finally, Gillars lives at the Our Lady of Bethlehem Convent in Columbus, Ohio, and teaches German, French, and music at the St. Joseph Academy of the same city (she completes her degree at Ohio Wesleyan University in 1973), dying at the age of 87 in 1988 from colon cancer.