3/12/1883 - After nine years on the run from Colorado authorities following his escape from a Saguache jail, cannibal killer Alfred "Alferd" Griner Packer is discovered living in Cheyenne, Wyoming, under the alias of John Schwartze. Arrested, he is quickly sent back to Colorado to stand trial for his crimes.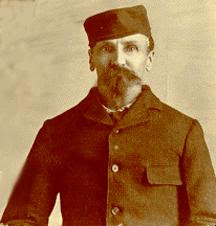 Packer
Born in Allegheny County, Pennsylvania in 1842, Packer leads a fairly innocuous existence until he is hit by a bad case of gold fever in November, 1873. Posing as an expert on the Rocky Mountains, 31-year-old Packer is part of a group of 21 prospectors headed for the mineral rich diggings outside of Breckenridge, Colorado (all greenhorns when it comes to wilderness travel and gold mining). Leaving Provo, Utah, the group struggles through winds and snows, loses equipment, and consumes all its food before finding the camp of Chief Ouray of the Ute Indian tribe on January 21, 1874. Knowing the mountains the men must cross to reach their destination, Ouray warns the group to continue no further until spring ... and provides provisions for his visitors. Eleven heed Ouray's advice, put nine others in the party foolishly listen to Packer state he knows the route and move off into the San Juan Mountains with a ten-day supply of food for a 75-mile journey.
Chief Ouray and his wife Chipeta
A major error in judgment, following the Gunnison River into the high country, the group soon runs through its supplies again and fractures after several vicious arguments, four decide to quit their quest and head for the Los Pinos Indian Agency (in poor condition, only two will make it back to civilization), while the others push on with Packer ... a luckless quintet consisting of Shannon Bell, James Humphrey, Frank Miller, George Noon (only 18-years-of-age), and Israel Swan (65-years-old). Fighting the elements and snow drifts over six-feet tall, starving, the men become lost and hopelessly trapped in the high wilderness near the current day town of Lake City, Colorado.
Lake City Winter
Looking more fit than he should after months in the mountains, Packer alone finally staggers out of the high country and makes the Los Pinos Indian Agency himself on April, 16, 1874 ... and immediately goes on an extended rot-gut whiskey bender in the saloons of Saguache ... where in babbling about his adventure, eventually admits to surviving by eating his companions, even signing a confession to that fact. Arrested, sobered up behind bars, realizing he is probably facing a hangman's noose, the failed mountain man escapes his cell (with the help of a key provided by persons unknown) and vanishes.
Victims
Recognized by one of the original members of the Provo party and arrested, Packer goes on trial for murder in Lake City on April 6, 1883 and tells a new story in which he leaves camp to hunt for food, and when he returns, finds that Shannon Bell has gone mad and murdered the other men with a hatchet ... and when he goes after Packer too, Packer kills him with two well placed rounds from his Colt revolver ... the cannibalism is only a last resort to survive. The jury isn't buying the new tale though, and after seven days of testimony finds Packer guilty. A verdict the judge in trial, M.B. Gerry stands behind completely, uttering one of the most famous sentences of all-time (and pretty funny too!), according to the local paper he states, "Stand up yah voracious man-eatin' sonofabitchand receive yir sintince. When yah came to Hinsdale County, there was siven Dimmycrats. But you, yah et five of 'em, goddam yah. I sintince yag t' be hanged by th' neck until yer dead, dead, dead, as a warnin' ag'in reducin' th' Dimmycratic populayshun of this county. Packer, you Republican cannibal, I would sintince ya ta hell but the statues forbid it."
Luckily for Parker though, the Colorado Supreme Court reverses the decision and grants the confessed cannibal another trial (due to a legislative error in the criminal code when Colorado goes from a territory to a state in 1876) ... and the second time around, he is found guilty of the lesser crime of five counts of manslaughter and sentenced to 40 behind bars.
Convict at Canon City
Convinced of his innocence however, reporter Polly Pry and the editors of the Denver Post begin a campaign that eventually results in Packer's parole in 1901. Free, he quickly finds a job ... working for his friends at the Denver Post as a building guard. Spending his last days near Littleton, Colorado, Packer dies of liver disease and stomach issues on April 24, 1907, at the age of 65 ... going to his grave a changed man ... A VEGETARIAN!
Packer's Grave
Gone but not forgotten due to the horrific nature of the events that took place in that long ago mountain winter, Packer lives on in current-day popular culture ... folk singer Phil Ochs writes an ode to the cannibal, "The Ballad of Alfred Packer," in the 60s, in 1968, the students of the University of Colorado at Boulder name their new cafeteria the Alferd G. Packer Memorial Grill (way too much happy smoke prior to the vote I'm thinking!), and give the establishment the slogan of "HAVE A FRIEND FOR LUNCH," the year 1990 sees country artist C.W. McCall record a tune about Packer's ghost haunting Lake City called "Coming Back for More," also in 1990, the death band Cannibal Corpse dedicates their debut album, "Eaten Back to Life," to Parker, in 1993, the co-creators of South Park, Trey Parker and Matt Stone, former students at the University of Colorado, make a film called "Cannibal! The Musical," based loosely (VERY loosely!) on Packer's life, in 2002, the self-described "murder-band," Macabre, releases a song about Packer's search for gold called "Into the Mountains," and in 2005, the cannibal becomes the subject of a horror film entitled "Devoured: The Legend of Alferd Packer."
Boulder, Colorado
And Packer's victims haven't been forgotten either ... a short distance from Lake City, at the spot where five savaged bodies were found in 1874, a memorial recalls the men that never made it out of the mountains.