3/3/1944 - For the first and only time in American criminal history, a major mob boss is actually executed ... the unlucky kingpin is 47-year-old Jewish mobster, Louis "Lepke" (Yiddish for Little Louis) Buchalter.
Buchalter - 1939
Born in 1897 in the Lower East Side of Manhattan, Buchalter at first doesn't seem destined for a life of murderous crime ... his father operates a successful hardware store (until his death in 1909 when Lepke is 12) and he is a member of a loving family that includes his mom, Rose, a sister and three brothers (one becomes a dentist, another a college professor and rabbi, and the third will make his living as a pharmacist). Things come unraveled though when his mom moves to Arizona for health reasons ... and leaves Lepke in the care of his older sister, Sarah. Sister not the parents he needs, he is soon out of control, doing as he pleases, and in 1915 he is arrested for the first time on burglary and assault charges.
Lepke
Not a very good burglar, after yet another stint in New York's Sing Sing Prison (a 30 month sentence for attempted burglary), Buchalter comes up with a new money making career ... in association with a childhood friend who has become a hulking brute (not to his face, he is often described as "a gorilla in a suit"), Jacob "Gurrah" (a nickname that comes from his kid days of trying to rob pushcarts, and the words "GET OUT OF HERE" coming out sounding like GURRAH) Shapiro ... using muscle and fear, he will take over the city's garment industry by first taking over the union (and raiding their bank accounts), and then using the union as a cudgel to gain weekly payouts from strike threatened owners. And anyone protesting management is either beaten into submission or murdered. Lots and lots of murders!
Gurrah
So many murders that the governing body for organized crime, The Commission created by Charles "Lucky" Luciano, begins contracting its killing through Lepke ... and so Lepke, along with running the garment industry in association with New York's Lucchese Crime Family, becomes the head of the infamous Murder, Inc. through the 1930s (they are also known as the Brownsville Boys and The Combination) ... and the wealth flows in, so much so that Buchalter spends his "glory" years residing in a posh penthouse on Central Park West.
Luciano
Operating out of a back room at Rosie "Midnight Rose" Gold's 24-hour candy store and coffee shop on the corner of Saratoga and Livonia Avenue in Brooklyn, with the help of second-in-command Albert "The Mad Hatter" Anastasia of the Luciano Family, Murder, Inc., will murder between 400 to a 1,000 individuals through the 1930s and 1940s (their most famous hit takes out mobster Dutch Schultz and three of his associates at Newark's Palace Chophouse restaurant).
Anastasia
Candy?
Maniacs all, Buchalter's roster of contract killers (working for an average of $1,000 to $5,000 for each death they achieve) includes such vicious rogues as Jack "The Dandy" Parisi, Harry "Happy" Maione (called so sarcastically for his perennial scowl), Frank "The Dasher" Abbandando (named so for his youthful ability to run the bases on his reform school baseball team), Vito "Socko" Gurino (who perfects his shooting by target shooting at the heads of living chickens), Harry "Pittsburgh Phil" Strauss (a peach of a person believed to have killed 100 people or more by means of shooting, ice pick, drowning, strangulation, and burying his victims alive), Samuel "Red" Levine (an assassin with the deaths of mob bosses Joe "The Boss" Masseria and Salvatore Marazano who won't kill on the Sabbath), Martin "Bugsy" Goldstein (a charmer, he tells his death penalty sentencing judge he'd like to pee on the man's leg), James "Dizzy" Ferraco, Charles Workman (the gunman that gets Schultz and his companions), Emanual "Mendy" Weiss (also in on the Schultz hit), Irving "Big Gangi" Cohen, Louis Capone (no relation to Al), Irving "Knadles" Nitzberg (don't even ask, I have no idea what his nickname relates to), Abraham "Pretty" Levine, Seymour "Blue Jaw" Magoon (his mug always seems to have a five-o;clock shadow of whisker stubble), Philip "Little Farvel" Cohen, Albert "Tick-Tock" Tannenbaum (the killer, along with Bugsy Siegel of Harry "Big Greenie" Greenbaum), Jacob "Kuppy" Migden, Max "The Jerk" Golob, Sidney "Fats" Brown, and Abraham "Kid Twist" Reles (so named for his youthful inclination to strangle folks that displeased him).
"Happy" Maione
"Red" Levine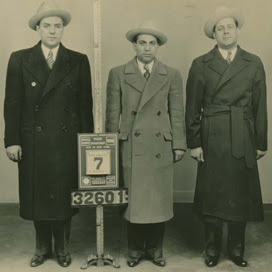 "Pittsburgh Phil," "Happy," and "Dasher"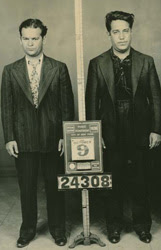 Goldstein and "Blue Jaw"
Psychopath Reles (typical of his personality, in broad daylight he will attack a worker at a car wash for missing a smudge on his fender ... and another time, he kills a parking lot attendant for not bringing his car out quickly enough) brings it all down in 1940. Implicated in a number of murders and facing execution, Reles turns canary and starts singing about his time with Murder, Inc, ... including giving up who is in charge ... Buchalter (for his services to authorities, though under 24-hour protection, Reles falls to his death from a six floor window at Coney Island's Half Moon Hotel ... a grand jury rules the death an "accident," but most everyone else knows that Kid Twist has been pitched into his life ending splat).
Reles
Half Moon Hotel - 11/12/1941
Ouch
In hiding against murder and racketeering charges, with a $25,000 reward on his head, Buchalter moves from place to place in New York City (including an apartment at the Oriental Danceland), disguises himself by gaining weight and growing a mustache. and operating under the concept of "no witnesses, no indictments" orders more murders of individuals that might have knowledge of his activities. On the run for two years, tired of the constant hiding, and pressured by various mob leaders who have wearied of the police interrupting their rackets looking for Buchalter (lying that a deal has been arranged in which the mobster will not be put on trial for murder), Lepke finally surrenders himself to J. Edgar Hoover in Manhattan, an arrest orchestrated with the help of gossip columnist Walter Winchell.
1937 Wanted Poster (with Shapiro)
Brought to trial in 1941, Buchalter is sentenced to death (along with hitmen Mendy Weiss and Louis Capone) based on the testimony of Reles and "Tick-Tock" Tannenbaum (after four hours of jury deliberations) for the 1936 killing of Brooklyn candy store owner Joseph Rosen (a former garment industry trucker the gangster has told to leave town). Appealing his conviction, Lepke's case will go all the way to the United States Supreme Court before the murderer gets his final thumbs down.
Center in Court - 1941
The world and his associates on The Commission wondering if Lepke will turn last minute rat to save himself, at Sing-Sing Prison in Ossining, New York, on this day in 1944, Buchalter wolfs down a last meal lunch of steak, French-fried potatoes, salad, and pie, and for dinner has a repast of roast chicken, shoestring potatoes, salad, and more pie (not the sharpest of knives, his two underlings order the exact same thing as their boss), before going to Hell at 11:15 in the evening in front of thirty-six witnesses, compliments 22,000 volts of electricity coursing through his 165-pound body (preceded by Capone and Weiss). Getting a sigh of relief from Luciano, Anastasia, Lucchese and others, Buchalter goes to his death without uttering a word.
Capone & Weiss on the way to Sing-Sing
Buchalter