3/11/1884 - Live by the sword, die by the sword, once again that ancient truth plays out ... this time in the Wild West of 1884 San Antonio, Texas ... with ace gunfighters Ben Thompson and King Fisher being the dearly departed that go to Boot Hill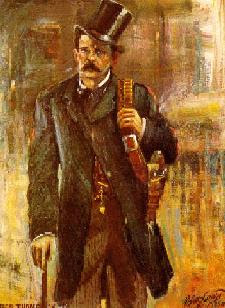 Ben Thompson
Born in England in 1884, Ben Thompson crams a lot of living into his 40 years of life. Settling in Texas with his family at 8-years-old, Thompson's wild resume includes killing a young Frenchman, Emile de Tours, in New Orleans in a knife fight (big mistake insulting a woman in Ben's presence), fighting a raiding band of Comanche and Kiowa Indians that kidnapped a group of children from Austin (the Texicans get all the children back), serving in the Confederate during the Civil War, breaking out of jail (in for a killing his brother actually committed) and escaping to Mexico, where he serves in the command of Emperor Maximilian, surviving a bout of yell fever caught in Vera Cruz, sepending two years in Texas' Huntsville Prison (again due to one of his brother's shooting escapades), tangling with Wild Bill Hickok in Abilene, Kansas (due to the marshal painting over a mural of bull with a huge erection that decorates the outside of the Bull's Head Saloon that Thompson co-owns with gambler Phil Coe), owning a saloon with his brother in Ellsworth, Kansas (which closes after Billy Thompson accidentally kills his friend, Sheriff Chauncey, in another shooting scrape, gambling and operating saloons in Texas, Colorado, and New Mexico, teaming up with Bat Masterson in the Colorado Railroad War between the Santa Fe and the Denver & Rio Grande railroads (on the side of the the Santa Fe, for which he is paid $2,300 and a handful of diamonds) and becoming the City Marshal of Austin, Texas (not a single murder takes place during Thompson's term in office). Feuding with the owner of the Vaudeville Variety Theatre in San Antonio, gambler Jack Harris over the value of his Colorado diamonds, in 1882, when Harris points a shot gun his way as he enters the Vaudeville, Thompson slaps leather and puts down his antagonist with three well placed bullets to the chest, then, though found innocent of homicide, resigns to spend time ranching and gambling.
Fisher
Born in Texas in 1854, John King Fisher mixes ranching work with being an outlaw (during rustling raids into Mexico, he will kill 10 Latin cowboys), endeavors he supports with lightning quick pistol work (he sports a rig of two silver-plated, ivory handled revolvers in two fancy hand-tooled leather holsters). In 1878, after an argument goes from hot to bloody, he kills four Mexican vaqueros ... clubbing the nearest man to death with a branding iron, gunning down a cowboy that tries to draw on him, then pivoting, and killing two friends of the dead men that are sitting on a nearby fence watching the action. Flip-flopping between the law and disorder, in 1883 Fisher will briefly serve as the acting sheriff of Uvalde County, Texas ... long enough to chase down and kill a stagecoach robber named Tom Hannehan (not a fan of Fisher, for the rest of her life, on the anniversary of the killing, Hannehan's mother will travel to the grave of her son's killer, build a fire on it, and then dance around it for hours on end). Fisher is 30-years-old when he makes the mistake of deciding to party in San Antonio with his pal, gunfighter Ben Thompson.
Thompson
Fisher
Not a good place to visit, the town is full of Harris friends that have not forgiven Thompson for his killing of the gambler ... including Harris' former partners in the Vaudeville, Billy Simms and Joe Foster. Arriving in San Antonio, Thompson and Fisher attend shows at the Turner Hall Opera House, getting drunk enough that Thompson decides to visit the Vaudeville and put the Harris killing behind him; with friendly forgiving handshakes, or by way of his pistols.
San Antonio
Stepping into the Vaudeville a little after 10:30 in the evening, everything is all smiles at first, the pair of gunmen are greeted by Simms, given a table (which Simms joins them at, and order drinks ... and at their table they are joined by local lawman Jacob Coy, who moonlights as a guard at the establishment. The friendly conversation does not last long however, and ends abruptly when the group is joined by Foster. Extending his hand to shake to a truce over the Harris killing, Thompson offers to buy his adversary a drink ... and is instantly rebuffed by Foster, who refuses to shake or drink with Thompson, and states he will never forgive the gunman for the killing. Fighting words, after stating his enmity, Foster, Coy, and Simms suddenly jump away from the table ... causing both Thompson and Fisher to leap to their feet and go for their guns. Rattlesnake quick, but not fast enough, as Thompson and Fisher stand, they are hit by a volley of rifle bullets sent their way from a screened upstairs theater box ... Thompson goes down on his side, gets off two shots, then is killed by a point-blank pistol shot to his skull by Coy. Fisher, dies from thirteen bullet wounds, but does manage to get off two shots before going to see his maker ... one of which hits Coy in the leg and cripples the man for life.
Pistol presented to Ben Thompson from Buffalo Bill
And the man who set up the assassination ... Foster hits himself. Being more of a gambler and lover, rather than a duelist, and knowing the reputation of the men he is going against, he launches into a faulty quick draw that causes his gun to discharge into his own leg ... a wound so grievous that the leg will require amputation ... a procedure that he does not survive due to the extensive blood he's lost. Only Simms comes out of the encounter unscathed (and remains so when the local authorities decide not to pursue the matter or look for the upstairs riflemen).
Thompson
Thompson at Rest