Shot first and ask questions later was the unstated criminal philosophy of most of the desperadoes of the Public Enemy era of the 1930s (the sole exception being college educated, George "Machine Gun" Kelly Barnes) with Baby Face Nelson and Clyde Barrow normally thought of as being the blood thirstiest bandits of the time ... but for sheer viciousness, the members of the Barker-Karpis Gang had no equals ... and with only a few exceptions, would eventually reap what they had sown!
#1 (8/26/1921) - Surprised robbing the ground floor construction office safe of a company building a new Catholic hospital in Tulsa, Oklahoma, Arthur "Doc" Barker and Volney "Curley" Davis are surprised by 74-year-old night watchman, Thomas J. Sherrill ... two bodies of the same mind, the outlaws pull their guns and fire, sending the old man to his grave ... Davis' round hits Sherrill in the stomach, while Doc's goes into the man's head (both men will receive life sentences for the murder, but are sprung with funds going to crooked politicians by the 1930s, freed to commit for mayhem).
Volney Davis
#2 & #3 (1/9/1922) - Members of Tulsa's Central Park Gang, the breeding ground of many Barker-Karpis outlaws, get into a gunfight with police when a routine traffic stop degenerates after burglary tools and explosives are found in the halted vehicle ... in the exchange of bullets, bandit Jimmy Sexton is killed, as is 46-year-old Police Captain Homer R. Spaulding, a nine year veteran of the Tulsa police force.
Spaulding
#4 (7/7/1926) - Deciding he needs a new ride to celebrate the holiday, accompanied by his brother Freddy, outside of Tyro, Kansas, Herman Barker stops a vehicle driven by Charles Faurot (taking a drive with his fiancee, Myrtle Rogers) ... and when the motorist protests, shoots him dead.
Herman Barker
#5 (8/1/1927) - Running out of money driving back to Oklahoma from a California vacation with his girlfriend, Mary Carol Antone, Herman Barker decides to cash $30 of American Express Travelers checks stolen from a recent Buffalo, Kansas bank job at the town of Pine Bluffs, Wyoming ... when a suspicious teller asks Herman about the checks, he flees the bank and drives off ... authorities notified, when 45-year-old Deputy Sheriff Arthur Emil Osborn stops Barker on a nearby road, expecting an easy arrest of a forger or con man, is instead gunned down with the outlaw's .32 Colt automatic ... making ends meet to supplement the money he gets for doing carpentry work around town, Osburn leaves behind both his parents, a wife, and three young children.
Osborn
#6 (8/9/1927) - With three other men, Herman Barker leads a midnight raid on the People's Bank of Southwest City (Missouri) ... surprised by Night Marshall William Henry Hatfield, the bandits knock out the lawman, then place a shotgun in the unconscious man's mouth and pull the trigger.
#7 & #8 (8/28/1927 - Leaving a successful burglary job of the Crystal Ice Company in Newton, Kansas (several hundred dollars in cash, coins, and bonds is lifted from the company safe), Herman Barker (accompanied by bandits Porter C. Meek and Charles H. Stalcup makes the mistake of speeding through the deserted streets of the town in the wee hours of the night as the gang heads back to Wichita, drawing the attention of motorcycle officers Joseph E. Marshall and Frank Bush. Car stopped at the intersection of North Lawrence and 11th Avenue, Marshall walks up to Barker and asks, "Where's the fire?" Barker responds as Barkers do (he is the oldest of the four boys Arizona Donnie Clark "Kate" "Ma" Barker will have) ... grabbing Marshall in a headlock and pulling him into the driver side window, Barker pulls his .32 and pumps three bullets into the lawman, one hits him in the left arm as he is falling, falling from the fatal effect of having a slug sent through his right eye and out the left side of his head, and another killing round going through his mouth (the official time of death is declared to be 3:27 in the early morning). Reacting to the murder of his partner, Bush opens fire on the car and its occupants, then reloads, and empties his gun again ... and hits all three of his targets, Barker takes a mortal wound to the chest, Stalcup is hit twice in the legs, and Meek is also struck in the leg (jumping out of the vehicle he vanishes into the night as Barker careens down the road and crashes into a tree across from an all-night burger joint). In extreme pain, knowing he is dying, Herman manages to cross the street before collapsing ... saying "Forgive me, Ma," the outlaw places his automatic to his right temple and pulls the trigger ... the first Barker boy to die, Herman is thirty-four years old when he leaves for Hell.
Herman Barker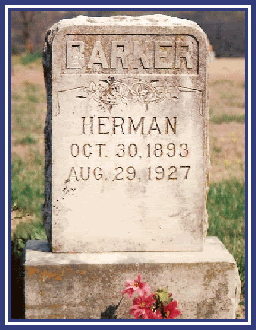 Herman's Home
#9 (8/29/1927) - Wounded and on foot, trying to leave Wichita after the previous night's shootout with Officers Marshall and Bush, Porter Meeks is discovered in an area of the city near the railroad roundhouse. Surrender requested, when Meeks instead opens fire (hitting 14-year-old bystander Harold in the leg, Wichita Detective Merle Colver (Colver will himself be killed on 8/14/1931, by "Tri-State Terror" Wilbur Underhill) puts a round through the outlaw's heart, killing Meeks instantly.
Colver
#10 (5/16/1931) - Freddy Barker's roommate and gang associate Jimmy Creighton loses his temper completely, when leaving Morgan's Department Store in Webb City, Missouri, he is accidentally bumped into by Coyne Hatten, son of a wealthy local businessman. Hatten apologizes, but it goes unaccepted, and instead, Creighton pulls a gun and shoots the young man down in the street.
#11 (9/2/1931) - Breaking into the Hildrith Chevrolet car dealership in Monett, Missouri to pilfer a ride for a coming bank robbery, Freddy Barker is surprised to encounter 45-year-old night watchman Elisha L. Hagler ... reacting as he always does to a fright, the bandit pulls a pistol and drops Hagler into eternity with a bullet that severs the guard's spine (Hagler is survived by his wife, three children, a sister, and four brothers).
Freddy Barker
#12 (11/8/1931) - Casing a potential bank job at night in the town of Pocahontas, Arkansas, Alvin Karpis and Freddy Barker see Night Marshal Albert M. Jackson observing them and writing down their license tag numbers ... .45 out, Barker disarms the man and takes him hostage, then the outlaws drive their captive out to a local quarry and put four slugs in the unarmed man's back.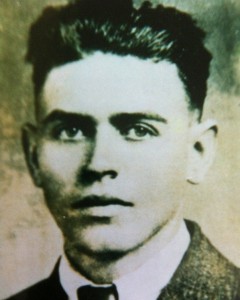 Jackson
#13 (12/19/1931) - Stupidly having their car serviced (two tires have gone flat on the stolen blue DeSoto) the night after robbing the C.C. McCallon clothing store of $2,000 in fine duds, Alvin Karpis and Freddy Barker are put on the spot when a nosy mechanic notices clothing in the backseat of the outlaw's vehicle matching a morning newspaper article describing the previous night's robbery and slips away to inform 45-year-old Sheriff C. Roy Kelly that the perps might be across the street at the garage. Grabbing a pistol from his car, walking into the garage, before he can question either stranger, Barker, sitting in the car's passenger seat, pulls his gun and shoots Kelly in the chest, while Karpis' bullets hit the lawman twice in the left arm. The dead officer is survived by his wife.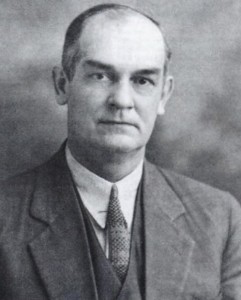 Kelly
#14 & #15 (3/7/1932) - Seeking either reward or blackmail money for telling what they known of a recent $3,000 raid on the town of Cambridge, Minnesota that Freddy Barker, Alvin Karpis, and four other men have participated in, gun moll Margaret Perry and prostitute Sadie Carmacher are lured to Balsam Lake, Wisconsin, bumped off, and their bodies left in a burning car (owned by Alvin Karpis who is not happy when he discovers his loaned out ride has been used in a double execution), murdered by St. Paul underworld figure and nightclub owner, Jack Peifer, and former motorcycle cop turned thug, Phil Courtney (also using the name of Bernard Phillips).
Peifer - 1936
#16 (4/25/1932) - Believing the drunken babbling of Ma Barker's boyfriend, 70-year-old Arthur Dunlop, have resulted in a police raid that chases them out of St. Paul, Minnesota, Alvin Karpis and Freddy Barker take the old man out to a lake near Webster, Wisconsin and put a bullet in his head.
Ma Barker And Arthur Dunlop
#17 (8/16/1932) - Paid $5,000 by Alvin Karpis to make sure his bank robbing buddy, Harvey Bailey, is not convicted of robbery, crooked lawyer J. Earl Smith fails in his assignment and the outlaw is sentenced to 10-50 years behind bars ... the next day, the attorney's corpse is discovered at the Indian Hills Country Club outside of Tulsa, with a bullet in its head.
Karpis
#18 (Summer, 1932) - For the stupidity of using Alvin Karpis' car for a murder, leaving a speakeasy called the Green Dragon only moments before two killers are arrested there, for playing so slow he conveniently misses being arrested by one hole when Federal agents bust bank robbers Thomas Holden, Francis Keating, and Harvey Bailey while they are golfing at the Mission Hills Golf Club in Kansas City, and FOR never being fully trusted because he is a former lawman, Phil Courtney takes a phone call while visiting bank robbers Frank "Jelly" Nash and Verne Miller in a New York City Hotel, goes outside to meet someone, and is never seen again. Years later, underworld testimony from Machine Gun Kelly (as told to him by Jack Peifer) and Courtney's girlfriend will tell a tale of the outlaw being picked up by associates, taken back to Minnesota, murdered with ice picks, covered in quick lime, and buried in a remote location outside of St. Paul.
#19, #20 & #21 (12/16/1932) - Responding to a silent alarm from the Third Northwestern Bank of St. Paul, Minnesota (the robbers consist of Barker-Karpis gang members Alvin Karpis, Freddy Barker, Doc Barker, killer Lawrence DeVol <by the time he joins the Barker-Karpis gang, he has already murdered for hire two businessmen and killed three police officers>, William Weaver, WWI hero turned free-lance outlaw, Verne Miller, and bandit Jessie Doyle) despite their shift having just ended, officers Ira Evans and 38-year-old Leo Gorski pull up in their squad car and park in front of the bank ... and before they can even exit the vehicle, have DeVol unload on them with his Thompson sub-machine gun ... Evans is killed instantly and Gorski (an 11-year veteran with a wife) dies of his wounds two days later. Escaping from the bank with over $120,000 in cash and bonds, the gang drives to nearby Como Park to change vehicles (they have a green Chevrolet sedan stashed there) ... transferring money and weapons, they draw the attention of a Christmas tree salesman (after months of unemployment, it is his first day at the job), 29-year-old Oscar Erickson, and his 22-year-old friend, Arthur Zachman driving by. Thinking the men might be potential customers, or need help with their car, he slows his vehicle ... and Freddy Barker, thinking the man is memorizing the license plate of the car used in the robbery, pulls his pistol and puts two rounds into Erickson (grabbing the wheel as his friend slumps over, Zachman takes him to a nearby hospital where Erickson dies later that afternoon, with his 20-year-old wife of two years at his bedside.
DeVol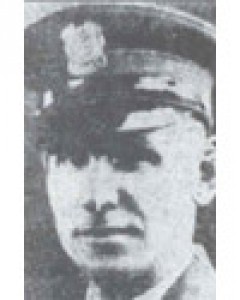 Officer Gorski
Como Park Area
#22 (4/4/1933) - Not amused that their bank, the First National Bank of Fairbury, Nebraska is being robbed, Cornhusker citizens open up on the Barker-Karpis gang (Karpis, Doc, Freddy, Volney Davis <recently escaped from prison>, Frank "Jelly" Nash, Jessie Doyle, and Earl Christman) and a gun battle breaks out on the main street of the town ... bullets flying up and down the street, the outlaws are able to escape with over $70,000 in cash and bonds, seriously wounding six citizens in the process, but take one major casualty of their own ... hit in the back by a .45 slug, Christman dies several days later at Miller's Kansas City home and gets buried in a dry creek bed.
Miller Before Going Bad
#23, #24. #25, #26 & #27 (6/17/1933) - Attempting to free escaped felon, bank robber, and Barker-Karpis associate Frank "Jelly" Nash from being returned to Leavenworth Penitentiary, Barker-Karpis associate leads an ambush on law enforcement officers in the parking lot of the Kansas City train station that turns into a bloodbath when one of the escorting guards mishandles his shotgun and blows Nash's head off, precipitating Miller and the gunmen with him to open up with their machine guns ... killed along with 46-year-old Nash are police officers W. J. Grooms and Frank Hermanson, FBI agent Raymond J. Caffrey, McAlester, Oklahoma Police Chief, Otto Reed (along with the deaths, FBI agent R. E. Vetterli is wounded in his left arm and FBI agent F. Joseph Lackey is seriously wounded by three bullet strikes).
After!
#28 (8/30/1933) - Exiting the post office just beyond the South St. Paul Railway Station at 9:45 in the morning after sorting the just received Swift & Company payroll into envelopes, postal messengers Herbert Cheyene and Joseph Hamilton, accompanied by 38-year-old police officer Leo Pavalak, are suddenly confronted at the sidewalk by a black sedan with a screeching siren belching black smoke out of its rear ... three armed robbers jump out, and one, Doc Barker, relieves Pavalak of his weapon as he holds a shotgun on the officer as the job begins. Word out a robbery is taking place, moments later a police car, its tires screaming, comes around the corner, and Doc, realizing a gun battle is about to take place, gets rid of his hostage impediment by shooting Pavalak in the chest (Pavalak will be survived by a wife and four children), almost blowing his head off (gun battle indeed, Freddy Barker begins spraying machine gun bullets up and down the street, and into the arriving police car ... wounding its driver, officer John Yeoman ... Freddy then walks to the stopped vehicle, takes the man's weapon as a souvenir, and then shoots him again ... Yeoman will be crippled for life, but does survive his encounter with the Barkers).
Front Of Post Office Where The Battle
Took Place
Pavalak
#29 (9/22/1933) - Using another smoke producing vehicle, shortly before midnight in downtown Chicago, Freddy, Doc, Karpis, Bryan Bolton, and "Shotgun" George Ziegler ... as planned, in three minutes mail sacks are in the car and the gang drives away ... only to be hit a few blocks later by a reckless driver. Seeing the accident take place, officer Miles Cunningham runs towards the scene of the accident to see if he can be of assistance, and is hit in the chest by six .45 slugs from Bryan Bolton's machine gun (firing wildly from the back of their escape car, the outlaw almost takes off one of Doc's fingers spraying the scene with bullets ... a close call that knocks the diamond out of pinkie ring Doc likes wearing). And it was all for nothing ... returning to their hideout, the men discover the guarded mail bags contain nothing but canceled checks.

Cunningham
Bolton
#30 (10/9/1933) - Whether gangster revenge for participating in the St. Valentine Day massacre, to keep him quiet about the activities of the Barker-Karpis gang (he has participated in robberies and the kidnapping of William Hamm), or as a lesson to other underworld characters not to freelance as hold-up men, as 32-year-old gunman Gus Winkler is entering the beer distribution office of Charles Weber on Roscoe Street, he is riddled by multiple shotgun blasts from a green delivery truck ... no one is ever charged or convicted of the crime.
Winkler
Big News
#31 (11/29/1933) - For the same reasons as Winkler, and because of the massive law enforcement heat he has brought down on organized crime due to authorities seeking his arrest for the Kansas City Massacre in which four officers and bank robber Frank "Jelly" Nash are killed, 37-year-old ex-lawman Verne Miller is grabbed by "persons unknown," tortured with a strangling clothesline, beaten to death with a clawhammer, and then dumped in a ditch outside of Detroit, Michigan.
Miller
*** (1/13/1934) - Not one of the gang's killings or death, but not for a lack of trying, the following is included because it is indicative of the many incidents in the history of the gang that could have increased their body count even further. Nerves on edge as they ready themselves for kidnapping St. Paul banker Edward Bremer (which takes place on 1/17/1934), arriving at their St. Paul apartment hideout, Karpis and Freddy (with Freddy behind the wheel) check the neighborhood for cops before parking, and believe they see trouble in the form of a cop car with two officers following them. Acting as always, the men turn a blind corner then screech to a halt, jump out, and when the car following them makes the turn, unload pistol and machine gun fire (emptying a 50 bullet drum) into the police car ... only it isn't a police car and the men inside aren't cops. Advised by his wife that there is a peeping Tom troubling the neighborhood, when Northwest Airlines radio operator Roy McCord gets off his shift, still in his airline uniform and cap (which makes him look like a police officer, as does the car he is driving, the same style as the city's cruisers), picks up a friend, and begins cruising the area looking for the person or persons who have been looking in windows at night ... and comes across Karpis and Freddy. Hit six times, McCord survives the encounter with emergency surgery (dropping immediately to the floor of the vehicle, his friend is missed entirely).
#32 (3/21/1934) - Like picking off a row of ducks ... as with Winkler and Miller, Barker-Karpis associate and Capone hitman (Goetz, Winkler, and Bryan Bolton are all believed to have participated in the St. Valentine's Day Massacre before becoming freelance bank robbers with the Barker-Karpis crowd), 37-year-old Fred Samuel Goetz, known to the gang as "Shotgun" George Ziegler is sent packing by way of a shotgun blast that turns his face to bloody mung as he stands in front of the Minerva Tavern in Cicero, Illinois.
Goetz/Ziegler
#33 (4/3/1934) - Barker-Karpis associate Eddie Green pays the penalty for free lancing his jug marker services casing banks before jobs and gun skills as a bank robber to the Dillinger gang ... the gang on the run after a St. Paul apartment shootout involving Dillinger, Homer Van Meter, the FBI and St. Paul police, unarmed Green is shot in the back by the FBI after retrieving gang possessions from a former hideout the Federals have staked out. Delirious in a local hospital, Green lasts seven days before passing on 4/10/1934, his babbling providing the FBI with vital information on both gang's (there are many never proven rumors of torture also being used to elicit information).
Green
Site Of The Ambush - Green Falls At "X," Fired On From Circled Windows
#34 (4/30/1934) - Too hot for the underworld to provide its usual help with hideouts and supplies following their narrow escape from the FBI raid on the Little Bohemia Lodge and a running chase and gunfight with Minnesota police, trying to find help for wounded John Hamilton, John Dillinger as a last resort turns for help to the Barker-Karpis gang. Taken in by Volney Davis and his girlfriend, Edna "Rabbit" Murray (so nicknamed for three times escaping from jails), with assistance from Doc, expecting to be in another gun battle with authorities at any second, Dillinger and Van Meter stay several days in the Aurora, Illinois apartment of Davis until Hamilton succumbs to his wound (struck in the back during the Minnesota car chase, the wound turns gangrenous ... dead, the 35-year-old bank robber will be buried in an unmarked grave in a gravel pit and covered in quick lime to hinder identification).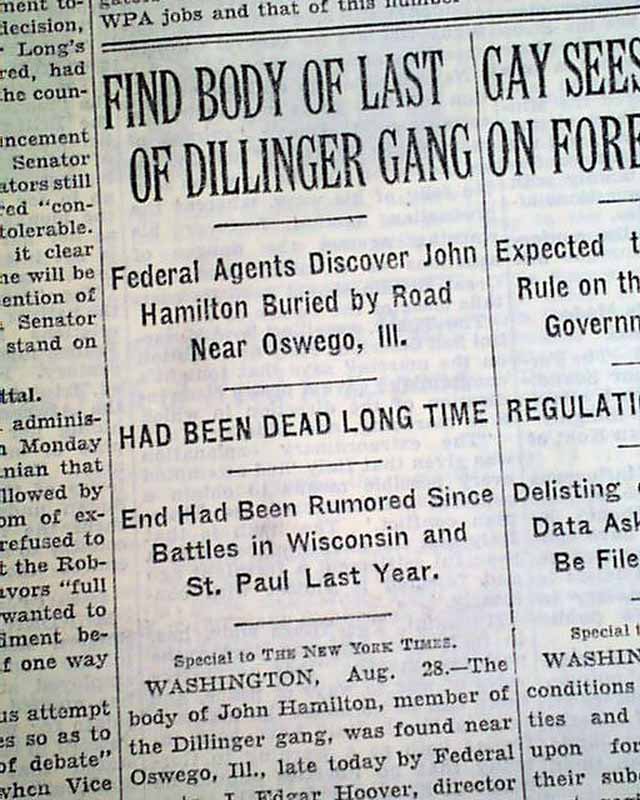 News
#35 (July, 1934) - Drunk, underworld medical hack, 39-year-old Joseph P. "Doc" Moran (he loses his medical license in 1928 for performing illegal abortions), makes the mistake of getting into an argument at the Casino Club in Toledo, Ohio with Freddy Barker over ransom money from the recent Bremer kidnapping (Moran is helping with the laundering of the cash) and the plastic surgery he has performed on the killer robber (very poorly in Freddy's opinion), and then doubles down on the error by threatening the gang with exposure, screaming, "I've got you in the palm of my hand!" Tempers cooled, Moran then accepts an offer to go fishing at a nearby Lake Erie with Doc and Freddy ... and never returns. Missing his hands and feet, and bad decomposed (dental records are needed for identification), Moran washes up at Crystal Beach, Ontario on 9/26/1935 with a bullet in his head.
Moran
#36 (1/5/1935) - Believing gang gopher Willie Harrison (a former golf pro) has pilfered kidnapping ransom cash he has been sent to Cuba to launder, remembering a drunken brawl in Toledo that the man precipitated in a nightclub over a Scottish singer not taken requests, and worried about his talkative nature, Freddy Barker has his older brother Doc lure the gang runner back to Chicago. Driven out into DuPage County, north of the Windy City, Doc kills Harrison with a burst of machine gun fire, cuts up the body and covers the pieces in highly flammable paraffin, puts the mess in an abandoned barn, and drops a match ... bye-bye Harrison.
#37 (1/8/1935) - At around 11:30 in the evening, surrounded by FBI agents (over 20, led by Special Agent Earl Connelley) in a Chicago apartment on Pine Grove Avenue he is sharing with outlaw Bryon Bolton, the wife of Willie Harrison, and his latest squeeze, wife Clara, gunman Russell "Slim Grey" Gibson decides to place his escape hopes on the viability of the armored vest he is wearing, and the lethal abilities of the Browning Automatic Rifle he is carrying ... a mistake, in the gun battle that takes place in the alley behind the hideout, Gibson misses his targets as he is mortally wounded by a bullet that hits him in the head, and by a round that pierces his chest. Taken to nearby American Hospital, Gibson goes out like the hoodlum he is ... "Tell you nothing," are his last words.
Gibson
#38 & #39 (1/16/1935) - Linking a circled map found in Doc Barker's Chicago apartment, to the hoping-for-a-deal singing of captured killer, Bryon Bolton, to a Florida lake with said to contain a huge alligator named Old Joe, in the dark of early dawn, fifteen FBI agents led once more by Earl Connelley, surround a two-story, white clapboard house with green trim just off Lake Weir in Oklawaha, Florida. When it is just light enough to see, Connelley calls out, "Fred Barker, come out with your hands up! We have the house surrounded!" No one comes out, but inside, the agents can hear a woman's voice ask, "What are you going to do?" ... then hear the same voice respond, "All right, go ahead." Thinking Ma has given her permission for Freddy to surrender, the government officers are instead greeted by machine gun fire burst from a downstairs window. Battle on, with starts and stops, for roughly four hours gunfire erupts from all over the home (prepared for the worst, there are weapons at all the windows and doors, which Freddy fires, then runs to the next position so outside, the agents don't know how many outlaws they are dealing with) that is in turn, returned by the lawman on the property (as a crowd numbered in the hundreds gathers just down the road to watch and hear the fireworks), using machine guns, pistols, shotguns, and tear gas grenades. Quiet by 10:30, Connelley enlists the help of the home's 25-year-old black caretaker named Willie Woodbury to ascertain what is going on in the house. Letting himself in by cutting open the front screen door, calling out his identification to Ma, moments later, eyes teared by the gas enveloping the grounds, Woodbury pokes his head out of an upstairs window and proclaims, "They all dead!" Indeed ... in the upstairs southwest bedroom that was Freddy's, 61-year-old Ma is found on the floor with a single bullet hole through her forehead, while beside her, her youngest son, 33-year-old Freddy also lies dead as the result of taking a whole machine gun burst in his shoulder and head. Barker patriarch gone, to explain why the FBI kills an unarmed, old lady with no arrest record, J. Edgar Hoover events the myth of Ma being the gang's mastermind ... history written by winners, it is a myth still believed to this day.
The Hideout
Upstairs Death Room
Ma
Freddy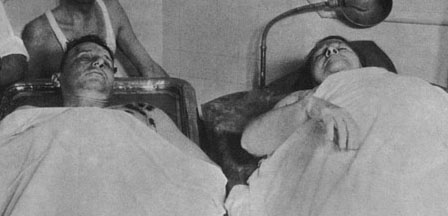 Mother And Son
#40 & #41 (7/8/1936) - Returning to his old Oklahoma stomping grounds after leading a 15 inmate escape from the St. Peter Hospital for the Criminally Insane in Minnesota, 32-year-old killer Larry DeVol takes some down time from his latest round of robberies by tasting the brew available at the German Village Beer Parlor in Enid, Oklahoma ... there is a problem though, the establishment is run by a retired cop, Tim O'Neil, who notices the way the stranger has positioned himself to view the front door, and how he watches the comings and goings of every customer. Fearing he is about to be robbed, O'Neil notifies friends on the police force, and soon, officers Cal Palmer and Ralph Knarr show up to investigate the situation. Asked to come with the officers for questioning, with a smile on his voice, DeVol asks if he can finish his beer, takes a last sip, and in the same motion that he sets his mug down, with the officers relaxed for a split second, pulls a pistol and opens up. Struck in the heart, 39-year-old Palmer is killed instantly (the 11th victim of DeVol's criminal career), while his partner Knarr is seriously wounded by four bullet strikes. Rushing out a side door of the bar and into an alley, DeVol is pursued by five more officers who have also just arrived to evaluate the situation at their friend's business, as he tries to carjack a passing vehicle. Another gun battle, DeVol wounds an officer in the finger, but in return, takes nine different slugs to his body, including one to the head that kills him instantly.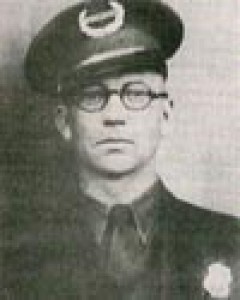 Pamer
#42 (7/31/1936) - Two hours after being sentenced to thirty years behind bars for his role in the Barker-Karpis kidnapping of brewer William Hamm, St. Paul underworld figure, Jack Peifer, owner of the Hollyhocks Club where criminals came to relax, is returned to his cell ... where he either commits suicide, fearing prison, or is murdered for what he knows, by way of chewing on a piece of gum laced with cyanide.
Peifer
#43 (1/13/1939) - Sentenced to life in prison and sent to Alcatraz for his role in the Bremer kidnapping, and placed in a segregation unit for troublesome prisoners, on an unlucky Friday, 39-year-old Doc Barker, and fellow convicts, Dale Stamphill, Henri Young, William Martin and Rufus McCain, after the normal 3:00 in the morning prison count, manage to cut their way out of their cells, and the barred windows of their cell block (their daily work for weeks is masked with putty), over barbed wire fences, and down to the beach on a foggy night ... but are discovered quite quickly when a guard makes a random bed check. Splitting into two groups, Stamphill and Barker try to swim to San Francisco, but are pushed back to the island, where they then attempt to built a raft out of driftwood on the beach. Told to surrender, they continue crafting an escape vehicle, until the guards open fire ... both men go down, hit in the legs, and Doc also receives a head wound (a bullet strikes him below his right ear and exits his right eye) from a patrol boat just off the beach (the other pair surrenders with no problems). Brought to the prison hospital, Barker succumbs to his head wound at 5:00 in the morning, his last words are, "I'm all shot to hell. I was a fool to try it." There is now only one bad Barker left.
Doc
#44 (12/3/1940) - Believing his 37-year-old partner's failure to tell him he couldn't swim has resulted in the failure of the 1939 escape he attempts with Doc Baker, William Martin and Dale Stamphill, after being released from solitary confinement, bank robber and murderer, Henri Young, stabs his former convict pal, Rufus McCain, in the neck with a sharpened spoon ... a murder that will one day be the subject of a Kevin Bacon (as Young) movie called "Murder in the First" (after a major trial, Young will receive a life sentence on top of the time he is spending behind bars for his other crimes).
Henri Young
Rufus McCain
#45 (4/14/1943) - Serving a 25-year sentence on Alcatraz for partnering up with Alvin Karpis at the end of the public enemy's criminal career, Fred Hunter, along with Harold M. Brest, Texas desperado Floyd Hamilton, and James Boarman, overpower two guards, bind and gag them, cut through the bars of the mat shop, create a flotation using cans that contain army uniform disguises, and make their way into the ocean ... where the escape comes unraveled. Managing to get loose enough to blow a police whistle, alerted guards once more fire into convicts attempting to escape ... hit in the head and held up by his buddy until Brest is pulled into the prison's motor launch, Boarman vanishes into the deep and is never seen again, while Hunter and Hamilton hide in caves at the island's shoreline, until suffering from the effects of not eating and hypothermia, both men eventually surrender.
Boarman
#46 (3/18/1949) - Perhaps the unluckiest of all the Barker Boys, sentenced to 25-years at Leavenworth Federal Penitentiary for his part in a 1921 mail robbery, Lloyd Barker sees his parole denied time and again because of the murderous antics of the rest of his family, and while in prison, hears of the deaths of his mother and brothers. Determining crime really doesn't pay, he becomes a model prisoner, working in the prison's shoe factory, as a cook, and then as an orderly in its hospital, he is finally released on 10/29/1938. Going straight, during WWII, Lloyd is allowed to rejoin the Army (he had briefly been enlisted at the end of WWI) and serves as a cook at the Camp Custer. a POW facility near Augusta, Michigan. Locating to Denver at the war's conclusion, he gets a job as a bartender at the Denargo Grill, which he parlays into the respected position of assistant manager ... and he finds time to fall in love and marry a young divorcee named Jennie Farrell, along with taking on parenting responsibilities for his wife's two children (and the couple will also have two kids of their own). Seemingly in Happy-Ever-After Land, Lloyd worries through part of his shift at the grill after he goes to work despite Jennie saying she doesn't feel well. Granted permission to go home, 52-year-old Lloyd, parks in the garage, follows the sidewalk to the back door, unlocks the door, and has his head suddenly nearly blown off by a shotgun wielded by his own wife. Bat shit crazy from postpartum depression and other reasons, Lloyd's wife will spend the rest of her life in the Colorado State Insane Asylum at Pueblo, dying there in 1986.
Lloyd Barker
After His Release
#47, #48, #49 (6/6/1949) - Finally paroled from long stints at Leavenworth, Alcatraz, and then back at Leavenworth in 1947, Barker-Karpis bank robbing associate, Thomas Holden, shows he is not reformed at all and pisses his freedom away. Drinking, drinking, and more family drinking, Holden gets into a vicious argument with his wife and two brothers and massively loses his temper ... pulling a gun, he shoots them all dead and then flees, becoming the first person to go on the FBI's new Most Wanted List. Spotted when his picture is published in a local newspaper, pretending to be a plasterer named John McCullough, Holden is arrested in Beaverton, Oregon in 1951. Found guilty of murder and sentenced to life, the killer bandit dies behind bars two years later at the age of 57.
Holden
News
#50 (8/26/1979) - Accident, suicide, or murder ... former Public Enemy #1, Alvin "Old Creepy" Karpis, passes away in Torremolinas, Spain at the age of 72 ... at first the death is ruled a suicide by way of an overdose of sleeping pills, but then the cause of death on the official death certificate is changed to natural causes ... no autopsy is done.
In Spain