5/16/1957 - In John Ford's last great film, "The Man Who Shot Liberty Valance," the whole movie revolves around what the newspaper editor interviewing Jimmy Stewart sums up at the end of the movie ... "When the legend becomes fact, print the legend!" Indeed, and due to a self-serving autobiography, a highly successful TV series featuring actor Robert Stack based on the book that runs from 1959 to 1963, and then a full-blown Hollywood movie version of the story starring Kevin Costner (and co-starring Sean Connery that wins the 007 actor a Best Supporting Actor Oscar in 1988), the pantheon of legendary lawmen that includes Wyatt Earp, Pat Garrett, Charlie Siringo, Bill Tilghman, and Melvin Purivs now includes the nemesis of Al Capone, a real life incorruptible Dudley Doright ... Eliot Ness. The truth however, is a little different.
Born in Chicago, Illinois on April 19, 1903, Ness is the youngest of five children born to Peter Ness and his wife, Emma King, Norwegian immigrants who run a local bakery. Good grounding, with both parents and siblings providing a grounding, young Eliot attends Christian Fenger High School, earns an economic degree from the University of Chicago, and when working for the Retail Credit Company of Atlanta as credit investigator isn't fulfilling, returns to college and gets a master's degree in criminology. Influenced and helped by his brother-in-law, Alexander Jamie, an agent with the Bureau of Investigation (which will become the FBI in 1935), six-foot tall, 24-year-old Ness joins the U.S. Treasury Department in 1927 and begins work in Chicago for that organization as part of its 1,000-strong Bureau of Prohibition, going after individuals not in compliance with the Volstead Act, making the manufacture and distribution of liquor illegal. Backed by new President Herbert H. Hoover, mandated by U.S. Treasury Secretary Andrew Mellon, the group's number one target is notorious bootlegger, Alphonse Gabriel "Al" Capone.
Given the assignment of cracking down on the manufacturing and distribution aspects of the gangster's business, with the big bucks of bootlegging making corruption in Chicago rampant, in 1929 Ness combs the records of all Prohibition agents (again, his brother-in-law helps Ness with his career by recommending him to put a special group of crime busters together when a group of six powerful Chicago businessmen secretly ask for government help in ridding the city of its gangster problem), looking for fifty men who will do his bidding, while resisting criminal efforts to bribe or blackmail them (reduced from fifty to fifteen, Ness eventually settles for eleven like-minded individuals). Along with Ness, the group consists of Bill Gardner (a Native-American and at 50, oldest member of the team), Lyle Chapman (a former Colgate football player), Barney Cloonan (an Irish-American athlete ... and recognized later, after the group disbands as a Capone agent ... oooops!), Martin Lahart (an Irish-American boxer), Thomas Friel (a former Pennsylvania state trooper), Mike King (responsible for data analysis and attack tactics), Joseph Dickenson (an ace driver and expert on tailing methods ... soon behind the wheel of a truck with a specially designed front ram for crashing through closed gates and doors), Paul Robsky (a wire tap expert), Samuel Seager (a former Death Row guard at New York's Sing-Sing Prison), Jim Seeley (a former private investigator), and Al Wolff (a department transfer recently arrived from Kentucky). Using wire taps (some not legal) and informants, the group soon goes into action, staging raids that in six months are estimated to cost Capone's operation over a million dollars in liquor profits (almost $14,000,000 in today's money). With the success of the group comes criminal push-back in the form of threats (during this period, Ness will have his car stolen three times, have his office and home phones tapped, and a Capone gunman will be discovered lurking about outside the home of his wife's parents ... and he is told he will receive two $1,000 bills a week for leaving Capone alone) and bribe offers (additionally, Frank Basile, a former convict and Ness friend the lawman is helping with turning his life around, an unofficial member of the team that assists with driving and at times with raids, is murdered by being shot in the face four times), and in talking to the press about Chicago corruption, the term "untouchable" is used and the group has its legendary name.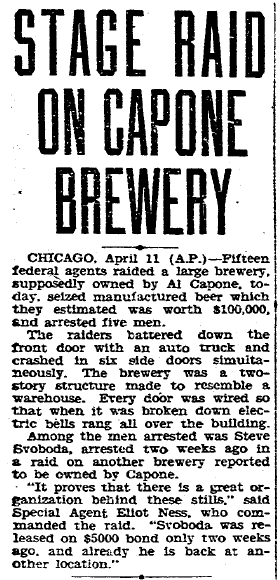 Chicago News
Rivers Of Wasted Beer!
Capone brought down and sent to Alcatraz by Treasury agents discovering the gangster has not properly paid his taxes (not because Ness finally got him ... the only time they actually cross paths is once during a Capone court appearance), and Prohibition ended shortly after the 1932 election of new president, Franklin Delano Roosevelt, Ness is promoted to Chief Investigator for Chicago's Prohibition Bureau, his duties expand to include all of Ohio in 1934, he is assigned as a alcohol tax agent for southern Ohio, Kentucky, and Tennessee, and is then transferred to Cleveland, Ohio. Almost as corrupt a town as Chicago at the time, in 1935, Ness leaves Federal service and is hired by Cleveland's mayor, Harold Burton (who eventually will become a United States Supreme Court Judge), to be the city's Safety Director, responsible for the operation of both the police and fire departments. Doing what he does best, Ness institutes a series of changes that start weeding away corrupt officials and upgrade the criminal investigation procedures of the police. But there are problems too!
Between 1935 and 1938, Cleveland suffers from the madness of a serial killer that the press will dub the "Cleveland Torso Murderer" ... a monster that kills both men and women (the killer is officially "credited" with twelve killings, but many crime historians believe the maniac's total is at least double that count), beheads his victims (and some of the heads are never found), dismembers some bodies (actually cutting the torso in half in some cases), and castrates most of his male victims. Despite huge outlays of personnel, energy, time, and money, the culprit is never caught, and as head of the police department, the wrath of the public falls on Ness (helped on by the monster himself, who to taunt his adversary, leaves pieces of two of his victims within sight of Ness' office).
At the same time, Ness does nothing to help his cause by giving full flower to the drinking problem he has developed "sampling" products before their destruction (his wet of choice is Cutty Sark on the rocks) in Chicago, or his wandering eye for ladies other than his wife. Married to Edna Staley since 1929 (a young stenographer he meets at the Bureau), his first wife divorces him in 1938 and by the following year he is married to second wife, illustrator Evaline Michelow (a bohemian type who also loved boozy parting and had a penchant for skinny-dipping in the lake across from their home). The couple drunk and driving, in 1942, they skid into another car, and though no one in either car is hurt, when Ness tries to have the incident cover-up, his reputation takes another black eye and he is forced to resign his job in Cleveland as Mr. Safety. And so it is then on to Washington D.C. and a job during WWII giving lectures at military bases around the country on battling venereal disease and combating local prostitution ... employment that allows him to dip his wick into a myriad of waitresses, secretaries, and housewives across the nation. Realizing she has become the wife he is now cheating on, in 1944, Evaline begins a lesbian relationship with one of her models and divorces Ness.
After the war, Ness' descent into alcoholism quickens and along with marriage number three to sculptress Elisabeth Anderson Seaver (and adoption of her son), the former lawman will briefly become the chairman of the safe making Diebold Corporation (his continued drinking gets him the boot there), helps form an import-export company dealing with China in conjunction with former Flying Tigers leader, General Claire Chennault, unsuccessfully runs for mayor of Cleveland in 1948, becomes an electronics parts wholesaler, clerks in a bookstore, works for a new company specializing in watermarking documents to prevent counterfeiting, and for a time, is even a frozen hamburger salesman to local restaurants. And he spends a massive amount of time in saloons, getting plastered, and telling tales of his former glory days in Chicago when he bested the infamous Al Capone (a friend will state that when out with Ness, for every two drinks he had, the ex-lawman would have 22!!!!!!!). During one such session in New York City, his tales come to the attention of writer Oscar Fraley, who begins compiling reality and Ness fantasies into a book that will be called, "The Untouchables" (Ness sends the writer 20 pages of notes on the period, but thinks little of the possibility of his tale becoming an actual book).
Elisabeth
Depressed, in debt to the point of being bankrupt, health ruined by his drinking and womanizing, on May 16, 1957, at his home in Coudersport, Pennsylvania, Ness suffers a massive heart attack and dies at the age of 54. Almost completely forgotten at the time of his death, the New York Times does not mention Ness' passing at all, and in Chicago, only 100 words are used to give an obituary of the former lawman's life ... the publication of "The Untouchables" shortly after Ness dies changes all of that, and legend printed, he becomes Sherlock Holmes to Capone's Moriarty, forever more the good knight battling a criminal monster.
Stack As Ness
Costner As Ness
5/16/1957 ... the real Eliot Ness dies ... and the myth of man comes to life.
Ness