5/10/1935 - After escaping his first date with death, the state of Texas gleefully executes Raymond Elzie Hamilton in the electric chair of its Huntsville penitentiary ... permanently taking out of circulation a criminal menace that had already amassed convictions for armed robbery, car theft, kidnapping, burglary, petty theft, and murder totaling 362 years behind bars ... at the tender age of only twenty-two!
Hamilton
Born May 21, 1913, in a tent along the banks of the Deep Fork River, near Schulter, Oklahoma, Raymond is one of six children born to Sara Alice Bullock and her husband, smelting plant worker John Henry Hamilton. Seeking a better life, the family soon transplants itself to West Dallas, Texas, but in one of the worst slums in the entire country, only discovers more poor ... a poor that curdles Raymond's soul as he chooses to respond to it with thievery. Joining a local group of like-minded juvenile delinquents, Raymond becomes a member of the "Root Square Gang," where he meets a similar punk named Clyde Chestnut Barrow. Descent to violent death started, the two boys begin their bandit careers with petty thefts and shop lifting, move on to car theft and burglary, become armed robbers sticking up small stores and businesses, experience jail time, and in 1932, rob their first bank together (a $33,000 payday by some accounts). In 1932, they also both murder for the first time.
Hamilton
Already facing Texas murder charges for a killing they didn't commit (though Clyde is behind the wheel of the getaway car), taking a minor vacation from usual stomping grounds, Raymond, Clyde, and pal Ross Dyer (Bonnie is off visiting her family) are driving through Stringtown, Oklahoma when, at about 9:00 in the evening, they decide to stop at a free country dance (a hat is passed around for donations to the musicians) about 50 yards from the highway (at Raymond's insistence according to Clyde) ... a gathering of hundreds of local residents dancing on a raised wooden platform to the pickings of a guitar and fiddle, socializing, and drinking lots of bootleg liquor. Wearing suits, driving an expensive, big city Ford V-8, drinking, and asking pretty girls for spins on the dance floor, the trio stick out like sore thumbs. Following up on a report that a gun has been seen in the stranger's car, but not expecting any trouble (he doesn't bother to unholster his pistol), Sheriff Charlie Maxwell casually walks up to where the men are drinking next to their car ... and almost instantly is shot down by the outlaws (hit six times, the lawman survives the encounter, but is crippled for life). The gun work of the outlaws in turn causes more trouble as one of the dancers grabs the sheriff's gun and starts firing on the outlaws, as does 31-year-old Deputy Sheriff Eugene Moore (a married farmer with three children trying to make ends meet by taking a second job as a part-time lawman). Returning fire, Moore is killed by an outlaw bullet that strikes him in the head (Clyde tells his family that Raymond did the dirty deed).
Moore And Two Of His Daughters
Personality differences exacerbated by the killing, living on the road, kidnapping a cop in New Mexico, and escaping a police trap on a bridge over the Colorado River at Wharton, Texas, both men wanting to be in control and suffering complexes over their lack of height (Raymond is only 5'3" and barely weighs 120 pounds), by mutual agreement the outlaws part ways ... for the time being. Refreshing himself by spending time in Michigan (where he had previously worked a construction job), Raymond is back in Texas by November of 1932, when partnered with a small-time hood named Gene O'Dare the Carmen State Bank of Wichita Falls is pilfered for $1,061. Then, in November, with a different partner, Les Stewart, Raymond robs the state bank at Cedar Hills for a second time for $1,802. Returning to Michigan to spend some of his newly acquired cash, he foolishly tries to impress a Detroit girl he is interested in with his criminal exploits ... reaction the exact opposite of Raymond's intentions, the girl tells local police, the police contact Texas authorities, and before Christmas, the outlaw is back in West Dallas, behind bars, compliments of a perfectly timed bust that takes place while Hamilton is on an ice rink wearing skates.
Clyde & Raymond
Put on trial for for 1932 murder of 60-year-old Hillsboro store owner John Bucher, on 6/2/1933, Raymond is found guilty of murder after Bucher's widow identifies him in court as the killer (though the actual murderer, hoodlum Ted Rogers, is already in the Huntsville prison serving time for other crimes), but instead of being sentenced to death, is giving 99 years behind bars ... bringing his total sentencing time up to an idiotic 263 years! Sent to the infamous Eastham Prison Farm, Raymond immediately begins formulating escape plans, using his younger brother Floyd as a conduit when outside help is required (for helping, Floyd will head down the criminal path himself, eventually becoming Public Enemy #1 in Texas, doing a long stint on Alcatraz, and participating in a 1943 escape attempt that gets convict James Boarman killed) ... outside help in the form of Hamilton's former partner, by that time known as "The Texas Rattlesnake" for the speed with which he kills, Clyde Barrow (who wants revenge on the institution at which he was raped, beaten, and tortured, and who knows Hamilton has been convicted for a crime he didn't commit).
Eastham Prison Farm
Eastham Prison Farm Mounted Guards
Raymond & Floyd Hamilton
Plan made, and pieces and people in place (two Colt .45 automatics and several clips of ammunition have been placed in an inner tube, hidden under a bridge on the farm grounds, and then smuggled in to the escapees by a prison "trusty"), on Tuesday morning, 1/16/1934, with fog from the Trinity River covering the area, Hamilton (with one of the pistols) joins a 16-man work crew clearing brush for spring planting and chopping wood for camp stoves, that includes robber Joe Palmer (serving 25 years, and carrying the other pistol), 21-year-old Henry Methvin (serving 10 years for attempted murder and car theft), murderer Hilton Bybee (serving a life sentence), and Oklahoma career criminal J. B. French. The unauthorized change immediately noticed by guard Olan Bozeman, he informs mounted guard Major Crowson of the irregularity, who rides over to the men to discover what Hamilton is up to ... and is rewarded by being mortally wounded in the stomach by Palmer, who also wounds Bozeman in the hip (Hamilton meanwhile shoots no one ... in the excitement of the escape he has managed to drop the automatic's magazine into a pool of mud). Hearing the sound of shots fired, in support of the escape, to keep any guards at bay, Clyde fires a magazine of BAR ammo into the air (a weapon capable of firing a 20-round clip of 30.06 amour piercing bullets in three seconds), and when done, Bonnie gives directions to the escapees to reach safety by sounding the horn of the escape vehicle that has been brought to Eastham (French runs away from the horn and will soon caught). Seven people in a ride not made to handle that many (recently released eight time convict Jimmy Mullins is also in the vehicle, there to make sure the $1,000 Hamilton promised him for helping with the crashout comes his way), the group nevertheless gets out of the area ... and a new Barrow gang is formed (the escape is the beginning of the end for Bonnie & Clyde, enraged at the escape, the head of the Texas prison system gets the governor to agree to the hiring of former Texas Ranger, Frank Hamer, for one purpose only ... hunting down Bonnie & Clyde, a mission he will accomplish by May, thanks in large part to the duplicity of new gang member, Henry Methvin).
Headlines
Palmer & Methvin
Together again, but not for long because neither man has changed and the problems the men had with each other before are the same ... only made worse this time around by Raymond including his new girlfriend, Mary O'Dare, a sarcastic, loud mouth redhead both Bonnie and Clyde despise, in the gang's activities. Despite a handful of successful robberies, things finally come to head and the men go their own ways, when after saying no to O'Dare receiving a cut of any loot the team steals, Clyde sees Raymond trying to secretly set money aside for his sleep partner. Adios, Raymond, who gets to live an extra year because he is not with Bonnie & Clyde when they stop on a Louisiana road to help a false friend with a flat tire.
O'Dare
After an expensive vacation at the LaFayette Hotel in New Orleans, Louisiana, Raymond finally tires of O'Dare too, and as if knowing his days are numbered, goes on a crime spree with various Texas thugs (including his brother Floyd) that includes bank robberies in the Texas towns of Lewisville and Grand Prairie, Prentiss, Mississippi, the fake kidnapping of Houston crime reporter, Harry McCormick, who comes away from his "ordeal" with an exclusive interview, and a shootout escape from Dallas police that also includes his brother. His luck finally runs out during the getaway from the Lewisville job, when bandit Ted Brooks crashes the car leaving the scene of the crime and officials are able to put up road blocks that trap the crooks. Put in handcuffs without a fight, Raymond responds to being caught by telling his captors, "Don't shoot, boys. I'm fresh out of guns, ammo, whiskey and women." Put back on trial for various robberies, and his role in the Eastham break, Raymond is sentenced to death as a habitual criminal. But as always, Hamilton has other plans.
Raymond
Waiting to be executed (along with Joe Palmer for his killing of Major Crowson escaping Eastham), on 6/22/1934, the men become the first Texas convicts to escape from death row when a bribed guard allows guns to be smuggled into the prison, and four convicts (Charles Frazier, Roy Johnson, "Hub" Stanley, and "Whitey" Walker) serving life terms force their way into the unit holding condemned inmates, open the cells of Hamilton, Palmer, and "Blackie" Thompson, and using hostage guard W. G. McConnell as a shield, steal the extension ladder of the prison fire truck, mount the wall, enter a guard tower, and exit using the wall's outside steps, disappear into the town of Huntsville. Only a postponement of the inevitable however, both Palmer and Hamilton are behind bars again, awaiting execution, by April of 1935.
Escape!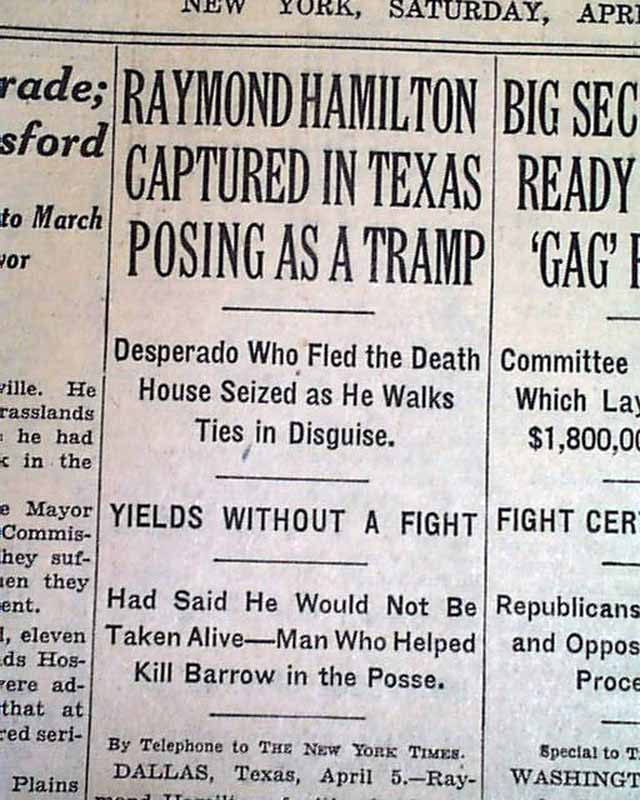 Captured ... Again!
No more escapes possible, appeals all used up, just after midnight on 5/10/1935, it is time for the men to leave. Raymond scheduled to be juiced first, the order of death is changed when bravado finally all gone, Hamilton breaks down, and Palmer volunteers to give his bandit friend some time to compose himself by going first. Offer accepted, at 12:01 the switch is flipped on Palmer and at 12:09. More composed, with just a few sobs, Raymond takes his last walk, is strapped in, and has killing electrodes attached to his body. "Well, goodbye all," are his last words. Current allowed to flow at 12:19, he is officially declared dead at 12:27 in the early morning.
Huntsville's Old Sparky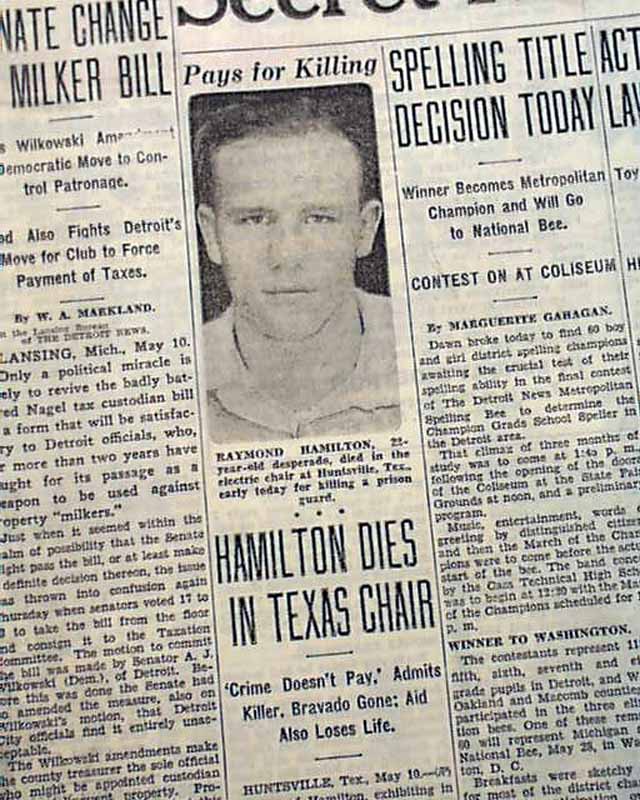 Big Texas News!
5/10/1935 ... Raymond Hamilton's criminal career comes to a screeching halt at the age of twenty-two in Huntsville, Texas.
Hamilton