11/29/1864 - Certainly one of the biggest and longest lasting warts in American history, the Sand Creek Massacre, takes place in Colorado on this day in 1864, but instead of picking at the scab once more, I'd like to discuss an individual that shines in his reaction to the mass murders ... the story of a now little known American hero named Silas Stillman Soule.
Soule
Born 7/26/1838 in Bath, Maine to a family of abolitionists, as part of the New England Emigrant Aid Company that has the goal of helping settle the Kansas Territory and bring the area into the Union as a free state, the family transplants in stages to the territory between 1854 (his father and brother) and 1855 (Silas, his mother, and his two sisters). Establishing a household at Coal Creek (a few miles south of the town of Lawrence), Silas' father, Amasa, soon makes his home a stop on the Underground Railroad (a frequent visitor is fiery abolitionist John Brown) ... a family endeavor that all of the Soule's will contribute to, by age 17, Silas is escorting escaped slaves from Missouri, north to freedom. He also distinguishes himself in the fight for "Bleeding Kansas," as an anti-slavery "Jayhawker" taking on Missouri pro-slavery "Bushwhackers" wherever and whenever they are encountered.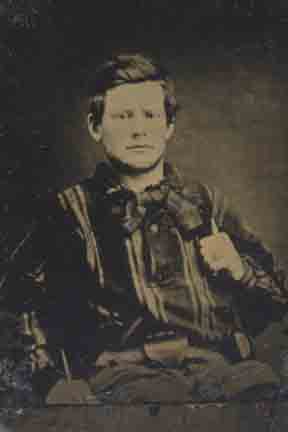 Young Silas Soule
Soule's most famous moment in the border wars that are the prelude to the American Civil War comes in 1859, after the arrest of fellow abolitionist, physician Dr. John Doy of Lawrence. Leading 13 escaped slaves (eight men, three women and two children) towards the freedom of Iowa, Doy is ambushed and captured (the escapees will be sold back into captivity) by a party of 20 pro-slavery Missouri men seeking escapees in Kansas. Tried and convicted in Missouri of abducting property, Doy is sentenced to five years behind bars for his actions. An outcome massively undeserved in the eyes of his fellow abolitionists, a plot is soon hatched for the doctor's escape from the St. Joseph jailhouse he is being held within, with Soule first helping to get a note into Doy to be ready for rescue (he tells the jailer the note is from the doctor's wife), and then being one of the ten men that overpowers the jail's guards and takes the physician back to freedom in Kansas (back in Lawrence, the group poses for a picture that is dubbed "The Immortal Ten," and turned into a widely distributed postcard ... a photo now possessed by the Kansas State Historical Society).
The Immortal Ten And Dr. Doy
Soule As An Immortal
Impressed by the intelligence, fortitude, and calmness he shows in helping Dr. Doy get out of jail and back to his Kansas home, when John Brown is captured in 1859 at Harper's Ferry, Virginia, during the fabled abolitionist's failed attempt to spark a slave revolt, Soule is recruited to organize Brown's escape (deciding he wants to be a martyr to the cause of freedom, Brown refuses Soule's help and will be hung in December of 1859). When freeing Brown fails, Soule is then recruited by Thomas Wentworth Higginson to free two of Brown's captured company, Albert Hazlett and Aaron Stevens. Posing as a drunken Irishman, Soule manages to get himself arrested and thrown in the Charles Town jail where the men are being kept, charms the jailer, and manages to make contact with the men ... only to be told once more that like their leader, the pair wish to be martyrs too (and so they will be, hung in March of 1860).
John Brown
U.S. Marines Attacking Brown And His Followers
At Harper's Ferry
Higginson
East coast activities a bust, except for Soule getting the opportunity to meet fellow abolitionists and hobnob with the poet Walt Whitman, he is soon out West once more ... trying his luck, with his brother and a cousin, in the 1860 gold mining camps of Colorado (along with trying to find paydirt, Soule also works in a blacksmith shop). But not for long, with the breakout of the American Civil War in 1861, Soule enlists in Company K, 1st Colorado Infantry when the governor of the territory, William Gilpin, calls for volunteers. As a member of the 1st, under the command of Colonel John Milton Chivington, Soule participates in the Battle of Apache Canyon (in which a force of 300 Confederates is routed) and in what will be called, "The Gettysburg of the West," the Battle of Glorieta Pass (in present-day New Mexico), a clash that sends the command of Lt. Colonel William Read Scurry tumbling back to Texas when Chivington's men fortuitously capture the southern force's supplies at a place called Johnson's Ranch.
Glorieta Pass
Present Day
Working his way up the ranks, still under Chivington's command, by November of 1864, Soule is a captain, in command of Company D of the 1st Colorado Cavalry, a position he is holding when the governor of Colorado, John Evans, asks the volunteers from his territory to deal with Indian raids taking place to the east and south of Denver. As such, Soule's moment of eternal grace comes on 11/29/1864, when he is ordered by Chivington ("Kill and scalp all, big and little; nits make lice.") to attack a camp of Cheyenne and Arapaho under the leadership of Chief Black Kettle, on Colorado's Sand Creek, near Fort Lyon ... a camp of roughly 800 souls, mostly women and children, that flies an American flag at its center to show one and all that they are peaceful. Refusing to give his men the order to attack the helpless camp, Soule risks a court martial and hanging (Lt. Joseph Cramer also keeps Company K out of the massacre) in keeping his men out of the tragedy that soon results in which between 137 to 500 Indians are slaughtered, and then turned into sliced up souvenirs by the "victors" ... an action which allows hundreds of Indians to escape certain death (one will be an ancestor of future Colorado United States Senator Ben Nighthorse Campbell).
Chivington
Black Kettle
The Sand Creek Massacre - 11/29/1864
Horrified by what he has witnessed, Soule is adament in demanding justice for the murdered Indians ... not participating in the "victory" parade through downtown Denver, writing vivid letters depicting the events of the massacre, and when the government decides to investigate what happened, testifying before an Army court of inquiry, and in front of the Congressional Joint Committee on the Conduct of the War (Chivington will be reproached for his actions, but never put behind bars thanks to a general amnesty being granted after the Civil War ends ... he dies in 1894 in Denver at the age of 73, still convinced that all his actions at Sand Creek were justified). Typical of his testimony, Soule will write his former commander, Major Edward W. Wynkoop:

"I refused to fire, and swore that none but a coward would, for by this time hundreds of women and children were coming towards us, and getting on their knees for mercy. I tell you Ned it was hard to see little children on their knees have their brains beat out by men professing to be civilized. ... I saw two Indians hold one of another's hands, chased until they were exhausted, when they kneeled down, and clasped each other around the neck and were both shot together. They were all scalped, and as high as half a dozen taken from one head. They were all horribly mutilated. One woman was cut open and a child taken out of her, and scalped. ... Squaw's snatches were cut out for trophies. You would think it impossible for white men to butcher and mutilate human beings as they did there."
Vilified by locals and members of the army for testifying against Chivington, Soule accepts the fact that he might be assassinated for his position on Sand Creek, but feels his life is worth the cost of truth and justice. Giving Lincoln's "... last full measure of devotion" to his beliefs, on 4/23/1865, just five weeks after marrying Hersa Coberly, while on duty as provost marshal in Denver, Soule is fatally shot in the head by an unknown assassin (the deed is thought to be the work of a Chivington acolyte from the 2nd Colorado Cavalry named Charles Squier ... but when Squier escapes from jail, and his tracker, First Lieutenant James Cannon is poisoned, no one is ever found guilty of the crime). In 2012, the HIstorical Society of Colorado has a memorial placed at the northwest corner of the building at Fifteenth and Arapaho Streets in Denver a plaque that reads:
"At this location on April 23, 1865, assassins shot and killed 1st Colorado Cavalry officer Capt. Silas S. Soule. During the infamous Sand Creek massacre of November 29, 1864, Soule had disobeyed orders by refusing to fire on Chief
Black Kettle
's peaceful Cheyenne and Arapaho village. Later, at army hearings, Soule testified against his commander, Col. John M. Chivington, detailing the atrocities committed by the troops at Sand Creek. His murderers were never brought to justice."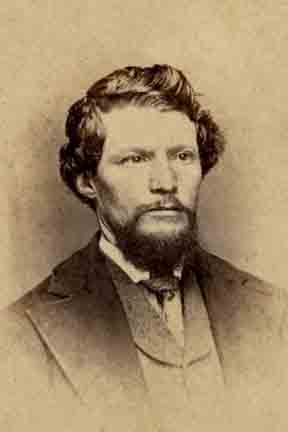 Soule is only 26-years-old when he passes ... an American hero, then, and forevermore!