12/1/1884 - Never mind the deeds accomplished or failed at, some individuals, for a host of reasons, have names which resonate far beyond the lives they led, while others seem to go into a dusty corner that only a few historians ever explore ... so let me send a little light on to the exploits of a mostly forgotten Wild West gunman who never quite makes it to the levels of fame (or infamy) that the likes of Wyatt Earp, Bat Masterson, or Pat Garrett achieve ... a tough hombre by the name of Elfego Baca.
Young Elfego
Born in Socorro, New Mexico (his pregnant mother is said to be playing the Mexican version of softball, Las Iglesias, when the future lawman pops out of her womb) in February of 1865 as the American Civil War is coming to its conclusion, as a young boy (one Baca legend has him being kidnapped by Indians at the age of 1, but being immediately returned to his family when his screaming disturbs the silence of the renegade's camp), Baca moves with his family to Topeka, Kansas, where surrounded by Anglos, he learns to use his wits in confrontations, before resorting to fists or gunplay ... never backing down (at the age of 12, it is said that Baca helps his town marshal father escape jail by sawing through the ceiling of his dad's cell ... put there for shooting to death two men in a mob that threatened to lynch a prisoner the elder Baca was taking in), 5'7" inches of hard case. When his mother dies in 1880 (along with a sister and brother from a plague infecting the region), Elfego and his father head back to New Mexico, settling in the town of Belen.
Socorro Region - New Mexico
In 1884, only 19-years-old at the time, Baca is told by Sheriff Pedro Sarracino that Hispanic residents of the town of Frisco are being abused by the cowboys of the nearby John Slaughter ranch ... a group that numbers more than 150. But that doesn't bother Baca, who proclaims, "I will show the Texans there is at least one Mexican in the country who is not afraid of an American cowboy." So off he rides to Frisco, New Mexico (now the town of Reserve) to see justice done ... but by whom ... in one story he is deputized by Sarracino, but in another, he purchases a tin star and appoints himself the law. Legit or not, his 130-mile ride southwest sets in motion a series of events that will be known as The Frisco War.
Baca
Upon arriving in Frisco, it does not take Baca long to make his first, and only arrest ... informed by bar owner Bill Milligan that a drunken cowboy named Charlie McCarty is making Mexicans dance with his pistol, the lawman recruits three other Hispanics to help (after having McCarty shoot his hat off in his first attempt to stop the cowboy's antics) and places the inebriated ranch hand in custody. Not amused that their friend has been arrested, about a dozen members of the Slaughter outfit march on the adobe house where Baca is keeping McCarty and demand the cowboys release. A demand that Baca responds to by stating that if the cowboys are not gone by the count of three, he will open fire ... and as the men make fun of a Mexican's ability to count, Baca does exactly as he'd stated, and after calling out "one-two-three," he opens fire. In the resulting hail of lead, Slaughter foreman, Young Parham, has his horse shot and killed, and is fatally wounded himself when the dead animal crushes him to death in its fall, and cowboy Tabe Allen is crippled by a bullet through his knee. Round One over, the cowboys retreat swearing vengeance at Baca and his trapped deputies.
Elfego Baca Vs. The Cowboys - True West Magazine
In a quest for calm, Baca receives a signed agreement that he will be left alone if his prisoner can be tried the following day at Milligan's bar. The next day, a sham trial does take place at the bar (by now full of cowboys from nearby ranches that have been told Hispanics are killing whites in Frisco) in which the now sober cowboy is fined $5 and ordered released by Justice of the Peace, Ted White. Not a fool, seeing the verdict has only stoked the already boiling anger of the cowboys, as the trial ends, Baca slips out a side door in the bar, and running for his life, takes refuge in the nearby jacal (a single story adobe structure created out of mesquite sticks and dried mud with walls that do not stop bullets) of Geronimo Armijo. Breaking through the door of the house, Spur Lake Ranch owner, Bert Hearne, is mortally wounded in the stomach and a siege on Baca soon begins, with between 40 to 100 cowboys firing into the jacal. In the gunplay that takes place, three other cowboys are killed (some historians believe Hearne is the only fatality) and eight are wounded, but it is believed that when a lit stick of dynamite is tossed and sets the structure on fire and causes a wall and the roof collapse, that Baca is dead ... a hope the cowboys decide they will soberly investigate in safety of the light of the next day.
Baca
In the morning however, the cowboys awake to the smell of coffee and fresh tortillas being cooked as Baca prepares his breakfast ... and the battle starts all over (one hungry, and enraged cowboy, charges forward behind a cast-iron shield made from a cook stove, but thinks better of his attack when a slug creases his skull). In all, the siege of Baca's hiding place will last for 33 hours (Baca finally emerges from cover at 6:00 in the evening), in which an estimated 4,000 rounds are poured into the home (the front door contains 387 bullet holes, and a broom is discovered that has been hit eight different times, but astonishingly, a plaster statue of Nuestra Senora Dona Ana is missed entirely, as is Baca ... the miracle of his survival is the floor of the jacal is recessed almost two feet into the dirt, allowing the lawman to lay beneath the fusillades of lead that are sent his way), before Baca agrees to surrender (justification for their hate, Baca is being brought up on murder charges in the death of Parham) ... with conditions ... safety promised (again), he agrees to stand trial in his home town of Socorro, and for the journey there, he will retain his two pistols while riding in the back of a buckboard with no accompanying, trailing cowboy, allowed to come within thirty feet.
Baca - Cowboys & Indians Magazine
Back in Socorro where he spends four months in jail, Baca is tried twice for murder ... once for Hearne and once for Parham, and acquitted both times. With his fame as a hard case law-and-order man, in his ensuing years, Baca uses his fame from the gun battle to hold down a variety of jobs that include sheriff of Socorro County (he sends letters out to wanted men stating, "I have a warrant for your arrest. Please come in and give yourself up. If you don't, I'll know you intend to resist arrest, and I will feel justified in shooting you on sight when I come after you."), U.S. marshal, criminal lawyer, school superintendent, county clerk, district attorney, unsuccessfully runs for the United States Congress (as a Republican), chief bouncer at a gambling house in Ciudad Juarez, Mexico, private detective, newspaper columnist (in Spanish on political issues effecting the Hispanics of New Mexico), and an American agent representing General Victoriano Huerta to the United States government during the Mexican Revolution. Having had a very full life that has moved from horse transportation to the dawn of the nuclear age, he dies in Albuquerque on 8/27/1945, at the age of seventy-five.
Not completely forgotten, (especially within the Hispanic communities of New Mexico), but achieving nowhere near the renown of his Anglo contemporaries, Baca has a biographies written about his life by Howard Bryan, Larry Ball, Alton Pryor, and Kyle S. Crichton, Walt Disney Studios tells his tale in a 1958 television mini-series entitled, "The Nine Lives of Elfego Baca," starring Robert Loggia in the title role (the theme song's tag line goes, "And the legend was that / like el gato, "the cat" / Nine lives had Elfego Baca"), in 1960, the New Mexico Tech university establishes the annual Elfego Baca Golf Shoot in which there is only one hole, a fifty foot circle chalked in the desert that is three miles and roughly 3,000 feet below a mountain tee box (each competitor is allowed ten balls and must finish with at least one, can tee up each shot they take, and is allowed three ball spotters ... heat, mine shafts, mountain lions, and rattlesnakes constitute some of the "course's" hazards ... the course record is nine strokes, and some competitors have taken over eight hours to finish their round) and in 2007, in the town of Reserve he made famous with his fight, a life size bronze statue of Baca in action is dedicated.
Biography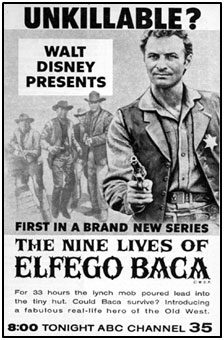 Disney's Take
That's Crazy!!!!!!!!!!!!!!!!!!!!!!!!!
Memorial
Statue
12/1/1884 ... Elfego Baca takes on a passel of gun toting cowboys ... and survives!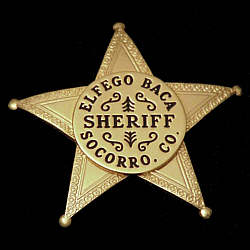 Badge