11/8/1887 - One of the legendary figures of America's Wild West days cashes in his chips at the Hotel Glenwood in Glenwood Springs, Colorado ... gone to lung destroying tuberculosis at the age of only thirty-six is gunfighter John Henry "Doc" Holliday.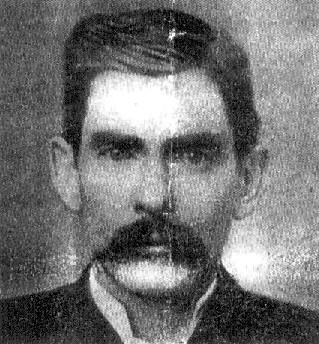 Doc
Born to Henry Burroughs Holliday and Alice Jane (McKey) Holliday (a family with English ancestry) in Griffin, Georgia on August 14, 1851, tragedy finds John at an early age ... his mother dies of tuberculosis in 1866, as does his adopted brother, Francisco. Taken in stride with no other choice, Holliday receives a classical education at the Valdosta Institute in Valdosta, Georgia that includes studies in rhetoric, grammar, mathematics, history, and languages (Latin, French, and Ancient Greek), and then moves on to Philadelphia where he receives a Doctor of Dental Surgery degree from the Pennsylvania College of Dental Surgery in 1872 at the age of twenty (but is not allowed to practice until his twenty-first birthday). After
graduation, Holliday relocates to St. Louis, where he works as a dental assistant to a dental school classmate, before returning to Georgia to open up his own practice in Atlanta (while living with his uncle and his uncle's family). He is not there long however as a result of two defining events ... like his mother and adopted brother, he is diagnosed as having tuberculosis and given only a few months to live ... and when a group of African-American youths refuse to leave a popular "whites only" swimming hole on the Withlacoochee River, he engages in his first gun battle, killing one of the black youths.
Holliday At 20
Atlanta In The 1860s
A dry climate recommended if Holliday wishes to live more than a few months (and no lawmen looking to make an arrest), the dentist moves to Dallas, Texas and partners with a friend of his father's, Dr. John A. Seegar ... and good at his business, the pair win awards for their dental skills at the region's annual county fair ... best set of gold teeth, best in vulcanized rubber, and best set of artificial teeth ... but it doesn't last because of all the coughing Holliday does, and before long he tries to cram as much life into the time he has left by drinking and gambling ... and drawing a revolver or knife when attacked or insulted, as saloon keeper, Charles Austin, discovers when he and Holliday exchange gunfire with each other in January of 1875. Then its on to a higher, drier elevation as Doc moves to Denver and becomes a faro dealer at John A. Babb's Theatre Comique on Blake Street ... a position that abruptly ends when he seriously wounds a gambler named Bud Ryan in a knife fight. Restlessly moving about, Holliday spends time in Cheyenne, Wyoming, Deadwood, South Dakota, Cheyenne again, Denver again, and then lands in the mining town of Breckenridge, Colorado ... at least he's there until an altercation with a gambler named Henry Kahn leads to Holliday beating the man with his walking stick, which causes Kahn to shoot Doc later in the day after both men have been arrested and paid a fine not to spend the night in jail. Once mended (his cousin, George Henry Holliday moves to Colorado to nurse him back to a modicum of health), Doc sets up in Fort Griffin, Texas, where while dealing cards at John Shansey's saloon, he meets the dance hall girl and sometime prostitute to whom he will forever be linked, Mary Katherine "Big Nose Kate" Harony. And it is there too that Doc meets the man he will always be associated with for the first time, Deputy U.S. Marshal Wyatt Earp (Doc provides Earp with information on the movements of outlaw Dave Rudabaugh, a man Holliday has spent time playing poker with only days before).
Big Nose Kate
Rudabaugh
In 1878, both men are in Dodge City when their friendship is solidified forever by Holliday coming to an unarmed Earp's rescue when over two dozen cowboys have the lawman in their sights when he attempts to stop them from shooting up the Long Branch Saloon ... Holliday's remedy, holding a cocked gun to the head of the cowboys' leader, Ed Morrison.
The Long Branch Saloon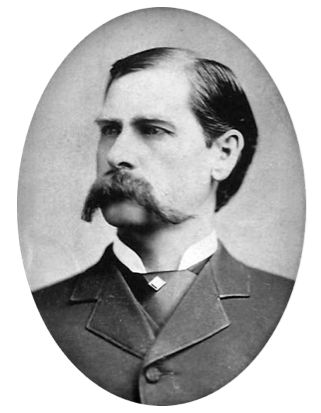 Wyatt Earp - Late Thirties
Despite becoming friends with the lawman, Doc's temper is always ready to spark and he will shoot bartender Charles White (the man survives a bullet that creases his scalp), kills a soldier in Jacksonboro, South Carolina, tries to regain his health for a time in Las Vegas, New Mexico (the town has 22 hot springs), hires out as part of the team that Deputy U.S. Marshal Bat Masterson puts together in a clash between the Atchison, Topeka, and Santa Fe Railway and the Denver and Rio Grande Western Railroad over the right-of-way through Colorado's narrow Royal Gorge to reach the riches of the booming mining town of Leadville (and pockets a nice bit of the $10,000 Masterson is give for abandoning a strategic Santa Fe roundhouse), and tries owning a saloon in New Mexico until he argues with former U.S. Army scout named Mike Gordon over the employment of a saloon girl and shoots the man dead.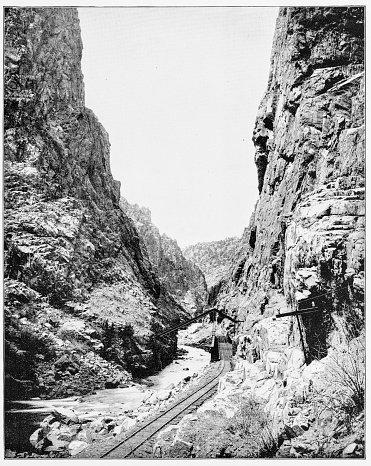 The Royal Gorge
Masterson
Trouble follows Doc south of course when he hooks up once more with the Earps in the Arizona Territory of the 1880s. After a fight with Big Nose Kate, the drunken woman seeks vengeance by accusing Holliday of a recent stagecoach robbery that sees the shotgun guard and a passenger killed (the Earp Brothers will provide the evidence that gets Holliday freed), almost gets into a gunfight with Johnny Ringo (Holliday tells Ringo, "All I want of you is ten paces out in the street" ... but cooler heads break up the encounter before leather is slapped), and then he gets into a gunfight (drunk of course) with Tombstone saloon owner Milt Joyce in the man's drinking emporium over rumors about his participation in the robbery ... disarming Joyce by putting a bullet through his hand, and dropping Joyce's bartender with a round in the foot, before Joyce knocks him out with a revolver blow to Holliday's head).
Tombstone, Arizona - 1880s
Main Street
And then there of course is the legendary OK Corral gunfight that takes place in a vacant Tombstone lot 15 feet by 20 feet wide between Fly's Photograph Studio and the Harwood boarding house ... thirty seconds of flying bullets that results in three deaths and three woundings (Holliday takes a slight wound in his hip). Siding naturally with his friends, the Earps, especially after an argument the evening before in which Doc and Ike Clanton threaten to kill each other, Holliday is credited with killing Tom McLaury with a shotgun blast into the cowboy-outlaw's chest, and doing the same for his victim's brother, Frank, by way of a pistol round into the man's skull (whether she was there or not still in question by historians, Big Nose Kate will state that after the fight Holliday returns to his room, sits on his bed, and weeps while repeating over and over, "That was awful ... awful.").
Doc
Gunfight
L To R - Tom McLaury, Frank McLaury, And Billy Clanton
In for a penny, in for a pound, when revenge shootings wound Virgil Earp and kill Morgan Earp, Holliday, deputized, participates with Wyatt Earp, Warren Earp, Sherman McMaster, "Texas Jack" Vermillion. and "Turkey Creek" Jack Johnson in what becomes known as the Earp Vendetta Ride that sees the payback killings of Frank Stillwell on the railroad tracks of Tucson, Florentino "Indian Charlie" Cruz at the wood camp of Pete Spence, and Earp's shotgunning of "Curly Bill" Brochius at Iron Springs in the Whetstone Mountains ... deaths that many in the territory want to have Holliday and Earp pay for with time behind bars or fatal neck stretchings. Fleeing to Colorado, Doc is arrested in Denver for the murder of Frank Stillwell, but is rescued from potential dire consequences when Wyatt Earp contacts Bat Masterson, then the Chief of Police in Trinidad, Colorado, for help. Trumped up bunco charges by Masterson against Holliday result in Doc's extradition being halted and his transfer to Bat's custody taking place ... two weeks later Holliday is free, and able to live out his last days in the Centennial State (Earp will see his friend for the last time in the winter of 1886 in the lobby of the Windsor Hotel).
Texas Jack
The Vendetta Ride
Curly Bill
Up in the high country again, almost destitute, Holliday gets in his last gunfight in Leadville, Colorado in 1885 ... a dispute over the gunfighter not paying back a five dollar loan from bar tender Billy Allen that results in Allen getting shot in the arm when he comes to collect or fight (before he can get off a second shot he is disarmed by a bar man ... a good thing, Allen not killed, Holliday claims self-defense and is acquitted). Prematurely greying, coughing up blood, and falling apart rapidly, Doc makes his last stop in Glenwood Springs, Colorado in 1887, seeking a healing miracle from the town's hot springs and sulfurous fumes ... which don't work. On 11/8/1887, always expecting to go out in a hail of lead, Doc lays bootless in bed, asks his nurse for a shot of whiskey, and when it is refused, stares at his bootless feet, mutters "This is funny," and passes away at 10:00 in the morning.
Glenwood Springs, Colorado
Glenwood Springs, Colorado
Wasting Away
Buried the same day (the exact location is now lost), Holliday resides in the town's Linwood Cemetary ... but lives on, linked to his good friend Wyatt Earp, in books, movies, songs ... and as of 2005, as a life-sized statue at the Historic Railroad Depot in Tucson, Arizona at the approximate site of the killing of Frank Stillwell.
Linwood Memorial
Statue
John Henry "Doc" Holliday