4/21/1916 - 25-year-old crook, William L. Carlisle, displays the criminal attributes that give him his many nicknames ... The Gentleman Bandit, The Last Train Robber, The Robin Hood of the Rails, Wild Bill, and The White-Masked Bandit ... by robbing a Union Pacific train outside of Hanna, Wyoming.
From 1919 Wanted Poster
A thief of a different kind, Carlisle's early years include having a father, Civil War veteran David Cottrell, that is 60-years-old at his birth (William comes into the world on 5/4/1890 in Chester County, Pennsylvania), his 37-year-old mother, Salome (some name for a mom!) dying nine months after his birth, being turned over to an orphanage because of health issues his father has (William is the youngest of five children), being adopted at the age of 3, taking three tries to pass the 3rd Grade, stealing coal from the local railroad to heat the family home, and growing up in the homes of various relatives. Not tied down to any family or friends, as a teenager he leads a hobo's life, riding the rails around the country (for a time he works for a circus), before coming to rest in 1907 at age 17 in Montana, where he finds employment as a ranch hand ... a very poor ranch hand. Destitute in 1916, with only a nickel to his name, Carlisle decides the quickest way to get some money is to rob a train.
Mugshots
On 2/9/1916, wearing a white bandanna over his face, armed with a glass toy pistol he had bought for his niece for Christmas, and a real .32-caliber revolver, at the Green River, Wyoming station, Carlisle sneaks himself up on to the Portland Rose just as it is leaving town and robs his first train ... but the event is more farce than crime. Making his way among the passengers with hat in hand for loot, the brakeman thinks the whole thing is a joke until Carlisle fires a round through the roof of a car, gives a porter a handful of coins to make up for the tips the man might be losing because of the robbery, gives another man a silver dollar to pay for his interrupted breakfast, bows to a woman that tries to grab his gun, will not rob women or or any of the servicemen on board, and apologizes to anyone seemingly upset by being robbed. Carlisle leaves with only $52.35 to show for his efforts (breaking the glass gun when he jumps off the moving train three miles outside of the town of Rock Springs), but the crime is nevertheless a sensation in the region due to the outlaw's behavior aboard the train (the Union Pacific will offer $1,500 for the capture of Carlisle), and for it being the first train robbery in Wyoming in 16 years, since the Wild Bunch closed up shop and moved to South America.
Wild Bunch Wyoming Robbery - Tipton, 1899
Eluding a posse, Carlisle foolishly returns to Green River and purchases a ticket to Wheatland, Wyoming ... and is lucky to not be recognized by posse member and Union Pacific Special Agent Charley Irwin, standing at the ticket window chatting with the railroad agent and a friend (leaving as quickly as possible with Irwin at the station, a hand on his shoulder stops Carlisle and he turns, expecting arrest, and instead finds Irwin holding out his hand with the change the bandit left at the ticket window). Laying low for a time, by April, Carlisle decides he'd like to visit Alaska ... a trip which will require funds, and consequently, some more robbery. On 4/4/1916, in his usual white bandanna disguise, he hits the Union Pacific Overland Limited on its run between Cheyenne and Laramie. Improving his take, but not by much, the outlaw leaves his second caper with $506.07 ... not enough for Alaska, another robbery will be required (not amused that its passengers are suddenly being robbed, the Union Pacific ups the rewards for Carlisle up to $5,000).
Before funding his Alaska trip again, during a saloon card game, Carlisle discovers that other men have been arrested for his robberies, and so, being an honest sort of thief, he writes the Denver Post about his thefts, signs the letter "The White Masked Bandit," and encloses a watch chain taken in one of the robberies as proof that they were his jobs. That task taken care of, on 4/21/1916, he is back in inept action, looting another Union Pacific train of a paltry $378.50 (modus operandi established, he jumps off the train four miles east of Casper, Wyoming, spraining his right ankle and bruising his face in the process), while also giving a train guard the watch that went with the chain he sent to the Denver Post, just too prove the job is being performed by the real "White Masked Bandit." This time however, there will not be another robbery for Alaskan funds.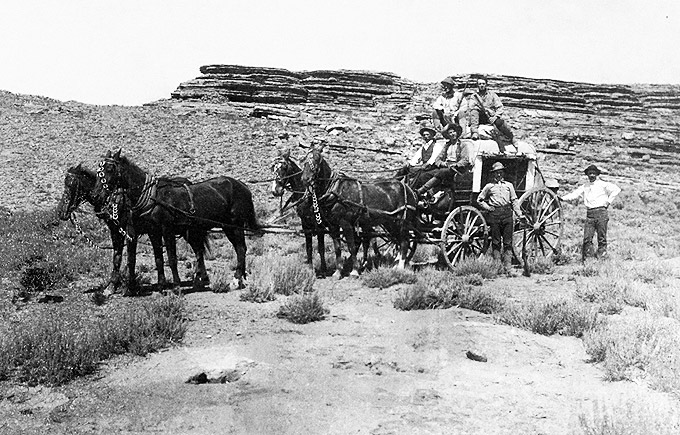 One Of The Carlisle Posses
The area already stirred up by Carlisle's previous depredations (and the rewards for Carlisle's capture, now up to $6,500), posses scatter over the region in minutes after hearing "The Gentleman Bandit" has struck again over the local telegraph wires. One, led by Carbon County Sheriff Rubie Rivera (he keeps $500 of the reward money from the Union Pacific and gives the rest to the other members of the posse) of Rawlins, Wyoming, finds and arrests Carlisle the next day, about 12 miles north of the town of Wolcott (Rivera reaches the site of the robbery only 30 minutes after its conclusion and by himself, follows Carlisle's tracks through the night, then leading the posse back to the outlaw's hiding place). Brought to trial (it only lasts two days), despite his paltry takes, hurting no one, and his politeness to his victims, found guilty, Carlisle is sentenced to life in prison for his three train robberies.
Rivera & Carlisle - Handcuffed -
In Front Of Carbon County Courthouse
For most scoundrels, that would be the end of the story ... but Carlisle has a lot more adventures to live. At the state penitentiary in Rawlins, Wyoming, Carlisle seemingly becomes a model prisoner, following the rules of the prison, attending self-improvement classes, knitting sweaters for troops serving in Europe, purchasing Liberty Bonds with the money he earns doing prison labor, and doing whatever job he is assigned to the best of his abilities, eventually becoming a superintendent of the facility's shirt shop. He is there in 1919, when he receives the news his sentence has been reduced from life, to a 25-to-50 year term ... still way too long though, so Carlisle decides he isn't waiting. On 11/15/1919, he hides in a crate of shirts, is carried outside the walls of the prison in a truck, and escapes into the snowy night.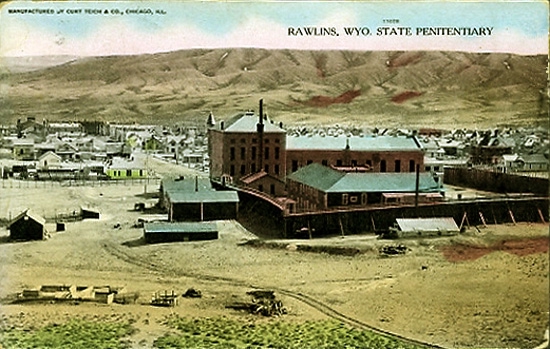 Wyoming State Penitentiary
But not for long as Carlisle's criminal abilities have not improved with his confinement behind bars. Seeking funds to vacate the territory for a safer locale, in November the outlaw robs a train near Rock River, Wyoming ... disguise, antics, and take pretty much the same as on his other jobs ... going among the passengers, he refuses to rob the sailors and soldiers aboard (many freshly returned from fighting WWI), stating, "I would have been over there with you had they let me go." He is holding all of $86.40 in loot when one of his victims suddenly pulls a pistol and fires at Carlisle, but the outlaw's quick reaction saves him and he is only wounded in the hand that pushes the gun away from his face at the last second. Wounded, instead of retaliating by returning the passenger's fire, Carlisle immediately jumps off the train. Posses quickly organized despite snow and freezing conditions, a group of men organized by Platte County Sheriff A. S. "Lon" Roach finds the outlaw in an isolated cabin, hidden in a mountain canyon. Told to surrender, Carlisle instead tries to reach for a pistol and is shot by Roach in his right lung. Seriously wounded in the chest, and his hand wound infected, Carlisle is not expected to live, but survives being carried down the mountain wrapped in a blanket and tied to a pack mule, a day in a Cheyenne jail, train transportation back to Rawlins, a multi-hour surgery, and 33 days recovering in the hospital before being returned to prison on 12/18/1919.
His Book
No further trouble during his second stint behind bars (his best friend becomes local Catholic priest, Reverend Gerard Schllinger), eventually, finally, Carlisle is released from prison on 1/8/1936 at the age of 45 (he spends his first night of freedom enjoying a massive steak dinner with Schllinger). Out, in the years that follow, Carlisle opens up a cigar store and newsstand In Kemmerer, Wyoming (where Schllinger is posted), while in the hospital for a ruptured appendix, he falls in love and eventually marries the head nurse of the hospital he is recovering at, Lillian Berquist, moves to Laramie with his wife and opens up a filling station and diner before running a motel in the town (which is heavily advertised as being run by "The Gentleman Bandit), writes an autobiography (Hollywood buys the rights, but a film is never made ... in its pages he claims to have also run stolen guns and horses from Canada down to Mexico for use in the Mexican Revolution) in 1946, with the backing of RKO Theatres, makes "crime-does-not-pay" talks around the country to community leaders and youth groups while pitching the company's latest Westerns, and makes a very handsome profit selling his motel in 1956.
After moving back to Pennsylvania after Lillian dies in 1962, "Wild Bill" Carlisle, the last man to rob a train in Wyoming, dies in bed in 1964 from cancer at the age of 74 in the home of his niece, Mrs. Hilda Cammie, and her husband, Francis.
In Later Life
Pennsylvania Tombstone