3/29/1951 - Born in Connecticut in 1903, 47-year-old George Peter Metesky begins life appearing to be quite normal ... he has a mother and father, two sisters, is intelligent, goes to school, and loves his country ... shortly after WWI, he joins the Marines and serves as a electrician specialist at the United States Consulate in Shanghai, China. Returning home after foreign service, Metesky finds work as a mechanic with the Consolidated Edison utility company, and it is there that he lets his raging temper take him into madness!
Metesky
Working as a generator wiper at Con-Ed's Hell Gate generating plant in 1931, Metesky is on duty when a backfire takes place in a boiler ... a blast that knocks the mechanic off his feet and fills his lungs with deadly toxic fumes, an accident that leaves Metesky permanently disabled to the point where after collecting 26 weeks of sick pay (he will also claim that the explosion weakens his immune system and is the source of the tuberculosis that will plague him the rest of his life), he is out of a job. Workman's compensation denied over the technicality of a late filing, Metesky will appeal the decision, and three times have his appeal refused (the last time in 1936), fueling his ire at Con-Ed, and for three co-workers that give testimony in support of the company. Pissed, pissed, and even more pissed, the rulings cause the former Marine to become unhinged. Seeking attention and retribution, Metesky starts writing letters (over 900 before he starts bombing places) describing his rage (they will be signed F.P., for Fair Play) and plants his first bomb at a Con-Ed plant in Manhattan on November 16, 1940.
Metesky At Center
Warnings perhaps of what is to come, Metesky's first two bombs do not explode, and the man who will soon become known to the world as "The Mad Bomber" decides to put his payback plans on hold until Japan and Germany can be defeated in WWII (once a Marine, always a Marine).
Grievance locked away for over a decade, but not forgotten or forgiven, in March of 1951, Metesky begins planting bombs again, and this time, many of them go off!
Patriotic Insanity!
Weapons of minor destruction, Metesky's bombs consist of a pipe (four to ten inches long, one-half inch to two inches in diameter), gunpowder, and a crude ignition system of sugar and flashlight batteries (or a cheap pocket watch) wrapped in a wool sock. In the years that follow, he will plant at least 33 bombs around New York City, in phone booths, storage lockers, movie theaters (one will go off during a screening of White Christmas starring Bing Crosby and Danny Kaye), and restrooms ... along with Con-Ed, his high publicity targets include the Grand Central Station (five times), Radio City Music Hall (three times), Pennsylvania Station (five times), the New York Public Library (three times), the Port Authority Bus Terminal (two times), the RCA building, and the New York City Subway. No one is ever killed, but a 74-year old porter at Penn Station is crippled for life when thinking he is cleaning a clogged toilet, the man abuses the bomb hidden inside with a wet plunger ... in all, 22 devices will detonate,
injuring 15 people, and by 1956, Police Commissioner Stephen P. Kennedy is calling for "... the greatest manhunt in the history of the Police Department" to find the man terrorizing the city.
Warning
Bombed Locker
Bomb Removal
Bomb Making Implements
It would seem that authorities would be easily able to find the man the press calls the Mad Bomber, an individual with a major axe to grind against Con-Ed that has left major clues all about town, but Metesky escapes detection until 1957, when Dr. James Brussel, a criminologist, psychiatrist, and member of the New York State Commission for Mental Hygiene puts together one of the first criminal profiles used by authorities to arrest a public menace (as if Metesky has confessed to Brussel, the criminologist nails the bombers age, sex, stature, nationality, and habits ... even correctly guessing that when the bomber is captured, he will be wearing a button-downed double-breasted jacket). Portions of the profile also make their way into the local newspapers, where Metesky reads about himself, and bonkers, feels the need to respond to it, writing another letter in which he stupidly gives the exact date of his Con-Ed injuries.
Brussel
Also reading the article about Metesky is Con-Ed clerk Alice Kelly. On her own, she decides to check Con-Ed's employee files and discovers one that is filed with angry letters and uses words that the bomber also spits out repeatedly ... injustice, permanent disability, dastardly deeds, and others. The file belongs to George Peter Metesky (hampering the investigation, police were originally told that Con-Ed had no employee records before 1930)! Info turned over to the police (Kelly not playing with a full deck either, the clerk will refuse $26,000 in reward funds, stating she was just, "... doing her job"), a short time later, four NYPD officers arrive at Metesky's Waterbury, Connecticut address and arrest the aggrieved mechanic. Caught, Metesky readily confesses his misdeeds to the detectives, gives them a handwriting sample, and shows them the bombing making equipment he keeps in the garage and in his pantry.
The Arresting Officers
Busted!
Headlines!
There will however be no prison time for Metesky. Indicted by a grand jury on 47 charges of attempted murder, damaging buildings, maliciously endangering life, and carrying concealed weapons (the bombs), prosecutors, because of the statue of limitations for some of the crimes, settle on going after Metesky for seven counts of attempted murder (one for each person injured), but the bomber's psychiatric evaluation from Manhattan's Bellevue Hospital gets in the way. No trial necessary, on April 18, 1957, Judge Samuel S. Liebowitz declares Metesky to be a paranoid schizophrenic and commits him to the Matteawan Hospital for the Criminally Insane at Beacon, New York.
Judge Liebowitz
Matteawan Exercise Yard
But a nut assigned to a rubber room until he dies of old age is not how Metesky's tale ends. A United States Supreme Court ruling that a mentally ill defendant can not be committed to a mental asylum without a jury trial deeming the person dangerous puts Metesky in the news again in 1973. Since Metesky did not have a trial, New York authorities have two choices ... put Metesky on trial, or free him immediately. Deemed non-dangerous by an assortment of doctors, and having served two-thirds of what his prison sentence would have been if he'd been found guilty in 1957 (a 25-year maximum), the decision is made to send Metesky back to his home in Waterbury ... the sole condition for his freedom being that he makes regular visits to the nearby Connecticut Department of Mental Hygiene. Causing no further problems, Metesky spends another twenty years keeping his anger finally in check. He dies at home in 1994 at the age of 90 ... still alive, when one of the children of his wrath, Theodore John "Ted" Kaczynski, the "Unabomber," begins following in his footsteps by settling his disgruntlements with explosives too!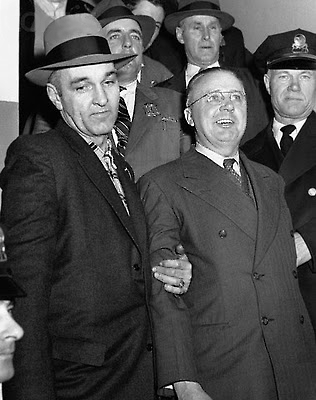 Happy To Be Caught?
Kaczynski - 1996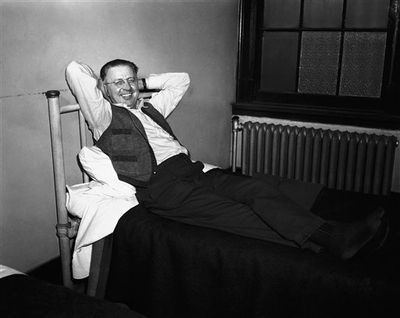 One More Maniac Smile!