3/21/1976 - Yet another tale of justice thwarted by celebrity and wealth begins on a late afternoon in the ritzy Starwood section of Aspen, Colorado, when 34-year-old singer-actress Claudine Longet, guns down her 31-year-old boyfriend, former World Cup championship skier, Vladimir Peter "Spider" Sabich, Jr.
Before
The second child born to Vladimir and Frances Sabich (daughter Mary is first), in 1945. Spider earns his permanent nickname from his bomber and test pilot father because of the thin arms and legs his premature birth causes. But thin soon turns to muscle when Vladimir Sr., a CHP officer after retiring from the army, is sent from Sacramento to the town of Kyburz ... a small burg formerly called Slippery Ford, located on the South Fork of the American River, only minutes away from the Edelweiss ski area where former downhill champion Lutz Aynedter teaches European-style ski racing. Availing themselves of the mountain and teacher, Spider, and his younger brother Steve grow up skiing (Spider gets his first set of skis at the age of 5!), skiing, and doing more skiing (alter boys at a Catholic church across from the ski slopes, the boys often strap on their gear and go flying off the Edelweiss runs directly after Mass), soon establishing themselves as the best junior skiers in northern California ... success that opens doors!
Aynedter
Downhill Racer
After graduation from El Dorado High School in Placerville, California, both brothers are offered skiing scholarships to attend the University of Colorado at Boulder (Steve's competitive ski career will end there when he suffers a serious knee injury), the dominant collegiate program for winter sports in the nation at the time, its ski program headed by U.S. Ski Team head coach, Bob Beattie. With Colorado as his new base of operations, Spider wins the Dick Schoenberger Memorial Award as the university's best skier of 1967, skis the first four seasons of the World Cup circuit (he will have 18 Top Ten finishes in his Olympic and World Cup career), in a thick fog at the 1968 Winter Olympics in Chamrousse, France, he finishes fifth in the slalom, takes a World Cup victory in the slalom at an event at Lake Tahoe's Heavenly Valley, is the U.S. downhill champion in 1968, and then after turning pro, wins the championship of that sport in 1971 and 1972 (going for his 3rd title in 1973, he is hurt in a fall and finishes 3rd behind the legendary French skier, Jean Claude Killy). Whether winning or losing (he is said to be making in the neighborhood of $200,000 a year in winnings and endorsements), tanned and surfer blonde handsome, wearing his standard big grin, Spider is famous and in demand (he builds his own ski chalet in the exclusive Starwood section of Aspen in which his neighbors are John Denver and Tina Sinatra) ... especially to other celebrities that like to party (the character Robert Redford plays in Downhill Racer is partially based on Spider).
Beattie
Killy
Sabich - 1971
At roughly the same time as Sabich is forging his athletic resume, Claudine Longet is climbing the rungs of the world of entertainment. Born in Paris, France, to a businessman specializing in X-ray technology and a doctor mother during the Nazi occupation of that city during WWII, Claudine Georgette Longet relocates to America as a teenager when nightclub owner Lou Walters sees her on TV and hires her to perform in Las Vegas (she is 17 at the time), where eventually she becomes the lead dancer for the Folies Bergere at the Tropicana Resort & Casino. Kismet takes place for her when she has car problems, and entertainer Andy Williams stops to help ... she is 18 and he is 32 ... one thing leading to another as can happen, the pair fall in love, marry, and will have three children together, Noelle, Christian, and Robert. Connected (Robert F. Kennedy becomes one of her best friends) and talented, Longet releases several hit singles and albums, guest stars on numerous TV shows (among her credits are roles on McHale's Navy, Dr. Kildare, Twelve O'Clock High, Combat, The Name of the Game, The Rat Patrol, Alias Smith and Jones, The Streets of San Francisco, Hogan's Heroes, It Takes A Thief, Mr. Novak, Run for Your Life, and of course, The Andy Williams Show, even after the pair split), and has movie part opposite Peter Sellers in The Party. The celebrity marriage eventually sours however, and though Williams and Longet remain friends, the couple divorces in 1975.
Dancing In Vegas
Williams & Longet
Longet
Longet and Sabich paths cross and finally connect in 1972 at a celebrity ski event in Bear Valley, California, when fancy tweaked, Sabich walks up to the table the singer is sitting at with Liza Minelli, Robert Conrad, and Clint Eastwood, and introduces himself ... by the end of the weekend, the two are a couple ... and shortly after, Spider offers his Aspen home to Longet and her children, which they gladly move into. Star couple of the Colorado ski set, the fairy tale romance turns sour by 1976 over drugs, drinking, the attention Spider receives from beautiful female fans, and the lack of attention he at times gives to Longet (for which at least once in public, she will throw a glass of wine in Spider's face) ... friends of both parties realize the relationship is ending, it appears it is just a question of when ... not how.
The Happy Times
Spider On Cover
The Sabich Ski Chalet - Aspen
In training to make a comeback on the pro skiing circuit after knee surgery and a poor 1975 season, on the last day of his life, Spider skis at Aspen Highlands, briefly meets with his former coach Beattie (they discuss Sabich's desire to break up with Longet and get her out of his house and arrange to have dinner later that evening), and then goes home to shower in preparation for his later dinner plans. At about 4:00 in the afternoon he is in the process of disrobing in the bathroom, down to his blue thermal underwear, when Longet walks in and shoots the skier once in the stomach. Down and bleeding, Spider Sabich dies on the way to the hospital from blood loss. Murder over being upset about being bounced out of a relationship, Longet has a different tale to tell when the authorities arrive at the chalet ... Sabich is killed when the pistol he was showing Longet how to use accidentally goes off (what a strange place for gun instruction). The authorities, however (and most of the residents of Aspen), are not buying!
Longet & Sabich
Headlines
Brought to trial in what appears will be a slam dunk guilty verdict (Andy Williams will fly into town to give his ex his moral support), the courtroom instead becomes a haunted house for the prosecution ... the booze and cocaine in Longet's system can not be admitted because her blood was taken without a release waiver being signed, the Longet diary that documents the couple's relationship falling apart is kept out of the proceedings because it is taken from the home without a warrant, Judge George Lohr fails to reprimand Longet when she interrupts testimony in court, the killing gun is "mishandled" and so testimony that its trigger needs to pulled repeatedly to fire is kept from the jury (the term "star struck" has been used to describe the judge), as is the autopsy report that shows that at the time of his death, Spider was bent over, facing away, and over six feet away from Longet when the gun discharged (a strange posture to be taken if giving a demonstration on how to use a weapon). And so it is that the trial is over in four days and the jury takes only three hours and 40 minutes to arrive at its tainted verdict ... Longet is found guilty of misdemeanor criminal negligence, fined $250, and sentenced to 30 days in jail for killing Sabich (and the judge allows Longet to pick the days she will serve her sentence).
The Gun
Longet & Williams
People Magazine
Longet And Her Attorney, Ron Austin
Travesty ... and the tale gets even stranger after the trial is over. Thanks for what you've done, abandoning his wife and family, attorney Ron Austin takes up with his client, squires her to Mexico, and marries the killer (they are still married and live in Aspen) in 1985. Extremely unhappy with the death of Spider, and Longet's antics afterwards, the Sabich Family will initiate wrongful death civil proceedings against Longet to the tune of $1.3 million, a case which is eventually settled out of court, with Longet agreeing to never talk or write about her relationship with Spider. Others though will not be a stifled ... Saturday Night Live will parody the killing in one its most successful, funniest, and controversial skits (they offer an apology the following week), and on the song Claudine on the Rolling Stones' Emotional Rescue album, Mick Jagger will sing, "Oh Claudine/Now only Spider knows for sure/But he ain't talkin' about it any more/Is he, Claudine?/There's blood in the chalet/And blood in the snow/She washed her hands of the whole damned thing/The best you could do, Claudine." Says former district attorney Frank Tucker, "I've always known she shot Spider Sabich and meant to do it." And Spider's brother Steve states of the tragedy that befalls his family, "It's a shame, because Spider accomplished so much in his life. Claudine accomplished two things; marrying Andy Williams and getting away with murder." Indeed!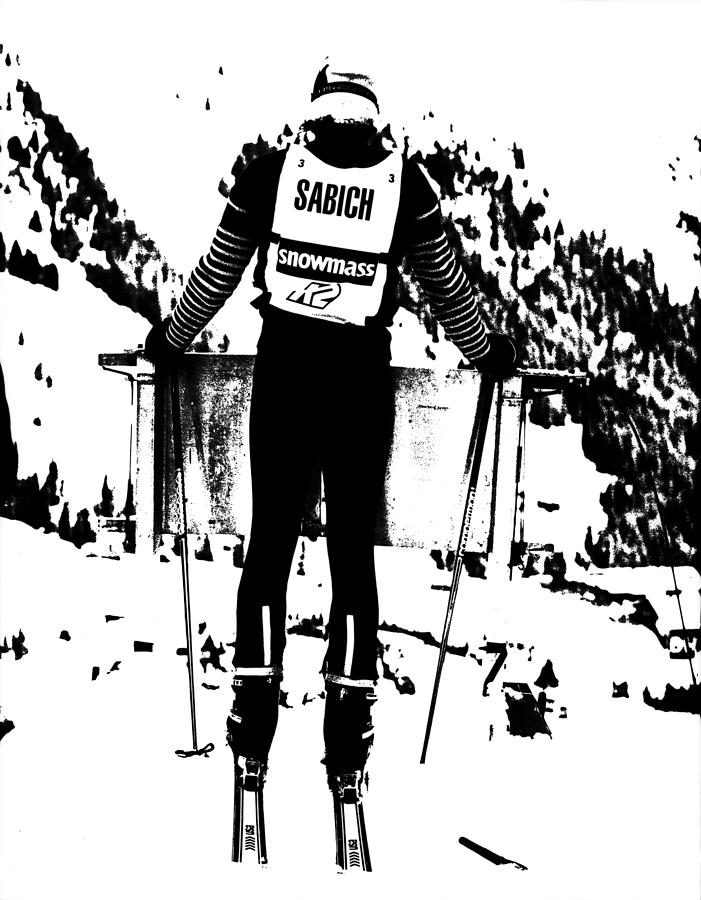 Spider Sabich ... 1/10/1945 - 3/21/1976