2/12/1976 - Attempting to revive his floundering career by appearing in the successful play, "P.S. Your Cat Is Dead," struggling 37-year-old actor Sal Mineo instead becomes yet another Hollywood tragedy when he is murdered in the alley behind his West Hollywood apartment.
Mineo
The son of an Italian coffin maker and an Italian-American mother, Salvatore "Sal" Mineo, Jr. is born in the Bronx in 1939. At an early age his mother enrolls Mineo in acting and dancing school ... and the entertainment industry becomes a way of life when he makes his stage debut in Tennessee Williams' play, "The Rose Tatoo." Door opened, he follows up that success with playing the young prince opposite Yul Brynner as his father in "The King and I," beats out Clint Eastwood for a role in the film "Six Bridges to Cross," and plays a teenage cadet colonel opposite Charlton Heston in "The Private War of Major Benson." Cast as the doomed John "Plato" Crawford, at 16-years-old he becomes a star in 1955 with the release of the James Dean drama, "Rebel Without a Cause" (for which he will win a Golden Globe and be nominated for a Best Supporting Actor Academy Award).
Mineo And Actress Gigi Perreau
With a major hit now on his resume, from 1955 into the early sixties, Mineo is the go-to actor for playing troubled teens and ethnic youths, and garners roles in major Hollywood releases that include "Somebody Up There Likes Me," "Giant," "The Gene Krupa Story," "The Longest Day," "Exodus" (a role for which he will receive his second Best Supporting Actor Oscar nomination), "Cheyenne Autumn," and "The Greatest Story Ever Told," acting with Paul Newman, James Dean, Natalie Wood, Elizabeth Taylor, Rock Hudson, Eva Marie Saint, Ricardo Montalban, and being directed by George Stevens, Nicolas Ray, Otto Preminger, John Ford, and Robert Wise. But beneath the surface of Mineo's success there are problems, his age precludes the type roles he has become famous for as teenagers, and his poorly kept secret bisexuality prevents producers from putting him in leading man roles. By the end of the 60s, Mineo is scrambling for work beyond appearances in TV dreck (playing himself on "The Patty Duke Show!") and his last movie role is as the ape, Dr. Milo, in "Escape from the Planet of the Apes."
With James Dean And Natalie Wood
In 1976, things appear to be turning around for Mineo with his appearance as a bisexual burglar in the hit San Francisco production of "P.S. Your Cat Is Dead." When the play comes to Los Angeles for its run in Southern California, Mineo comes with it, renting an apartment in West Hollywood, one block south of the Sunset Strip. Happy to have a meaty role to play once more, Mineo is enjoying his life and the prospect of a comeback when he returns home from rehearsal at the Westwood Playhouse on the Thursday night of 2/12 and his story abruptly ends.
Mineo
Parking his blue Chevelle in the garage behind his apartment, Mineo exits his car and is about to head upstairs when he is suddenly attacked and screams for help (heard by neighbor Raymond Evans, his last words are, "Help! Help! Oh my God!"). There will be no help though ... stabbed once with a knife, the wound nicks the actor's heart, and in a handful of minutes, he bleeds to death in the alley.
Crime Scene
The Investigation Begins
Searching For Clues
Despite the crime being considered a top priority of the police department, it at first appears that the murder will go unsolved and become just another Hollywood mystery (no robbery it seems, Mineo has his wallet, $21 dollars in his left jacket pocket, change in his left pants pocket, and is in possession of a pocket watch on a chain and has a ring on his left index finger) ... the suspect in the killing described by witnesses as being white and having long hair can't be found, investigations of other crimes in the area prove to be dead ends, no leads come from Mineo's work for prison reform, and an analysis of Mineo's gay friends and house full of homosexual porno leads nowhere. The crime is unsolved for two years, and then out of the blue, the case is broken in Michigan.
Death Certificate
An ancient story told often, the biggest help the authorities have in solving the case is yet another guilty culprit with diarrhea of the mouth. Bragging to fellow inmates within earshot of Michigan jail guards that he has killed Sal Mineo, a violent robber named Lionel Ray Williams with drug issues who once delivered pizzas in West Hollywood, becomes the focus of the murder investigation. Extradited back to California, Williams goes on trial in 1979. A two-and-a-half month affair overseen by Judge Ronnie Lee Martin, a jury finds cause for conviction in the purported statements of Williams (who denies involvement as soon as he is arrested for the murder), a $5.28 hunting knife in Williams possession that is an exact match to the wound in Mineo's body, a photo of Williams with his hair dyed brown and pulled back matching a witness description of a stranger seen leaving the area after the actor's attack (the difference between the perp being black and not white as witnesses reported is explained away as being caused by poor lighting in the alley), testimony that Williams came home wearing a bloody shirt on the night of the killing, and other evidence, but unwilling to believe 21-year-old Williams planned to murder Mineo all along, settles on a lesser sentence of second degree murder (the jury also finds Williams guilty of 10 robberies). One murder and 10 robberies nets Williams a sentence of 57 years behind bars ... but California being California, the killer only serves 11 years before being paroled in 1990, then he is arrested again for robbery and goes back in the slammer ... AND IS ONCE MORE PAROLED BY THE END OF THE DECADE. Madness!
Killer
Gone but not forgotten, Mineo lives on in the handful of songs he recorded while not acting (one, "Start Movin' (In My Direction)" reached #9 on Billboard's pop chart and earned Mineo a gold record for over one million in sales), his TV and movie performances, the two books written about his life (Sal Mineo: His Life, Murder, and Mystery by H. Paul Jeffers and Sal Mineo: A Biography by Michael G. Michaud), and the Harold Stevenson painting New Adam, featuring a nude Mineo as the model, that hangs in the permanent collection of New York's legendary Guggenheim Museum (it has been described as "one of the great American nudes"). Mr. Mineo rests with members of his family in Hawthorne, New York's Gate of Heaven Cemetery.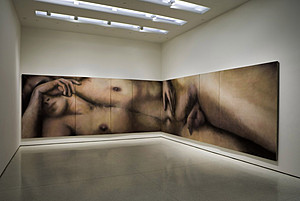 New Adam
Sal Mineo