The bonding of English immigrants and the Morman faith results in a birth on 4/13/1866 that will loom large in the tale of the taming of the American West. Maximillian Parker is 12 when his family arrives in Salt Lake City in 1856. Ann Campbell Gillies is 14 when her family makes Utah its home in 1859. In July of 1865 the transplants marry and nine months later welcome the first of 13 children into their family, a boy they name Robert Leroy Parker, but that history knows better as The Robin Hood of the West, Wild Bunch outlaw chief, Butch Cassidy.
Mugshot Wyoming Territorial Prison - 1894
Growing up on the family ranch near Circleville, Utah (roughly 215 miles south of Salt Lake City), Parker learns the ins and outs of ranching and farming ... and lessons in illegality from John Tolliver McClammy, a cowboy outlaw calling himself Mike Cassidy that teaches the teenager that art of rustling horses and cattle, and hiding from the law. Leaving home for adventure, in honor of his friend, Parker becomes Cassidy, and after working briefly as a butcher in Rock Springs, Wyoming, he drops his first name for his new nickname, Butch.

Parker Ranch, Utah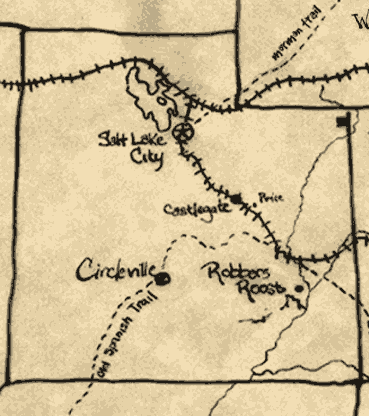 Cassidy Country
Cassidy first comes to the attention of the law over a minor misunderstanding ... in 1880, in need of a pair of new jeans, he rides a long distance into town only to discover the store is closed, so Butch breaks in and leaves the owner an I.O.U. for the pants and a piece of pie the hungry cowboy discovers, but the owner files charges with the local lawman. Next, Parker has his name forged on a bill of sale for two stolen horses, and rather than fight the lie, heads off for Colorado ... and life as a serious criminal.
Wanted Poster
In the ensuing, Cassidy creates a bandit resume that includes:
3/30/1889 - With Tom McCarty and a fake vial of nitroglycerin (its actually water) waved under the bank president's nose, robs the First National Bank of Denver of $21,000.
6/24/1889 - With Tom McCarty and Matt Warner, robs the San Miguel Valley Bank of Telluride, Colorado, of $20,750.
Matt Warner Tom McCarty
1894 - Cassidy is arrested at his Rock Springs, Wyoming (16 miles to the southwest of the town of Kaycee), ranch (a 160-acre spread) by Sheriff John Ward for rustling a $5 horse (and almost killed, diving for the chair he has placed his pistol on, Butch is knocked unconscious when Ward fires on him and creases his skull with a hot piece of lead). 27-years-old, he will guilty of rustling and serve two years in the Wyoming State Penitentiary at Laramie as convict #187.
1896 - Promising to never commit another crime in Wyoming, Cassidy is paroled on January 19, and once horse bound, immediately leaves for the Hole-in-the-Wall region to form what will become known as the Wild Bunch.
8/13/1896 - With Elzy Lay and Bob Meeks, Cassidy relieves the bank in Montpelier, Idaho, of $16,500.
4/21/1897 - With Elzy Lay, takes the Pleasant Valley Coal Company of Castle Gate, Utah, payroll ... a hit worth $9,860.
Lay Meeks
1898 - After the sinking of the USS Maine in Havana Harbor, brings together the Wild Bunch in Steamboat Springs to discuss offering their services to the United States of America to fight the Spanish in Cuba (the authorities are not interested).
6/2/1899 - Plans, but doesn't participate in the raid on the Union Pacific's westbound No. 1 Overland Flyer Limited near Wilcox, Wyoming ... the famous robbery where too much dynamite is used opening up the express car ... a caper that nets in the neighborhood of $50,000 ... participants are Will "News" Carver, Ben "The Tall Texan" Kilpatrick, Harvey "Kid Curry" Logan, Lonnie Logan, George Currie, and Harry "The Sundance Kid" Longabaugh.
7/11/1899 - While working under the alias of Jim Lowe as foreman of William French's WS Ranch, plans the hit on the Colorado & Southern train near Folsom, New Mexico ... participants include Elzy, Lay, Harvey Logan, Will Carver, and Sam Ketchum ... in the escape and subsequent chase of the men, Dona Ana County Deputy Kent Kearney, Huerfano County (Colorado) Sheriff Ed Farr, and Colfax County (New Mexico) Deputy Henry Love are killed (Harvey Logan is usually "credited" with the deaths).
Dead Sam Ketchum
8/29/1900 - Plans another Wyoming robbery he doesn't participate in, this time hitting another train near the town of Tipton ... participants are Ben Kilpatrick, Harvey Logan, the Sundance Kid, and Will Carver ... the loot comes to $55,000.
Logan Disguised As A Tramp - 1900
9/19/1900 - With Will Carver (who will participate covered in foul smelling skunk spray) and the Sundance Kid, Cassidy lifts $32,640 from the First National Bank of Winnemucca, Nevada.
Carver Kilpatrick
The Famous Fort Worth Photo - 1900 - In Town For The Wedding of Will Carver
Front Row, Left to Right - The Sundance Kid, The Tall Texan, Butch Cassidy
Back Row, Left to Right - Will Carver, Kid Curry
1905 - After trying to go straight ranching in South American, with the help of the Sundance Kid, Cassidy robs the Villa Mercedes Bank of $90,000.
1908 - Again with the Sundance Kid, Cassidy takes another $90,000 away from a railroad payroll outside of the town of Eucalyptus, Bolivia.
11/3/1908 - After relieving the Tupiza Bank's payroll of several thousand dollars, Cassidy and the Sundance Kid find themselves surrounded by lawmen and military personnel in the town of San Vincente, Bolivia. In the gun battle that takes place a wounded Sundance is killed by his partner, who then uses his last bullet on himself ... or they are both gunned down by Bolivian soldiers ... or the outlaws that die are two Americans that didn't ride with the Wild Bunch.
Sundance & Etta - Patagonia
The official tale is that Butch and Sundance both die in South America, but no one really knows how the story ends for either (thus far, no Parker or Longabaugh DNA has been found in the San Vincente cemetery) ... rumors persist for years that both men eventually return to America and live out their lives in anonymity. What is known is that Butch Cassidy's name has become a cultural icon whose name evokes a Wild West that exists now only in legends.
Butch Cassidy
Happy birthday Mr. Parker!