1/30/1934 - Returning to Chicago after his recently terminated vacation in Tucson, Arizona, the adventures of outlaw John Dillinger becomes the number one story in the country ... a position his saga will hold for most of the rest of his brief life.
Headed back to Chicago
Completing his long exhausting journey from the desert to big city concrete and steel, while handcuffed and under guard the entire time, the bandit is flown in a Bellanca Skyrocket monoplane on a fifty minute trip to the town of Douglas, Arizona, then is taken on an American Airways twin-engine Curtis Condor commercial flight to El Paso, Texas (where it is snowing), next goes from El Paso to Abilene, Abilene to Fort Worth, and Fort Worth to Dallas, before moving on to the cities of Little Rock and Memphis, and from Memphis travels north in a three-engine Trimotor to St. Louis ... and finally lands in Chicago after being with the birds for a full day..
Arriving in The Windy City at the Chicago Municipal Airport at around 6:10 in the chill of a frosty evening, Dillinger is welcomed to Illinois by a host of newspaper men, photographers, curious onlookers, and by one-hundred-and-fifty heavily armed members of the city's police force under the command of Dillinger Squad leader John Stege. Then as if that were not enough cops to control any situation which might arise, two squads of Illinois state troopers and six squads of Indiana officers arrive to offer their assistance ... and better and better, as the thirteen car caravan holding Dillinger, accompanied by a dozen motorcycle patrolmen, heads towards Crown Point, Indiana with lights flashing and sirens blaring, it is joined by cop contingents from the towns of Hammond, East Chicago, and Gary. Inside the Lincoln vehicle the outlaw is traveling in, Dillinger is threatened by Chicago gunfighter Lietenant Frank Reynolds with instant death if he or any of his criminal associates start anything. An incident free ride, the bank robber survives the journey.
Captain John Stege
At Crown Point some five hundred people are on hand to greet the arrival of the jail's newest occupant as he is turned over to forty-three-year-old Sheriff Lillian Holley (serving out her slain husband's term in office) ... a mob of newspapermen and cops that the sheriff welcomes with sandwiches, coffee, and a half-barrel of beer. Demanding face time with Dillinger, Holley okays an impromptu press conference in which the outlaw is given a chance to charm the world ... and chance given, the outlaw is more than up to the task.
Holley and friend
Dressed in dark trousers and a matching loose vest over a white, open-collar shirt, Dillinger, while chewing a stick of Wrigley gum, makes quips about being back in his home state, admits to being behind the recent Michigan City Prison breakout, claims he had nothing to do with the East Chicago bank robbery and murder of Sergeant William O'Malley, states very alive outlaw John Hamilton is dead, exaggerates the story of how he went wrong in Mooresville as a youth, identifies former friend Art McGinnis as the stool pigeon that set up the police ambush at Dr. Eye's office back in November, discusses President Roosevelt and the NRA's support of the banks of America, claims his Tucson lawyer has taken all his money, confesses to sending Matt Leach of the Indiana State Police a copy of "How to Be a Detective" for Christmas, faults Makley and Clark for the gang's Waterloo in Tucson, admits he owns five illegal machine guns, and identifies Frank Reynolds as his most hated enemy. Asked how long it takes him to rob a bank, Dillinger boasts, "Oh, about a minute and forty seconds flat." He also states, "I don't drink much and I smoke very little. When you rob banks, you can't very well do a lot of drinking. I guess my only bad habit is robbing banks. Now you see fellas, I ain't such a bad guy at heart. I try to be right." The reporters documenting the session love it ... and the photographers get something special too!
The picture
Seeking a picture of the outlaw, his keepers, and the man that might send Dillinger to his death in the state's electric chair, Prosecutor Robert Estill, a free lance photographer calls out, "Bob, put your arm around him." Weary from the trying journey from Tucson, responding to a pose request as he has done countless times before, without thinking of the ramifications Estill does as he is told, creating the "good pals" shot that will be on front pages across the country in the morning ... and end his political career (the prosecutor has aspirations to be the next governor of Indiana). And mugging for the camera, the picture also gives Dillinger a chance to signal his underworld connections that he will pay whatever cost is required to have a weapon smuggled into the jail ... right arm on Estill's left shoulder, the bandit forms his fingers into the shape of a pistol.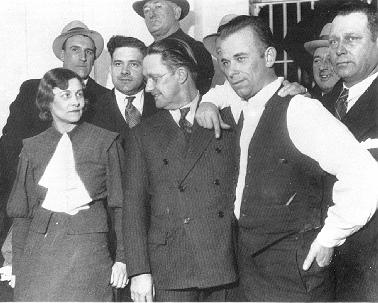 Holley, Estill, and Dillinger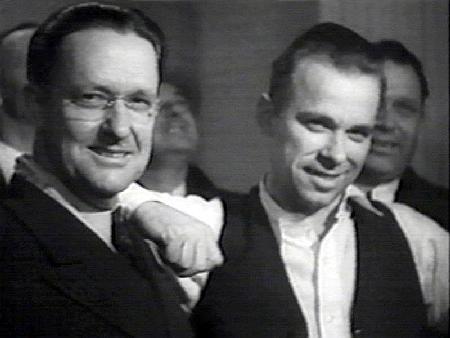 What me worry?
News
Headline stuff ... Dillinger incredibly will be able to dazzle the press and the public even more in a little over a month's time when he manages to break out of the so called "escape proof" Crown Point jail on March, 3rd ... using a wooden gun!