9/10/1932 - The combination of pleading letters from Ma Barker and secret bribes given to government officials using bank robbery assets gathered by outlaw buddies Freddy Barker and Alvin Karpis results in Arthur R. "Doc" Barker receiving a parole from his life sentence for the 1921 murder of Fuller Construction Co. night watchman Thomas J. Sherrill in Tulsa.
Ma in 1930
A big mistake by the state of Oklahoma, Doc immediately joins his brother and Karpis in a tragic criminal spree that will include three bank robberies, a payroll robbery, the ransom kidnappings of William Hamm and Edward Bremer, and gunplay that results in a police officer being disabled for life, the shooting of a Northwest Airways employee the gang believes is a cop, the murders of four police officers, a civilian being killed for appearing to be interested in the license plate number of the stolen car the gang is using, the assassination of underworld doctor Joseph Moran, and the killing of a gang member thought to be giving information to the authorities.
Doc
Fred
Karpis
There is a plus side however, it is because of Doc foolishly leaving a fingerprint on a gas can (despite Karpis telling him to wear gloves) that the FBI is able to connect the gang to the kidnapping of Edward Bremer, and worse for the gang, when the FBI captures Doc in Chicago in 1935, they discover a map Barker has stupidly circled that shows the latest hideaway of his mother and his brother Freddy in Florida ... a discovery that results in a shootout that his mother and brother will not survive.
Next stop Alcatraz for Doc
And like the other members of his family, Doc will eventually be shot to death while trying to escape from Alcatraz in 1939 (oldest brother Herman will commit suicide when cornered after a 1927 robbery, Ma and Fred are blasted by machine guns in 1935, and Lloyd Barker, after being released from serving a 25-year stretch in Leavenworth, on the losing end of a family argument, is shot and killed in Colorado by his wife in 1949).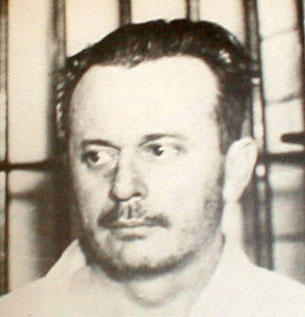 Doc