1/30/1948 - The "why" still echoing, one of the brightest lights to ever walk the earth is snuffed out in Delhi, India with the assassination of non-violence advocate Mohandras Karamchand Gandhi by Hindu nationalist Nathuram Vinayak Godse.
Godse
Born into a Hindu merchant caste family in India in 1869, Gandhi begins putting his London law training and belief in non-violence into practice in India in 1915, organizing the citizens of the British colony, and leading nationwide campaigns to fight poverty, expand women's rights, end "untouchability," build religious and ethnic understanding, and achieve "Swaraj" ... Indians self ruling the country instead of the British. Beloved by many (the "Mahatma" often attached to his name means "high souled," and known as "Father of the Nation," he is often called Bapu, a Gujarati endearment for father or papa), he also makes many enemies changing India from a colony into a nation.
Gandhi
The first attempts on Gandhi's life takes place in South Africa, where the lawyer is plying his trade helping Indian workers in the country ... actions that upset the authorities and lead to two near death incidents ... he is kicked, punched, and stoned by a crowd of antagonists in 1893, and in 1906, angered that he might strike a compromise over Asians being forced to register with the government, a follower beats the man almost to death in the street with a club (Gandhi refuses to press charges). Back in India, in 1934, at the town of Pune, Gandhi escapes death when a bomb is exploded outside the Corporation Auditorium where the independence organizer is about to give a speech (saved because his car arrives late, no one is ever arrested for the attempt, which injures ten people). Recovering from malaria, in May of 1944, he avoids a dagger death when two friends tackle a charging would be assassin near Poona, India, and a second knife attack in September of the same year (by Hindu's upset that he is talking to the Muslim leadership in India) that is thwarted by a Mumbai police officer ... and both times, the maniac with the dagger is Nathuram Godse (it boggles the mind that nothing happened to Godse either time as a result of stupidity on the part of the authorities. many agreeing with Godse's politics, and just plain bad luck ... and incredibly, Gandhi asks for a meeting with the man to discuss Godse's enmity towards his target ... a meeting which Godse ignores.).
Gandhi In South Africa - 1909
The final unsuccessful attempt on Gandhi's life occurs on January 20, 1948 ... and again, Godse is involved. The new plot calls for a bomb to be exploded near the podium Gandhi will be giving a speech from, and for a handful of gunmen to shoot up the man, if he escapes being blown up, as he flees the area (conspirators in the plot are Mandanlal Pahwa, Shankar Kistaiya, Digabar Badge, Narayan Apte, Vishnu Karkare, Gopal Godse, and of course, Nathuram Godse). Fizz instead of pop, the bomb goes off but produces an effect which is barely noticed, and most of the gunmen get cold feet and vanish before Gandhi moves out of the area (Pahwa is arrested in the failed attempt and warns authorities that Godse will not stop until he is successful, which of course, the authorities ignore until too late). Assessment correct, Godse is still not dissuaded by his latest failure and decides to take matters into his own hands with his next opportunity, a prayer meeting where Gandhi will be on 1/30 ... this time he will act on his own whether supported or not, and instead of a dagger or explosive device that doesn't work well enough in the conditions presented, he will come at the Indian nationalist from point-blank range with a pistol.
1/20 Conspirators - Eventual Assassin Seated At Center
Godse
Nathuram Vinayakrao Godse is born in the Pune District of British India on May 19, 1910 ... and is messed up from the get go! Born to a postal employee and his wife that have already lost three sons, Godse is first called Ramachandra and treated like a girl so he won't be lost to any curse on the males of the family, but when his brother Gopal is born in 1919, the parents revert to treating him as a male and he earns the name Nathuram, meaning "Ram with a nose-ring." Growing up, he worships Gandhi, but that feeling morphs to hate as Godse becomes older and gets involved in the quest for Hindu nationalism (he will start a Marathi language newspaper as a forum for his views), believing Gandhi has hurt the cause by giving too many concessions to the Muslim population of India, and picking sides with his marches and fasts. Upset with part of India becoming Pakistan to mollify the Muslim majority in the area, Godse decides that the only way to make India great, is to remove Gandhi. Failures driving him forward, with the help of Gangadhar Dandavate, Dattatraya Parchure and Narayan Apte, Godse purchases a Beretta M1934 9mm semi-automatic pistol in Pune, and returns to Delhi on 1/29, checking into retiring room #6 at the Delhi Railway Station where the conspirators chalk out their plan to kill Gandhi.
Beretta M1934
Weakened from a just concluded fast to bring amity back to the rioting city of Delhi, at about 5:15 in the early evening, wearing sandals and a white robe of homespun cloth, supported by two of his grandnieces, Gandhi makes his way across the gardens and lawns of Birla House (a mansion built for the business wealthy Birla Family where Gandhi has been staying since September of 1947 ... the location is now known as Gandhi Smriti, "Gandhi Remembrance," and has been turned into a museum dealing with the life and death of its namesake) to a place where an evening prayer meeting is to occur. Moving through the crowd of participants, Gandhi comes face to face with Godse, who bows to Gandhi, as Abha Chattopadhyay, one of the grandnieces tells the assassin, "Brother, Bapu is already late," as she tries to move Gandhi past. Two days before, in the wake of the 1/20 attempt on his life, Gandhi will state,
"If I am to die by the bullet of a madman, I must do so smiling. There must be no anger within me. God must be in my heart and on my lips." And now it is that time.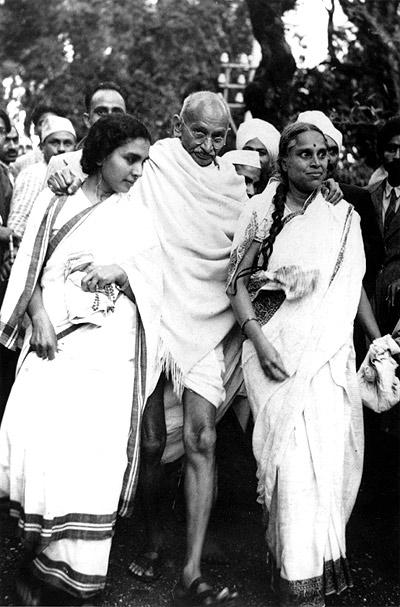 Between Manu And Abha
Pushing aside Abha, Godse pulls his recently bought Beretta, and shoots Gandhi three times in the chest and stomach. As he goes down in a bloody heap, Gandhi groans, "He Ram, He Ram," ("Oh God, Oh God,") before going quiet ... rushed back to his living quarters, he lasts less than thirty minutes before dying at the age of 78. Deed done, Godse runs, but is chased down by Birla House gardener, Raghu Nayak, who prevents the assassin from killing himself, enabling the crowd to almost beat Godse to a bloody pulp (almost saving the cost of a court date) before the authorities arrive and put the murderer in custody.
World Headlines
In the aftermath of his death, Gandhi will be mourned around the world by millions ... some with tears, and some with more violence that the state government cracks down on immediately. For his funeral, ironically, the non-violence advocate will be transported to the site of his cremation on a weapons carrier, with a high floor on the chassis installed overnight for the expected crowds to see Gandhi's body (the engine of the vehicle is not used; instead, the cortege is pulled by four drag-ropes, each muscled by 50 people) ... slow going, over two million people will join the five mile funeral procession to Raj Ghat on the Yamuna River in Delhi that takes five hours to conclude. Cremated according to Hindu traditions for his ashes be spread on water, the Gandhi ashes are poured into several urns which are sent about India for memorial services ... most are eventually spread at the sacred site of Triveni Sangam, where the Yamuna River and Ganges River confluence. Some however, are secretly moved to other locations ... a Gandhi ash urn is found in a bank vault in 1997 (before going into the Triveni Sangham), Gandhi ashes will be scattered at the source of the Nile River in Uganda, a batch goes into the waters of Girgaum Chowpatty beach in Mumbai, an urn is kept at the Aga Khan palace in Pune, and there is another urn at the Self-Realization Fellowship Lake Shrine in Los Angeles.
Being Readied For His Last Journey
People, People ... And More People
In Transit
To Ashes
As for Godse, slow to stop him, the authorities are quick to scoop up the assassin and his confederates once Gandhi is murdered ... Godse (and his brother Gopal), Badge, Apte, Karkare, Parchure, and Pahwa are all arrested and put on trial at the Punjab High Court in Peterhoff, Shimla (along with Vinayak Damodar Savakar, a Hindu revolutionary leader known to be enraged at Gandhi for his support of the partion of India ... though he met with the conspirators only days before the assassination, he will be found not guilty of Gandhi's murder during his trial) before Justice Atma Charan. Eight months later the justice delivers the verdicts ... Gopal Godse, Karkare, and Pahwa are sentenced to life in prison (Parchure too, but will be acquitted upon appeal for lack of evidence by three judges), Badge is released for ratting out his fellow conspirators, and Nathuram Godse and Apte are sentenced to death by hanging. Although pleas for a sentence commutation are made by Gandhi's two sons, Manilal and Ramdas Gandhi, India's Prime Minister Jawaharal Nehru, Deputy Prime Minister Vallabhbhai Patel, and Governor -General Chakravarti Rajagopalachari all say no, and on November 15, 1949, Godse and Apre are hung at the Ambala Jail ... Godse is 39 and Apte is 38.
The Assassin Questioned
Apte
A sad tale told far too often in the history of mankind, let the words of Albert Einstein draw down the curtain on the events of 1/30/1948 ... "Generations to come will scarcely believe that such a one as this walked the earth in flesh and blood. I believe that Gandhi's views were the most enlightened of all political men in our time." Amen!
Gandhi
Memorial At The Assassination Site
Memorial At The Cremation Site
Statue At York University
Soviet Union Postage Stamp
Statue In Sau Paulo, Brazil
Statue In Parliament Square, London
Monument In Serbia
Statue In Madrid
Temple Erected In Honor Of Gandhi -
Kanyakumari, India