9/19/1973 - The world of music suffers another huge loss, when 26-year-old Ingram Cecil Connor III dies of a drug overdose in Room #8 of the Joshua Tree Inn near Palm Springs, California! Not someone you've heard of ... well that probably isn't true one way or another ... Connor is better known as one of the founders of what will be known as country-rock and alternative-country, writing songs, singing, and playing guitar as the one-and-only, Gram Parsons.
Parsons
A southern soap-box tragic life almost from the start, Gram is a classic baby-boomer child born in Winter Haven, Florida in 1946 ... his father, is WWII ace Ingram Connor II (known by his nickname, Coon Dog), while his mother is Avis Snively Connor, daughter of John A. Snively, a citrus fruit magnate so rich, that some of the property he owns, like the mansion Gram spends some of his childhood in, eventually becomes part of the world famous Cypress Gardens. While loving (Gram will have a younger sister named Avis), both parents are alcoholics, with Avis Sr. additionally suffering from extended bouts of depression. The leavings begin in 1958, when Coon Dog dies two days before Christmas (he is 41) ... Gram is 12-years-old. When his mother remarries, Gram takes on the last name of his new stepfather, Robert Parsons. But in the new relationship there are also problems with excessive boozing, and Parsons likes to sample the local ladies when he has the chance, despite being married ... bad mojo, on the day Gram graduates from the prestigious Bolles School in Winter Haven, his mother dies of cirrhosis of the liver at the age of 41 (with wild rumors all about that Robert Parsons actually sneaks the booze into the hospital that kills his drying out wife).
John Snively
Millionaires!
The Snively Mansion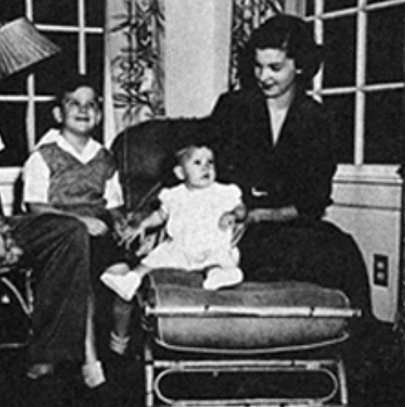 Avis And Her Children
Young Gram
The only thing that keeps life somewhat bearable for Gram is the love for music he discovers after seeing Elvis Presley perform at a 1956 concert in Waycross, Georgia. By 1961, Gram is strumming and singing in cover bands that play quite conveniently at bars and clubs in the Winter Haven and Polk County areas of Florida owned by his stepfather ... by his sixteenth birthday, Gram adds folk music to his loves. In 1963 he joins his first "professional" band, the Shilos, a group that will have a gig at the 1964 New York World's Fair representing the state of Florida before folding in 1965. Finally out of high school, when Gram briefly attends Harvard University (though a middling student, money and his family connections open the doors), taking some theology classes before dropping out, he discovers country music by way of Merle Haggard. Marrying his new passion with his old musical tastes, in 1966 he becomes a part of his last stepping stone before hitting the big time, a band out of Boston called the International Submarine Band. In 1967, the band relocates to Los Angeles to record their first and only album for Lee Hazlewood's LHI Records, Safe at Home. The album goes nowhere, and when the group breaks up in 1968, Gram is free to pursue other musical endeavors, and is in exactly the right place at the right time when the Byrds kick David Crosby out of their group and begin looking for a new replacement.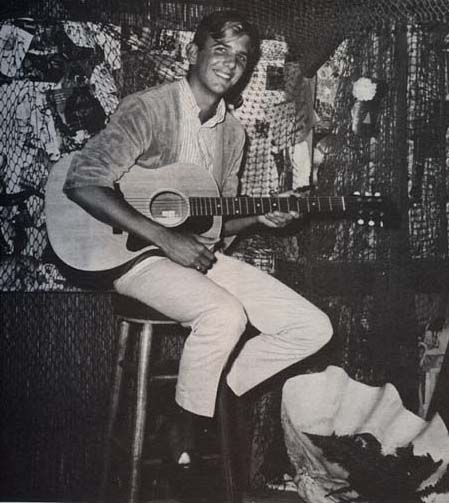 Young Gram
College Boy
The International Submarine Band - Gram With The Wisp Under His Lip
His impact with the Byrds is immediate! Conceived as a double album of the history of American popular music, Gram convinces the group to record their next album in Nashville, and there, driven by Parsons, it morphs into what is considered to be music's first country rock album, Sweetheart of the Rodeo. Top of the world it would seem being in a band as big as the Byrds, Gram sets his sights even higher when the group goes to England and Mick Jagger and Keith Richards want to hang out with Parsons ... an association that will result in Parsons teaching the pair numerous country songs (the result will be reflected in the Stones' Sticky Fingers album ... many believe, Wild Horses, is actually written by Gram and given to Keith Richards in an attempt to buy his way into becoming a Stone), Parsons quitting the Byrds because they will be playing a gig in South Africa (that Mick and Keith convince him is wrong to do due to the racist policies of the country's government at the time), and for awhile, Parsons moving into Richard's home in the south of France. During this period also, in not much of a surprise, Parsons becomes addicted to heroin.
1969 Byrds - Kevin Kelley & Parsons At Back, Chris Hillman &
Roger McGuinn In Front
Sweetheart Of The Rodeo Album
Trouble!!!!!!!!!!!!!!!!!!!!!!!!!!
South Of France
Joshua Tree, California - 1969 ... Anita Pallenberg, Parsons, Richards
Trouble!
Back in Los Angeles without a band, Parsons reconnects with Hillman of the Byrds (an original Byrd, Hillman finally tires of all the personnel changes and quits the band in 1969), and along with piano player and bassist Chris Ethridge, and pedal steel guitar player "Sneeky Pete" Kleinow, forms The Flying Burrito Brothers. With Parsons its guiding light, the band records two influential albums that don't sell well, The Gilded Palace Of Sin and Burrito Deluxe (with his Stones connections, they also play a gig during the infamous Altamont Free Concert in which a Hells Angel stabs an African-American man to death in front of the stage), before Parsons is fired from the group by Hillman for screwing up gigs due to his alcohol and drug usage (Parsons famously responds to Hillman, "You can't fire me, I'm Gram!").
The Flying Burrito Brothers
Parsons And New Burrito - Bernie Leadon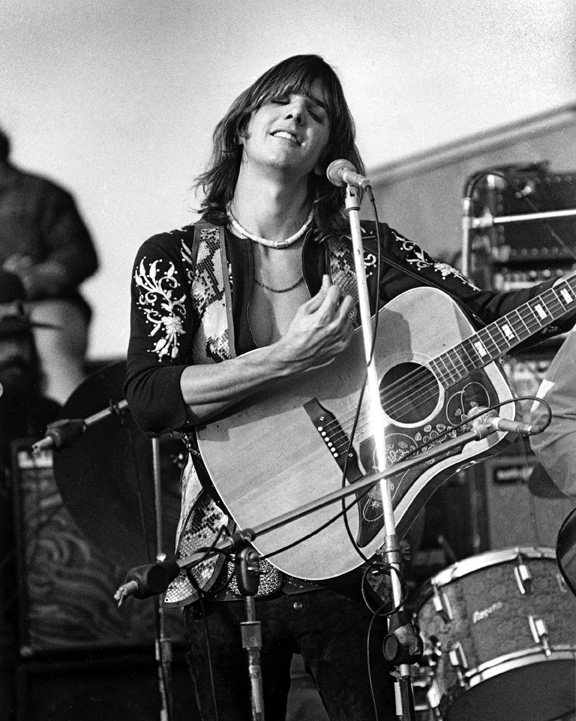 Opening For The Stones At Altamont
Trying a solo career after his runs with the Bryds and Burritos, Parsons signs a deal with A&M Records and producer Terry Melcher (Doris Day's son, the one Charlie Manson sends his Sharon Tate message to for failing to sign the killer to a recording contract), but the studio sessions are unproductive due to the snorting of heroin and cocaine by both men. And so Gram flies off to Europe again, where he hangs with the Rolling Stones while they record one of their best albums, Exile On Main Street (he is one of the background voices singing on Sweet Virginia). Married by this time aspiring actress Gretchen Burrell, hoping to be signed as an artist to the Stones' latest venture, Rolling Stones Records, Parsons is asked to go home by Richards' long time girlfriend, Anita Pallenberg, due to his excessive fighting with his new bride, or because behind the scenes, Mick Jagger has tired of not being able to write songs with his partner, because his partner is hanging out with Gram. Landing on his feet once more, back in the States, through Hillman, he meets singer Emily Lou Harris and brings her out to Los Angeles to make music, signs a contract with Reprise Records, releases the album GP (featuring members of Elvis Presley's band), tours the United States with his latest band, Gram Parsons and the Fallen Angels (Linda Ronstadt and Neil Young will sit in during a performance in Texas), and in 1974, releases what today is considered a classic, Grievous Angel (again featuring many Elvis alums, and also appearances by Linda Ronstadt and Eagle, Bernie Leadon). Not all peaches and cream though, during the period Gram continues, off-and-on, to take massive amounts of drugs and alcohol, breaks up with his wife, sees his friend, Clarence White (a former member of the Byrds), killed by a drunk driver, and has his house burn down from a sleeping dropped cigarette.
The GP Album
Gram Parsons And The Fallen Angels
Playing With Emmy Lou
Clarence White
The Grievous Angel Album
Married Man
Deciding to take a break away from Los Angeles after completing the recording of Grievous Angel, in September of 1973, Parsons (driving his new Jaguar), his girlfriend Margaret Fisher, assistant Michael Martin, and Martin's girlfriend, Dale McElroy, travel out into the Southern California desert and set up a base camp at the Joshua Tree Inn. During the day, Parsons roams about in the nearby desert (his favorite place in California), and at night, with his entourage, frequents the small town's handful of bars, getting wasted on booze and barbiturates.
Joshua Tree Inn - Room #8
Joshua Tree National Park
On 9/18/1973, Martin is sent back to Los Angeles to procure more marijuana for the group, and sometime during the day from an unknown local girl, Parsons acquires a batch of liquid morphine. Injecting himself with the drug, Parsons overdoses and Fisher tries to bring him back with first an ice-cube suppository and then a cold shower. Out of the shower, instead of keeping Parsons on his feet and walking him about the room, Fisher puts him in bed (with McElroy to take care of him), and leaves to go get Parsons some wake-up coffee. Fading quickly, McElroy tries to resuscitate the singer when his breathing stops, as does Fisher upon her return. Failing, an ambulance is finally called and Parsons is whisked off to the nearby High Desert Memorial Hospital; there he is declared dead at 12:15 on the morning of 9/19/1973 ... the singer is 26-years-old (it will be determined that he has more chemicals in his system than two people could survive).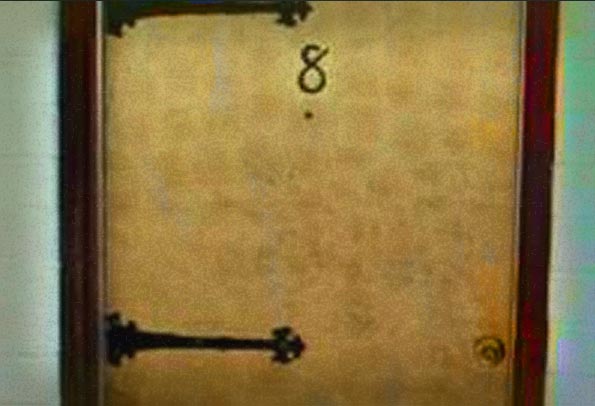 The Door To Room #8
Gone, Parson's story takes on a bizarre twist thanks to the singer's former road manager, Phil Kaufman. Remembering that only weeks before he had made a pact with Parsons at Clarence White's memorial to cremate the singer's body should he die young and scatter his ashes in Joshua Tree Monument (Parsons did not wish his death to become a public spectacle like White's), Kaufman and Michael Martin borrow a 1953 Cadillac hearse from a friend, and posing as mortuary workers, con workers at Los Angeles International Airport to release the body into the pair's care (Kaufman signs for the body using the name, Jeremy Nobody), where it had been scheduled to fly to New Orleans for burial because that is where his stepfather, Robert Parsons, lives and wants the body buried. Incredibly, during the carcass theft, the pair are blocked into the loading area by the parked patrol car of a Los Angeles police officer, but using drunken boldness, talk the officer into moving his blocking vehicle and helping them get the casket into the hearse. Nerves and booze, leaving the area, Martin drives the hearse into a hanger wall in front of the cop, who, unsuspecting that anything illegal is taking place, lets the men vacate the premises. Bombed by the time they reach Cap Rock in Joshua Tree Park (a favorite Parsons' locale), Parsons' casket is placed near Cap Rock, opened, and after 5 gallons of gasoline are poured over the body, ignited with a match ... ignition that creates an explosion and fireball which is quickly reported by nearby campers to park authorities . Fire not maintained, when authorities arrive at the scene, 35 pounds of Gram remains (repackaged, the remains will eventually be buried per Robert Parsons wishes in the Garden of Memories Cemetery of Metairie, Louisiana).
Kaufman In T-Shirt Beside Emily Lou Harris
Memorial Site - Cap Rock
End of story it would seem ... but not even close! Rolling Stone Magazine will pick Gram as one of their 100 Greatest Artists (in an essay written by Keith Richards), Emmy Lou Harris over the years has recorded a number of Parsons' songs, and has written a handful about the singer too (neither ever acknowledges a physical romance between them), the Bernie Leadon song, My Man, that appears on the Eagles' On The Border album, is a tribute to Gram, the Richie Furay tune, Crazy Eyes, for Poco, is about Gram, the Canadian band, Crash Vegas, has a tune about the singer on its 1995 Stone album, from 1996 to 2006 there is a yearly musical festival in Joshua Tree honoring Gram, there have been Gram Parsons tribute concerts in his former home town of Waycross, Georgia, in 2007, La Maison Tellier release a song called The Last Days of Gram Parsons, in 2009 the musical, Grievous Angel: The Legend of Gram Parsons debuts, Gram is mentioned in the song, Emmy Lou, by the Swedish folk duo, First Aid Kit, and in 2012, another musical debuts in Florida called Farther Along: The Music and Life of Gram Parsons. Additionally, there are a handful of books about Mr. Parsons ... Twenty Thousand Roads: The Ballad of Gram Parsons And His Cosmic American Music by David Meyer, Grievous Angel by Jessica Hundley, Hickory Wind: The Life And Times Of Gram Parsons by Ben Fong-Torres, Breakfast In Nudie Suits by Ian Dunlop, Calling Me Home: Gram Parsons And The Roots Of Country Music by Bob Kealing, Hot Burritos: The True Story Of The Flying Burrito Brothers by John Einarson, and Gram Parsons: God's Own Singer by Jason Walker ... along with the DVDs, Return To Sin City: A Tribute To Gram Parsons, and Gram Parsons: Fallen Angel, and a feature length Hollywood release about the burning of Parsons' corpse, called Grand Theft Parsons, starring Johnny Knoxville as the singer's buddy, Phil Kaufman.
One Of The Books
DVD
Hollywood
Beyond those resources for discovering and enjoying Gram's musical contributions to country-rock, rumors persist that the spirit of Parsons can be found wandering around Room #8 (objects moving, lights coming on and off, and the shower starting on its own) and below Cap Rock (moving objects, like my brother's guitar!!!!!!!!). At both spots, hundreds of fans continue to leave tributes to the singer, and at the Joshua Tree Inn, the death room is only rented out to folks who specifically ask to stay there. Long gone, and yet to many, Gram is not gone at all!
Cap Rock Leavings
Cap Rock Graffiti
Joshua Tree Inn Leavings
More
Indeed!
9/19/1973 - Singer Gram Parsons perishes ... and becomes a legend!
Gram
Goodbye