5/18/1927 - A relatively new community in Okmulgee County, Oklahoma, named for C. H. Beggs, the vice-president of the St. Louis-San Francisco Railway that has a stop there, the town of Beggs is officially born in September of 1900 when it's United States Post Office opens, and quickly becomes a center for the area's hog, cattle, and horse ranches. By 1901, the town is composed of about 50 buildings, but undergoes big changes when an oil boom hits the area in 1920 and the town and it's population suddenly undergo a growth spurt that includes enough commerce to support three banks ... the First National Bank, the Farmers National Bank, and the American National Bank, financial establishments that the region's notorious Kimes-Terrill Gang are very interested in robbing ... at the same time (they have already hit the Farmers National Bank the previous year)!
St. Louis-San Francisco Railway Engine
A loose confederation of robbers and killers led by 28-year-old outlaw Ray Terrill, and the Kimes Brothers, 23-year-old George and 22-year-old Matt, by 1927, the criminal resume of the group includes burglaries with future Karpis-Barker public enemies Volney Davis and Doc Barker, a $20,000 train robbery with Al Spencer and Frank Nash, night robberies of banks and stores with Herman Barker, Wilbur Underhill, and Elmer H. Inman, multiple jail escapes, the robbery of Covington, Oklahoma's two banks, the murder of Oklahoma City police officer Luther Bishop, taking $42,950 out of Sapulpa, Oklahoma's bank, the kidnapping of an Oklahoma police chief, and the killing of Sequoyah County Deputy Sheriff Perry Chuculate.
Ray Terrill
George Kimes & Wife
Matt Kimes
Chuculate
A two bank day already on the books, Matt Kimes (George is behind bars, serving a life sentence for killing Deputy Sheriff Chuculate) and Ray Terrill decide with the right manpower, weapons, and planning, all of Beggs' banks can be taken in one day. Manpower recruited, Kimes and Terrill are joined by three drivers, Elmer Inman, Roy Brandon, and Everett Stephens, and five other robbers, Raymond Doolin (a distant relation to Oklahoma's notorious Bill Doolin), Jack Whitehead, Claude Smith, Clyde Brandon, and Roy Wilson. Assignments practiced, weapons cleaned and loaded, matching black Buick sedans stolen and gassed up, and escape routes driven in advance, on the sunny spring morning of Wednesday, 5/18/1927, the outlaws are ready for their grand caper.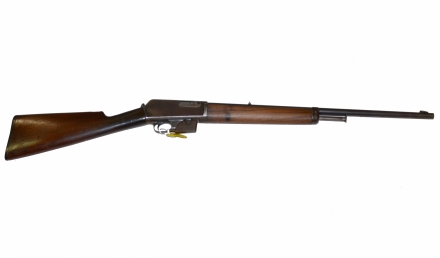 Matt Kimes' Winchester Model 1905
Elmer Inman
Hits scheduled to take place exactly at 10:40 in the morning, the men in their three cars take up positions near the three banks, all located on the town's Main Street. On time, Terrill, Smith, and Kimes enter the First National and after announcing, "We're robbing the bank," begin stuffing a gunnysack with the establishment's cash. All the while, Kimes greets customers in the bank with a warm smile and a "good morning" as he keeps watch that everyone behaves themselves. Done, eleven bank employees and customers are locked in the bank's fault, Kimes leaves the building whistling, and walks down the street to see how the other jobs are going.
Matt And His Wife
At the Farmers National Bank, Roy Brandon stays with the car, Clyde Brandon enters the bank, and Doolin guards the door. A piece of cake, the only action inside takes place when stooping down to pick up some loot he has dropped, Clyde Brandon's automatic falls out of his trousers and lands on the floor ("Damn, I'll be shootin' myself in a minute," Brandon exclaims). By the time Kimes walks in the robbery is over, and his only assist to his men comes by locking five more people in a bank vault that morning. The story is different though at the American National Bank.
Beggs Police Chief
William J. McAnally
Parking in front of the American National Bank and watching the hands of a huge two-faced clock tower for 10:40 to arrive ... the three men in the third car wait, and wait, and wait for their appointed moment to hit the bank, unaware that the clock side they are facing is 15 minutes slow ... just the right amount of time for the town to begin responding to the other bank robberies. Discussing the weather with neighbors on Main Street, Police Chief William McAnally learns that his town is being robbed just after Kimes, Doolin, and Clyde Brandon leave the Farmers National Bank. Aware that there are armed citizens now on the streets of Beggs, Roy Brandon puts his stolen Buick in gear and is already leaving town by the time Kimes jumps in, dodging two bullets sent his way by McAnally. Shots fired, hearing the noise, Stephens reverses from the curb in front of the First National Bank, makes a U-turn, and firing shots to keep heads down, races out of town. No time now for the third bank job, Inman pulls away from the American National bank, swerves across the central parking lane in the middle of the street and leaves town on the wrong side of the road, with Whitehead and Wilson firing away at random targets from inside the vehicle ... firing that wounds Mrs. Charlie Campbell in the neck, and kills Police Chief McAnally (hit in the back by both barrels of a shotgun blast, he dies within 15 minutes from 90 lead pellet wounds).
Front Page News For Thursday
Gone, the bandits leave town with a lot less cash and valuables than they expected ... $5,968 is taken from the First National, along with three diamonds and a ruby worth $7,975, and from the Farmers National, $4,018 ... the freedom for everyone involved though will be short lived. Claude Smith is mortally wounded trying to escape group of lawmen near Henryetta, Oklahoma, Stephens and Whitehead are arrested in Okmulgee, Oklahoma when they ask a suspicious service station attendant for directions to the Tulsa highway (Whitehead and Stephens will be sentenced to life behind bars), Roy and Clyde Brandon will be arrested while hiding out on the family's farm (both are given life sentences), Texas Rangers will pick up Wilson outside the town of Oil City (Wilson is given immunity for McAnally's murder for testifying against Kimes and gets 10 years for the robbery), after a struggle in which shots are fired and fists are thrown, Kimes and Doolin are arrested while vacationing at Grand Canyon National Park in Arizona (Doolin is given life, while Kimes, known to be the crime's planner, gets the death penalty, appeals, is granted a second trial, and is given a life sentence), Ray Terrill gets in a gunfight with police and is arrested in Colorado Springs, Colorado, is foolishly released on bond under an alias, and then is rearrested (another life sentence upon trial), along with Inman (multiple years for other crimes) in Hot Springs, Arkansas, in November of 1927.
Gang no more within a year of their biggest caper, the leaders of the gang, all behind bars with life sentences, each go out differently ... Ray Terrill dies in prison, Matt Kimes toes the line as a "good convict," becomes a prison trustee and walks away from his sentence while on an errand outside the Oklahoma State Prison at McAlester (after already being given leave to go quail hunting with his lawyer), robs yet one more bank, and then is killed when he crosses a street at the wrong spot and is hit by a speeding poultry truck in 1945 (after the victim is identified, the truck driver's ticket for speeding is torn up), and George Kimes is eventually released after spending over thirty years paying for the death of lawman Chuculate, dying from cancer at the American River Hospital at Carmichael, California at the age of 65.
Matt Kimes