11/9/1971 - Mentally unhinged by losing his job and being married to a wife that has become an alcoholic (to go along with her untreated tertiary syphilis), 46-year-old John Emil List murders five members of his family in Westfield, New Jersey, and then vanishes ... for 18 long years!
List
Born in Bay City, Michigan in 1925 to devoutly religious German-American parents, for a long time List seems normal ... during WWII he serves as a lab technician for the U.S. Army, receives a bachelor's degree in business administration and a master's degree in accounting from the University of Michigan at Ann Arbor, serves in the army again during the Korean war, marries widowed Helen Morris Taylor, works for an accounting firm in Detroit, serves as an audit supervisor for a paper company in the town of Kalamazoo, moves to New York and takes a job with Xerox (where he will rise to director of accounting services), and in 1965, accepts a position as vice-president and controller of a Jersey City, New Jersey bank. By 1971 however, List's rosy life with his wife and their family is enveloped in darkness ... after losing his job at the bank, not wanting to share his humiliation, List spends work hours at the local train station reading the newspaper and people watching until it is time to go home for dinner, he skims money from his mother's bank account to avoid defaulting on his home mortgage, and rages about his disintegrating marriage (he will testify in court later that he was duped into marriage by Taylor telling him she is pregnant with his child, and her insistence that they marry in Maryland where no blood test is first needed for a license ... a blood test that might reveal syphilis, alcoholism, and that there is no baby on the way). Not playing with a full deck, he chooses to spare his family from having to endure List's failures as a spouse, father, and bread winner ... by murdering them (and for himself, starting over somewhere else with a new name, family, and career)!
The List Family - John, Helen, and Frederick - Patricia and John F. Behind
19 Room Mansion - The 1971 Home of the List Family
On Tuesday, 11/9/1971, List goes into action while his children are at school. Using his own 9mm Steyr 1912 semi-automatic pistol, and his father's Colt .22 caliber revolver, List shoots his 46-year-old wife Helen in the back of the head, and then his 84-year-old mother Alma in the face, just above her left eye. In the early afternoon when they come home, he kills his 16-year-old daughter Patricia and his 13-year-old son Frederick with the bullets to the backs of their heads too. Then, after making himself lunch, List drives to the bank and closes out his own and his mother's bank accounts, then goes to his 15-year-old son John Jr's school to see his eldest son play in a soccer game. Game over, he then drives his son home and shoots the youth repeatedly in the chest and face (shot twice in the back of the head, when the body twitches in death, just to make sure his boy is no more, List empties his pistol into John Jr.). Murders completed, the monster then tidies up after himself ... the bodies of his wife and children are placed in sleeping bags in the home's expansive ballroom, his mother's body is left in its attic apartment, and five page letter documenting his excuses for the attack is left for List's pastor, every picture of List is removed form the house, the lights in the house are turned on, and finally, he turns the radio on to a religious station before leaving in the family's Chevy Impala.
9mm Steyr
Mother in the Attic
The Rest of the Family
The mansion set back from other homes in the neighborhood, and the family know as being reclusive, mail, milk, and newspaper delivery stopped, school informed the family would be in North Carolina for several weeks visiting Helen's mother, the killings are not discovered until December 7th, when neighbors call police to report the home's lights have been left on and are one by one going out. Bloodbath discovered, the case becomes the second biggest in New Jersey history (#1 of course being the Lindbergh Baby kidnapping case) and a national manhunt for List is immediately begun.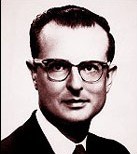 List
Poof ... for 18 years the whereabouts of List are a mystery, until on 5/21/1989, America's Most Wanted television show runs an episode on the cold case featuring a age-progressed clay bust, sculpted by forensic artist Frank Bender, depicting how the killer might have aged over the years ... and the phone calls to authorities begin coming in! Jackpot, a neighbor in Richmond, Virginia recognizes the face on the screen, calls the police, and List is arrested two weeks after the show airs using the name of a college classmate, Bob Clark, while he once again pursues a career as an accountant (it will take months before List finally admits his real identity).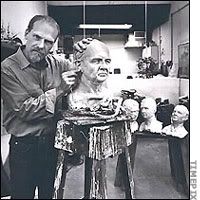 Bender & Bust
Showtime
At trial the story of the 18 years comes out (18 years, five months, and 22 days to be precise) ... after the murders, List drives to a train station and travels by that means of transportation first to Michigan, and then on to Colorado. Settling in Denver and using Clark's name, from 1979 to 1986, the killer works as controller at a paper box manufacturer, joins a local Lutheran congregation (where he runs a car pool for shut-in members of the church), and marries a Army PX clerk named Delores Miller. In 1988, the couple moves to Midlothian, Virginia.
Busted!
Though identified as suffering from obsessive-compulsive personality disorder by a court-appointed psychiatrist, on 4/12/1990, List is found guilty on all five counts of first degree murder, and is sentenced to serve five live sentences consequently ... the maximum permissible punishment at the time. Idiot to the end, when questioned by Connie Chung in 2002 as to why he hadn't yet committed suicide in payment for his actions, List responds that suicide is a no-no that would bar him from Heaven, a Heaven he fully expects to enter someday, and where he believes he will be reunited with the family he murdered. Suffering from pneumonia complications while under custody at the St. Francis Medical Center in Trenton, New Jersey, List passes away on March 21, 2008, at the age of 82 ... and no one mourns his leaving!
Mugshot - 2005