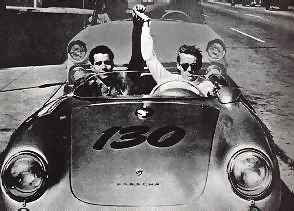 That Morning
9/30/1955 - Taking a break from the busy schedule that has seen him star in three movies in the course of a single year (all he will ever make), actor James Dean drives his new silver Porsche 550 Spyder (customized slightly, it bears the number 130 on its front and back, along with on the back, the nickname Dean's dialogue coach on the movie Giant has given the thespian, "Little Bastard"), north to compete in an a car rally in Salinas, California.
Dean
He will not make Salinas.
Dean
Accompanied by his mechanic, Rolf Wuether, and followed by his friend Bill Hickman and photographer Sanford Roth in a 1955 Ford Country Squire station wagon, at around 5:45 in the afternoon outside of Blackwells Corner, westbound on Highway 466 (now State Route 46), Dean collides with a 1950 Ford Tutor driven by a twenty-three-year-old Cal Poly college student ironically named Donald Turnupspeed (though subsequently found not guilty of causing the accident, Turnupspeed will be haunted by the incident for the rest of his life, refusing to grant any interviews beyond talking to a reporter the day after the tragedy ... quietly running a successful electrical contracting company, he dies of lung cancer in 1995 at the age of 63). Right-of-way with the actor, Turnupspeed, traveling east is attempting to make a left turn on to Highway 41 when he meets Dean in almost a head-on collision. In the accident that ensues, Turnupspeed receives only minor injuries (facial cuts and a bloody nose), Wuetherich will be thrown from the Posche and suffers serious head injuries and a broken leg, while Dean takes the brunt of the crash ... his left foot is crushed, his neck is broken, and he has multiple external and internal injuries. Rushed to Paso Robles War Memorial Hospital about 28 miles away, Dean is pronounced dead at 6:20 by the attending emergency room physician, Dr. Robert Bossert.
A Haunted Section Of Road!
Turnupspeed
Turnupspeed's Car After
Anatomy of a Tragedy!
Death Car
To the Hospital, Turnspeed's Ford at left
Dean will be only 24 forever, the only actor to ever be nominated for two Best Acting Oscars after his death.
In Hindsight, Not Funny At All!
Icon