8/31/1985 - Tired of the terror the region has been living with for over a year as a monster repeatedly climbs through the open windows he finds at night to indulge in rape, murder, and plunder, a group of East L.A. citizens chases down and then subdues until local law enforcement authorities arrive (in a severe shit kicking that includes one vigilante marrying a metal bar to the killer's head), Richard Ramirez, the serial killer the newspapers have dubbed, The Night Stalker (a name taken from the Darren McGavin TV series of the same name).
Ramirez
Born Ricardo Leyva Munoz Ramirez in El Paso, Texas in 1960, the youngest of five children born to Mercedes and Julian Ramirez (a Mexican National and former Juarez cop, at the time of his killer son's birth, he is working as a laborer on the Santa Fe railroad) is very early in life turned into a monster by the family that bore him ... prone to fits of violence when angered, his father beats Ramirez over and over as the youth is growing up (to the point that to avoid his dad, Ramirez starts sleeping in a local cemetery), he suffers major head injuries when at two years old a dresser falls on him (it will take 30 stitches to close the wound in his head) and at five he is knocked unconscious by a swing at a nearby park (causing him to suffer from epileptic fits until his teens), begins smoking marijuana at the age of 10, he comes under the influence of an older cousin at 12 and is taught stealth killing by the highly decorated Green Beret Vietnam veteran (who also shows the youth Polaroids of people he's killed, including a Vietnam woman the soldier raped), and shown murder in the now when the same cousin gets into a domestic fight with his wife and shoots her in the face with a .38 revolver in front of Ramirez (found not guilty by insanity with his combat record taken into account, the cousin will be released to freedom after spending four years in the Texas State Mental Hospital), moving in with his older sister and her husband, he begins going on nocturnal window adventures with his "Peeping Tom" brother-in-law, and discovers LSD and Satanism before he turns 20 years old.
Monster Clay - #1
Monster Clay - #2
Foulball Cousin - Mike Ramirez
When his hormones kick in during his teenage years, blending his sexual desires with fantasies of violence, forced bondage, and rape, Ramirez begins his criminal journey to a future death behind bars. Still in school (he will drop out of El Paso's Jefferson High School
in the 9th grade), he uses his job at a local Holiday Inn to break into rooms with passkey and rob sleeping patrons ... profitable fun until he decides to rape a sleeping woman and is beaten senseless when the woman's husband unexpectedly returns to the room (fired, but not in jail yet, the put upon couple are from another state and don't press charges to avoid having to return to Texas to testify at a trial). Texas very lucky in just being the spawning ground of the blossoming maniac, at the age of 22 he moves to California and begins murdering many of the unfortunates that cross his path. 9-year-old Mei Leung of San Francisco is the first to go in April of 1984 ... a victim that Ramirez beats, rapes, stabs to death, and then hangs from a pipe in a hotel basement (not available at the time, the crime is solved in 2009 when Ramirez DNA is matched to the crime scene). And as these things go, a taste developed requires feeding ... and there will be more victims.
Leung
She will not be the last innocent Ramirez butchers!
Ramirez Crime Scene
Over the course of the next year, along with almost daily breaking numerous drug statutes, Ramirez burglarizes assorted California homes, mixing his home invasions with assault, rape, and murder.
79-year-old Jennie Vincow is murdered in her Glassell Park apartment, stabbed in sleep so violently that her head is almost decapitated. At a home in Rosemead he shoots 22-year-old Maria Hernandez in the face (she survives when the bullet hits the car keys in her hand that she raises in front of her face) and kills her roommate, 34-year-old Dayle Okazaki, shooting the woman in the forehead. An hour later, he pulls 30-year-old Tsai-Lian "Veronica" Yu out of a car in Monterey Park and kills her with two bullets fired at point-blank range. Burglarizing a home in Whittier at 2:00 in the morning, Ramirez kills 64-year-old Vincent Zazzara with a bullet to the sleeping man's head, then upset that 44-year-old Maxine Zazzara has escaped her bonds and is trying to load a shotgun hidden under the couple's bed, shoots the woman three times, stabs her multiple times with a large carving knife from the kitchen, gouges her eyes out, and places them in a jewelry box. Returning to Monterey Park in May of 1985, Ramirez murders 66-year-old Bill Doi and then rapes his disabled 56-year-old wife, Lillian. Two weeks later, the community of Monrovia experiences a visit from the maniac ... a home invasion that sees 83-year-old Mabel "Ma" Bell and her sister, 81-year-old Florence "Nettie" Lang, bludgeoned with a hammer, bound with electric cord (Bell receives electric shock torture before being tied up), and the raping of Lang (done, Ramirez will use some of Bell's lipstick to draw a Satanic pentagram on Lang's thigh) ... discovered two days after the assault, Bell will die from her injuries.
Another Crime Scene
Looking for more mayhem, the next day Ramirez enters a home in Burbank where he repeatedly sodomizes 42-year-old Carol Kyle, while her 11-year-old son is locked in a closet. In July, he bludgeons and stabs to death a widowed 75-year-old Arcadia grandmother named Mary Louise Cannon. Sleeping in her room in Sierra Madre, 16-year-old Whitney Bennett becomes Ramirez's next victim ... hit over the head with a tire iron (it will take 478 stitches to close the wounds to her head), when he can't find an adequate knife in the kitchen, the monster starts strangling her with a telephone cord, but when sparks fly out of the cord, flees the house believing Jesus Christ has intervened. Bennett survives, not so however for 61-year-old Joyce Lucille Nelson of Monterey Park ... she is punched and kicked to death on her own living room couch. New toy purchased, when 66-year-old Lela Kneiding and her 68-year-old husband Maxon are murdered in Glendale, they are both shot in the head ... before and after being hacked to pieces with Ramirez's present to himself ... a razor sharp machete. The Khovananth Family of Sun Valley experiences an attack that sees the husband murdered by a bullet to the head, the wife sodomized, and their 8-year-old son bound and gagged. Off to Northridge, Chris and Virginia Peterson are shot in the face and head, but survive when Chris struggles with the madman and forces Ramirez to flee the home. In Diamond Bar, Ramirez murders 31-year-old Elyas Abowath (a bullet to the head again), then handcuffs, beats, and rapes 27-year-old Sakina Abowath, with her bound and gagged 3-year-old son is in the same room.
Another Crime Scene - Note Blood Pentagram
Deciding his activities deserve a road trip, in August of 1985, Ramirez drives north to his old stomping grounds in San Francisco, and there, murders a couple in their 60s, Peter and Barbara Pan ... Peter dies of a gunshot wound to his temple, while Barbra is beaten, raped, then shot in the head. Murders completed, Ramirez then brings his rampage back to Southern California, entering the Mission Viejo house of 30-year-old Bill Carns. Shooting Carns in the head three times, Ramirez then forces Carns' fiance, 29-year-old Inez Erickson, to swear she loves Satan before he binds her with neckties from the closet, beats her, then sodomizes the woman before he flees into the night. Both Carns and Erickson survive their ordeal at Ramirez's hands ... and the crime proves to be the beginning of the end for the Night Stalker.
'76 Orange Toyota
Unbeknownst to Ramirez, 13-year-old Mission Viejo neighbor, James Romero III, has noticed a "weird looking guy in black" in the area and written down the license plate number of the vehicle the man drives off in. Located later in Wilshire, despite the killer's attempts to wipe the stolen car clean, police obtain a single fingerprint on the rear view mirror that proves a match to Ramirez. The beast responsible for a year of crimes identified, the police make the decision to go to the media and give them everything they have on Ramirez ... including his picture, which is published in all the local major newspapers, and shown repeatedly on TV ... "We know who you are, and soon everyone else will. There will be no place you can hide!" Indeed!
Romero And Reward Yamaha ATV
Unaware that his face has been plastered all over Southern California, on 8/31/1985, Ramirez returns to Los Angles from a bus trip to visit his brother in Tucson, Arizona. Walking from the bus station (police are there monitoring the buses leaving L.A., thinking Ramirez will flee the attention publishing his picture has brought about), at a nearby convenience store in East L.A., Ramirez becomes aware of a group of women looking at him and calling him "killer," sees his picture on the front page of the L.A. Times, and in a panic, runs across the Santa Ana Freeway, seeking a vehicle that can get him out of the area. Attempting a car jacking (he punches Angelina De La Torre in the stomach when she refuses to give up her vehicle), Ramirez is thwarted by a group of local bystanders who pursue the killer through backyards and over fences, while two more tries to steal a car are made. Finally grabbed by local residents, the Night Stalker's reign of terror comes to an end compliments of subduing fists and feet (along with an iron bar which raises several nice knots on the head of the murderer) that control the monster until police arrive on the scene and haul Ramirez away.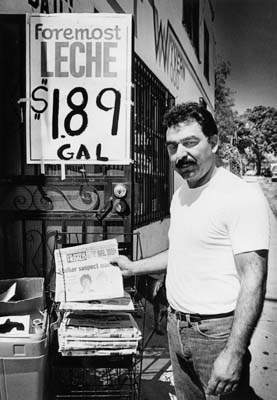 Store Owner Armando Lojero and the
Ramirez Newspaper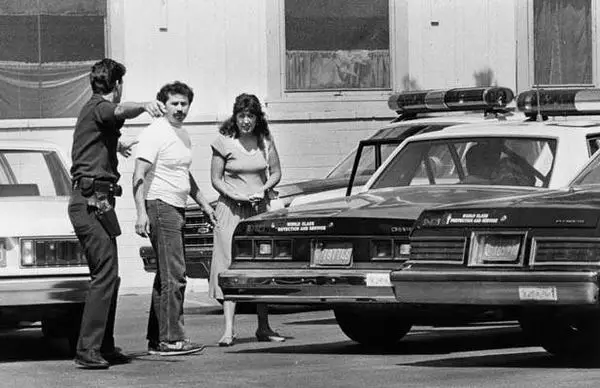 L.A. Officer & Manual and Angelina De La Torre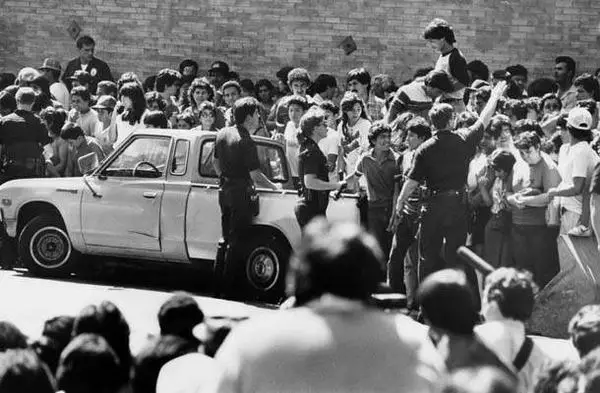 Hollenbeck Police Station - Crowds Attempt To See The Killer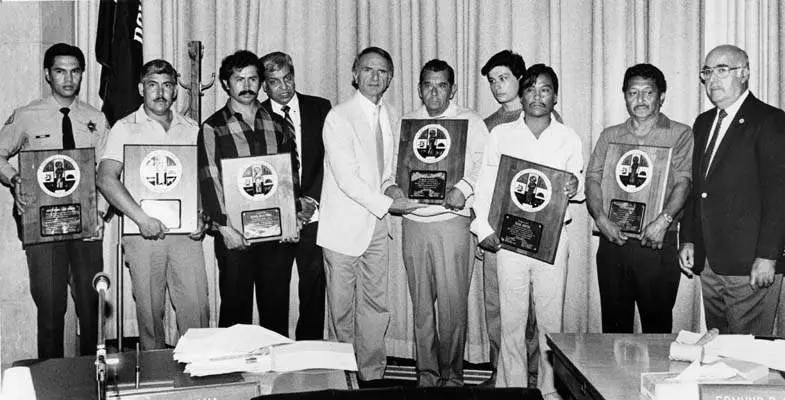 The Heroes Who Take Down Ramirez - L to R - Deputy Andy Ramirez, Carmelo Robles, Manual De La Torre, Jose Burgoin, Frank Moreno, and Faustino Pinon
Nuts with a capital "N," Ramirez finally comes to trial in 1988 and immediately shows himself to be mentally defective by drawing a pentagram on his palm and yelling "Hail Satan!" ... good stuff for NOT getting the jury on his side. Week after week after week of wasting the tax payers' money, Ramirez is fnally found guilty of 13 counts of murder, 5 attempted murders, 11 sexual assaults, and 14 burglaries on September 20, 1989 (on 11/7/1989 he will be sentenced to die in California's gas chamber) ... the most expensive trial in California history ($1.8 million) until O.J. Simpson decides to slaughter his wife. After his death sentences are announced, Ramirez states, "Big deal. Death always went with the territory. See you in Disneyland."
Scum!
But death isn't the territory Ramirez walks for awhile. Appeal follows appeal and years slide away during which the monster actually finds an idiot willing to be his wife, freelance magazine writer Doreen Lioy. State unwilling to getting around to doing the obvious, God steps in eventually and after 23 years on Death Row, Ramirez dies at the age of 53 on June 7, 2013 from a bad case of B-cell lymphoma.
Now Rotting In Hell
And on a personal note ... not that long ago actually, I remember what it was like to be in Southern California during this monster's rampage ... every door and window on Brimhall Drive was shut and locked, and in the sweltering heat of that summer, the A/C and fans ran 24/7 (not to mention the hand gun my father kept at the ready on his night stand should Ramirez stop in to say hello) ... and we all breathed a sense of relief when we watched the news and saw a group of L.A. citizens had actually caught the manic!
The Night Stalker
The Night Stalker is stopped thanks to the efforts of savvy 13-year-old and a group of alert East L.A. citizens ... 8/31/1985!