7/2/1969 - Murder, suicide, or just drug induced stupidity, at Cotchford Farm in East Sussex, Great Britain (a home formerly owned by Winnie-the-Pooh author A. A. Milne), the world of music loses the troubled genius (he plays guitar, harmonica, keyboards, sitar, and marimba) that formed the Rolling Stones in 1962, Lewis Brian Hopkin Jones.
Jones - 1965
Less than a month after getting kicked out of the Stones for disagreeing with their changing musical direction, missing recording sessions, temper tantrums, and numerous arrests that make his touring internationally with the group impossible (and of course, the awkwardness of Keith Richards stealing the affections of Jones' girlfriend of two years, Anita Pallenberg, while the trio is vacationing in Morocco), friends report that Jones is happier than he's been years as he starts to put a new band together featuring musical pals Alexis Korner, Ian Stewart, John Lennon, Mitch Mitchell, and Jimmy Miller (Jones is working on demos for two new songs at the time of his death, "Has Anybody Seen My Baby" and "Chow Time"). Happy until around midnight of 7/2.
Jones & Pallenberg
Richards & Pallenberg
Deciding to see why Jones hadn't yet come to bed, his girlfriend, Swedish model Anna Wohlin, discovers the answer when she finds the musician motionless at the bottom of his pool. Help summoned (also at the house are Janet Lawson, a 26-year-old nurse that knows Jones through her musician boyfriend, Rolling Stones tour manager Tom Keylock, and 43-year-old Frank Thorogood, a contracter Jones has hired to do work on the property ... and a man already once a suspect in another death), and Jones removed from the wet, Wohlin will claim he still had a pulse, but it is gone by the time medical personnel arrive at the scene. A notorious drinker and drug user, it seems a slam dunk when a coroner's report officially calls the passing a "death by misadventure."
The Pool
Gone but not forgotten, in the immediate aftermath of the death, the Rolling Stones will dedicate their July 5th concert at Hyde Park (in which they introduce their new guitarist for the first time, and Jones' replacement, 20-year-old Mick Taylor ... during the concert Jagger will read excerpts from the Percy Shelley poem "Adonais," stagehands will release hundreds of symbolic white butterflies over the crowd, and the band will begin the evening by performing one of Jones' favorite tunes, Johnny Winters' "I'm Yours and I'm Hers" ... and yet surprising, with excuses abounding, only Bill Wyman and Charlie Watts will attend the Jones funeral) to the memory of their former band mate, Pete Townshend of The Who will write a poem called "A Normal Day for Brian, A Man Who Died Every Day," Jimi Hendrix will dedicate a song to Jones on American TV, and Jim Morrison of The Doors will publish a poem called "Ode to L.A. While Thinking of Brian Jones, Deceased."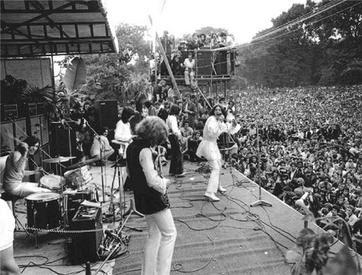 Hyde Park Concert
Buried 10 feet deep at Cheltenham Cemetary to discouraged ghoulish trophy hunting fans, Jones does not rest easy in his grave and rumors of murder soon are making the rounds of the world of entertainment.
Jones Tombstone
Murder confessed to and then denied, in an alternate reality of Jones' leaving (one to which Janet Lawson and Anna Wohlin subscribe, along with the 2005 movie about the musician's last days, "Stoned"), Jones fires Thorogood on the day of his death over some butchered cabinet work, but doesn't make him leave his residence, they argue into the evening, and when Lawson gets out of the pool to retrieve the musician's inhaler, the dismissed worker jumps in and easily holds Jones under until he drowns (by all accounts, Thorogood is the last person in the world to see Jones alive) ... and no surprise, when Wohlin calls for help, Thorogood doesn't react, then immediately runs to the deep end of the pool and jumps in, despite no one telling him Jones is at the bottom of the pool.
Thorogood
And there are now also stories that on the day he died, Jones gets in a huge fight with his ex-friend Richards, an argument horrid enough that Richards draws a knife on Jones before cooler heads break the argument up ... and surprise, surprise, the tale comes from Jan Bell, the daughter of Thorogood! Murder, suicide, or just drug induced stupidity ... the death of Jones remains a mystery to this day.
Jones
Oh, and just to leave this tale with a little light instead of darkness, here is a fun factoid about Jones ... in 1963, Jones receives songwriting credits (pissing off Jagger and Richards immensely) for writing a 30 second commercial jingle for a product still enjoyed by millions ... a little breakfast cereal called "Rice Krispies!"
Snap, Crackle, Pop Indeed!