6/9/1902 - One of the bloodiest prison breaks in American criminal history takes place in Salem, Oregon, at the state penitentiary when former Hole-in-the-Wall Gang member, Harry Tracy, gets his hands on a Winchester rifle and starts shooting guards (and anything else that gets in his way).
Oregon State Penitentiary - 1892
Born in 1874 in Pittsville, Wisconsin, as Harry Severns, the future outlaw changes his name to Tracy to shield his family from his transgressions when he flees his Cheese State crimes, heading west. As Tracy, he is soon committing outrages in Utah and Colorado, escapades that include running around with Butch Cassidy and various members of the Wild Bunch, two successful jail breaks (Salt Lake City and Aspen), and the killing of Valentine Hoy (part of a posse seeking the killer of 15-year-old Willie Strang by a rustler named Pat Johnson, an owl-hoot rider that has joined Tracy and his partner, Dave Lant, hiding in Brown's Park, Colorado). On the loose after escaping from Aspen, Tracy moves his criminal activities to Oregon and acquires a new partner there, David Merrill.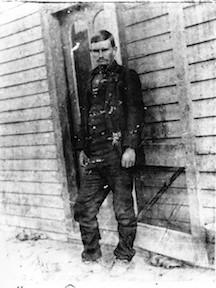 Tracy - Steamboat Springs, Colorado
Hanging with a fellow escape artist (ten years earlier after fashioning a cell key out of this-and-that within reach, Merrill breaks out of a Clark County, Orgegon, jail), Tracy robs banks, saloons, trolley cars, and Portland, Oregon, city shops from 1898 to 1899 (wearing masks and overcoats during their robberies, the pair is known as both the "Macintosh Bandits" and the "False Faces"); time he also spends courting and marrying Merrill's sister, Rose. A good bad life, it all comes apart when police arrest Merrill with loot from various jobs, and for a lesser sentence come trial time, rats out his brother-in-law. Captured (one story has him picked up when he jumps off a train trying to flee the area, another ends with a bullet creasing his head into unconsciousness while he is hiding in a butcher shop), Tracy is sentenced to 20 years in the state pen (good to their word, Merrill only gets 12). Three years behind bars three years too much, by 1902 Tracy is ready to move on to a more pleasant location anywhere outside of the prison.
Merrill - #2134
With Merrill as support (Tracy doesn't yet know that he has been betrayed by his brother-in-law), when the break begins the men are part of a group of over 100 prisoners standing in a line for morning count before going from chapel to work in the foundry. Grabbing two rifles that have been smuggled into the facility in chalk marked box (compliments of a recently released con, Charles Monte), Tracy shoots Frank B. Ferrell in the back just as the guard completes his count. Turning to next kill the other guard on yard duty, Frank Girard, Tracy is interrupted when fellow convict, Frank Ingram, tries to stop the break by jumping on his back and trying to wrest the rifle away. But only momentarily, whipping his antagonist off his back, Tracy shoots Ingram in the belly (severely wounded, the convict will survive his good deed moment) and then goes looking for other targets and egress out of the yard. Both are quickly found!
Tracy - #4088
Grabbing a ladder they have hidden for the occasion, the men move to a spot where they can get over the wall, firing at guards as they run behind crates and boxes stacked near the wall. In the gunfire that ensues, Tracy knocks two guards off the wall with his accurate shooting, and kills S.R.T. Jones with a well placed round. Up, over the wall, and out, Tracy and Merrill grab one of the wounded guards they find near the wall, Bailey Tiffany, and use him as a shield as they flee into a nearby forest; there, safe for the moment from fire from the prison walls, their captive now an impediment, Tracy guns down the captive guard.
Tracy Headlines
The grisly break and murders become national news, and instigate the largest manhunt in United States history to the time ... seeking justice or the $8,000 reward on Tracy's head, thousands of men will comb Oregon, Washington, Idaho, and California looking for the outlaws ... and it will be a hunt with more casualties before Tracy is brought to ground in August. With the days of freedom Tracy has left he will kill his brother-in-law (finding a newspaper describing the escape and hunt for the convicts, Tracy reads about the betrayal that led to his arrest ... livid, he challenges Merrill to a classic duel of 10 counted steps, turn, and fire ... and wins their dispute when he drills his former friend in the back at EIGHT!), kidnap several individuals he meets while seeking shelter and sustenance (announcing his presence to his victims by simply saying, "I'm Tracy!"), ambush and kill Detective Charles Raymond and Deputy Sheriff Jack Williams (while wounding Deputy Sheriff L.J. Nelson and reporter Louis B. Sefrit), and win a shootout with Cornelius Rowley and Enoch Breece.
Hostage May Baker
Cornelius Rowley
Deputy Sheriff Jack Williams
The bloodshed finally ends when Tracy is surrounded and wounded in a wheat field on the Eddy Ranch near Davenport, Washington, and unwilling to hang by the neck until dead or spend the rest of his life behind bars, puts his revolver to his right eye and pulls the trigger.
Finally Defanged
Ouch
Harry Tracy, the Beast of the Wild Bunch, is only 26 when he departs for Hell!