8/5/1932 - On the run from warrants for their arrest in the Texas murder of Hillsboro grocery store owner John Bucher, with Bonnie Parker off visiting her mother in Dallas, bandits Clyde Barrow (23 years old) and Raymond Hamilton (19 years old), along with their outlaw pals, Everett Milligan and Ross Dyer, decide to spend a portion of their Saturday evening at a country dance in Stringtown, Oklahoma. It is a decision that will have fatal repercussions.
Clyde at 16
Hamilton
Northbound on Route 69 in a stolen Ford, shortly after crossing over the Red River into Oklahoma, and already semi-sloshed on whiskey drunk from Mason jars, the group spots the inviting lights of an open air dance just off the road near the small country town of Stringtown. A pleasant summer evening, pretty girls to dance with, booze, flickering multicolored Chinese lanterns, safe in a state in which they aren't wanted (yet!), hootenanny fiddles and guitars making music ... it is a combination of delights that is too much for Hamilton. "I need to shake a leg," the teenage thug tells Clyde ... and not much wiser himself, Barrow agrees to stop and let the gang relax at the dance for a few hours. Strangers dressed in city slicker suits but driving a mud covered new car, sipping something intoxicating out of glass jars, asking local ladies for dances and more ... it is only a few minutes before the group becomes a subject of interest to the local authorities.
Deputy Sheriff Eugene Moore
Receiving information at their office in Atoka that some drunks might be disturbing the peace at the local dance, shortly after 10:00 Sheriff Charley Maxwell and 30-year-old Deputy Sheriff Eugene Moore (a husband and father of three young children) drive the eight miles out to Stringtown to investigate and maybe make a couple of easy arrests. Arriving at the dance, they see men sitting in a car behind the bandstand sipping what appears to be moonshine and approach the group. "We want to talk to you," Moore calls out, not expecting trouble as he and Maxwell approach the strangers with their weapons holstered. They are the last words he ever speaks. Surprised rattlesnakes, Barrow and Hamilton both instantly respond by drawing their weapons and blasting away at the lawmen from almost point-blank range. In the lead, Maxwell is felled by seven bullet hits to his chest and stomach, but survives, though crippled for life, after hours of emergency surgery. Moore is not as lucky ... hit in the head by a single bullet from a .30 caliber Stevens automatic rifle, the unlucky officer dies instantly.
Site of the shooting
Dance over, Clyde floors the Ford out of Stringtown, abandoning fellow hoodlum Milligan in the process. Not happy at being left behind by his comrades to a mob of citizens that almost lynches him, Milligan responds to the slight by telling the authorities who the shooters were at the dance, and Oklahoma joins Texas in wanting the murderers put six feet under or beyond bars for life. Sadly though, before that happens there will be many more killings!
Hamilton & Barrow
Deadly dangerous as solos, Hamilton and Barrow are pure poison as a duo. Separated by arrests, in 1934 Barrow will orchestrate the prison break that frees his former partner from the prison farm at Eastham, Texas, killing a guard in the process, Major M. H. Crowson. It is the murder that causes Texas to finally call Texas Ranger Frank Hamer out of retirement to deal with Clyde once and for all ... a mission completed with the massacre ambush of Bonnie and Clyde on a rural road in Louisiana on 5/23/1934. On death row for several murders at the time (he is serving a sentence of 362 years plus death!), Hamilton avoids that exit though ... but fashions one of his own that is just as fitting.
Clyde
While dinner is being served, using a .45 pistol smuggled into the Huntsville prison (along with commandeered bolt cutters, a paint shop ladder, and several reluctant hostage guards), on 7/24/1934, Hamilton, bank robber Irwin Newton "Blackie" Thompson, and Barrow associate Joe Palmer, manage to get out of their death row cells, over the walls of the institution, and vanish into the night in one of two waiting, black V-8 Fords (three other cons that participate in the escape are not as fortunate ... one, Whitey Walker, is shot off the ladder by guards and killed by way of a holed head, while the other two men, Charlie Frazier and Roy Johnson, are seriously wounded and end up handcuffed to beds in the prison hospital). But not for long!
Thompson
Palmer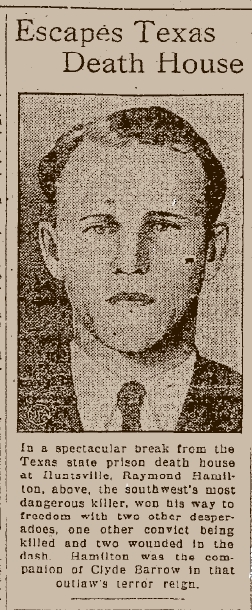 Hamilton
Hiding near Amarillo, Thompson is the first to go when he fatally loses a gunfight in December of 1934 with three car loads of unhappy law enforcement agents. Three weeks after his escape, Palmer is caught sleeping on a railroad embankment in Paducah, Kentucky, while Hamilton is on the loose a little longer, robbing banks in Texas and Mississippi, before being captured in Fort Worth.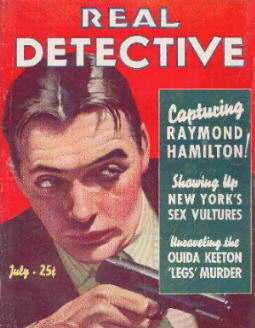 Infamy
There will be no further escapes for either of the men, and on May 10, 1935, both killers are fried to death at Huntsville in the state's electric chair, "Old Sparky"
(Palmer first, a sobbing Hamilton perishes five minutes later after the chair has been cleaned up).
Hamilton's last words from behind his leather death mask are, "Well, goodbye, all." Goodbye indeed ... adios to the Barrow Gang!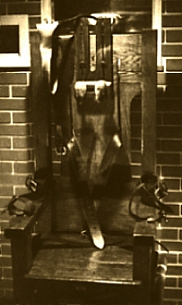 Old Sparky