4/4/1958 - Only days after the glitz, glamour, fame, and fortune of the movie industry is on display at the 30th Academy Awards (where Bridge on the River Kwai wins the Best Picture of 1957), Hollywood shows the world a far darker side of life in Southern California when he-man thug Johnny Stompanato is stabbed to death in the bedroom of a Beverly Hills mansion by fourteen-year-old Cheryl Crane ... the young daughter of screen legend Lana Turner.
Johnny Stomp
Born in Woodstock, Illinois, in 1925, to a family of first generation Italian-Americans, Stompanato graduates from high school at the age of seventeen and then is off to war, becoming a rifleman in the 1st Marine Division and participating in that unit's heroic assaults on the Pacific islands of Peleliu and Okinawa. After the war, he returns briefly to Illinois, where he works as a bread salesman, before abandoning his Turkish wife, Sarah Utish, and young son, John III, for the potential supposed magic of post-war Los Angeles. In California, Stompanato translates his muscles, dark features, and history as a Marine into two activities ... he goes from being a $300-a-week bouncer in an underworld nightclub to being the personal bodyguard and moneyman for mobster Mickey Cohen (while going by the monikers of Handsome Harry, Johnny Stomp, John Steele, or Oscar Johnny), and he plays gigolo to a series of wealthy beautiful women, accepting their gifts, or when necessary, blackmailing them into placing their assets in his bank account. Among the famous women that will get some of the Handsome Harry treatment are Zsa Zsa Gabor, Janet Leigh, June Allyson ... and Lana Turner.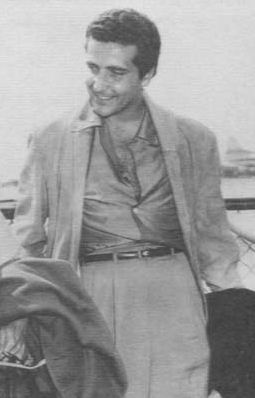 Johnny
Discovered in 1936 at the Top Hat Malt Shop on the corner of Sunset Boulevard and McCadden Place by the publisher of the Hollywood Reporter, William R. Wilkerson (not Schwab's Pharmacy as movie legends say), Lana Turner is only sixteen-years-old when she parlays her kismet moment of ditching a class at Hollywood High to treat herself to a Coke into a management contract with Zeppo Marx, a role in the Warner Brothers Production, They Won't Forget, and the sex symbol nickname, The Sweater Girl. By 1957, Turner is a major star, sharing silver screen time with such film luminaries as Clark Gable, Gene Kelly, Spencer Tracy, James Stewart, Mickey Rooney, Kirk Douglas, and John Wayne. She is rich, famous, and beautiful ... and unfortunately has a penchant for picking the wrong men to get involved with, already a partner in four failed marriages (eventually she will marry eight times), one of which, to actor and restaurateur Joseph Stephen Crane, produces her only daughter, Cheryl.
Turner
The latest bad boy, Johnny Stompanato, comes wanting sex, money, and insider movie information his boss Cohen can use to strong-arm the Hollywood studios. Given the star's address and phone number by the mobster, in the spring of 1957, fresh from saying adios to husband #4 (Tarzan actor Lex Barker), she is suddenly bombarded by daily offerings of flowers and her favorite records by a handsome hunk of hot calling himself Johnny Steele, wooing that eventually results in an acceptance to meet for drinks ... and the drinks soon lead to multiple beddings and a relationship that runs extremely hot and cold. There is love, gifts, passionate nights, then fights (including with others, waving a gun about in England, Stompanato will be disarmed violently by a young Sean Connery on the set of Turner's Another Time, Another Place), breakups, and reunions. Watching from the sideline, Turner's studio, MGM, is not amused by the couple's antics at all.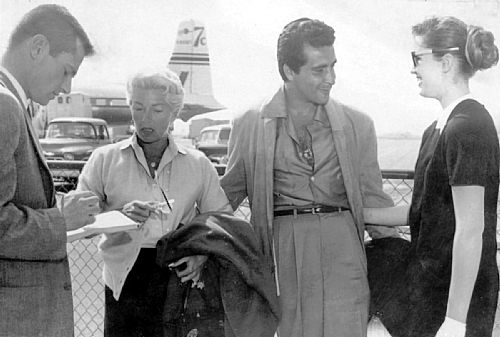 Airport Meeting - L to R - Unknown reporter, Lana, Johnny, Cheryl
The final breakup begins on Oscar Night. Nominated for a Best Actress award for her portrayal of Constance MacKenzie in Peyton Place (Joanne Woodward will win for The Three Faces of Eve), knowing MGM will not be pleased and that she will be the talk of the town if she shows up at the event with Mickey Cohen's notorious bodyguard at her side, Turner decides to leave Johnny at home in Beverly Hills and instead takes her daughter Cheryl to the ceremony. Alone, drinking while watching the event on television, growing jealous as his woman hobnobs with other celebrities, Stompanato gets angrier and angrier at his abandonment and by the time Turner arrives back at 730 North Bedford Drive (a new home for the couple and Cheryl) in the wee hours of March, 27th, the thug in his personality is ready rumble. Featuring yelling, screaming, slaps, punches, tears, thrown objects, accusations, and lots and lots of threats, the fight the couple has lasts for days before finally culminating on the evening of April, 4th ... a Good Friday that isn't good at all for Turner, her daughter, and especially, not for Stompanato.
Turner kissing Best Supporting Actor winner Red Buttons
Finally having had enough abuse, Turner demands Stompanato leave the house ... a decision that causes a brutish reaction in which the former Marine threatens to kill Turner, Turner's mother, and Turner's daughter ... the same daughter that can hear the fight from the other side of Turner's bedroom door. Having seen Stompanato in action before and thus fearing for her and her mother's lives, Crane runs downstairs and arms herself with the only weapon she can find, a large carving knife from the kitchen (a knife purchased just that day by Turner and Stompanato during a brief break in their battle). Returning upstairs, the teenager beats on the bedroom door until Turner finally lets her in, and there she finds Stompanato in the process of leaving, clothing and hangers in his hands and draped over his body, sliding past Turner towards the door. But to the frightened teenager's eyes it appears that Stompanato's upraised arm (holding a batch of heavy wooden hangers) is about the deliver a blow to her mother's head, and without discussion, Crane instantly reacts, stepping forward and punching her mother's boyfriend in his unprotected stomach ... with the hand holding the deadly carving knife. "Oh my God, Cheryl, what have you done?" Stompanato asks painfully, and then, with his last words released, he does a small twitching pirouette, gasps, falls to the floor and dies in Lana Turner's bedroom.
Bedroom Johnny
Everything MGM feared from the relationship and more, the death is front page news around the world ... as is its aftermath, a scandal that includes Mickey Cohen releasing to the press two hundred salacious love letters between Stompanato and Turner (courtesy of a burglary Cohen funds of the apartment his bodyguard keeps for the nights he is spatting with his love or seeking some new strange), Stompanato's burial in a cheap coffin provided by Cohen, a wrongful death lawsuit brought by Stompanato's family against Turner (it will be settled out-of-court for an undisclosed sum) and the very public coroner's inquest into the killing (of the 160 seats in the Hall of Records, the largest courtroom at time time in Beverly Hills, 120 will be reserved for the press).
Mickey says goodbye
Murder, manslaughter, or justifiable homicide, for her daughter's defense Turner of course hires the best representation money can buy ... Jerry Geisler, the famous celebrity lawyer with a resume already containing previous scandal victories for Charlie Chaplin and Errol Flynn.
Crane at her hearing
And it is money well spent, because after a series of witnesses testify, the lawyer orchestrates the jury into taking only thirty minutes to absolve Crane of the killing, ruling Stompanato's death a justifiable homicide. Crane goes free, but as she has done so many times on the silver screen, in real life too, the star of the inquest is Lana Turner. Testifying for her daughter, Turner appears in court in a form fitting grey silk dress suit, accentuated by white gloves and a stylish hat, hair impeccably coiffed, makeup perfect, and tells the wrenching story of her days and nights with Stompanato (twice she breaks down on the stand, and leaving court later is, on the verge of a total collapse) ... testimony that helps insure her daughter escaping charges and having the opportunity for a positive future. It is the performance of her lifetime!
Lana Turner - Movie Star Mommy In Court - 1958