11/7/1935 - Missing the adrenaline rush of taking down a big score, Alvin Karpis, Public Enemy #1, decides to rob the mail train ferrying payroll cash from the Cleveland Federal Reserve to Youngstown, Ohio, emulating the Wild West exploits of Jesse James, Butch Cassidy, and the Dalton boys.
Alvin "Creepy" Karpis
For the job, Karpis creates a new gang consisting of former Barker-Karpis Gang member Harry Campbell, a blackjack dealer from Toledo named Freddie Hunter, a 45-year-old bank robber named Ben Grayson, and a bar tending ex-con from McAlester Prison named John Brock.
Campbell
Hunter
Assignments practiced, at around 2:00 in the afternoon the men are in position around the Garrettsville, Ohio train station. Thirteen minutes later the men, armed with machine guns, spring into action when the mail train arrives. Hunter and Brock control the crowd of roughly sixty people at the station, Grayson watches the cab of the train, and Campbell and Karpis go after the money ... cowing the clerks to do as they're told by throwing an unlit stick of dynamite into the mail car and saying the next one will have its fuse burning. The robbery takes only five minutes to accomplish, but unfortunately for the outlaws, the payroll for the town of Youngstown's is missing ... their haul will only be $46,450 (money from several bags of registered mail the bandits steal and the payroll for a steel mill in the city of Warren), five times less than they were expecting to take!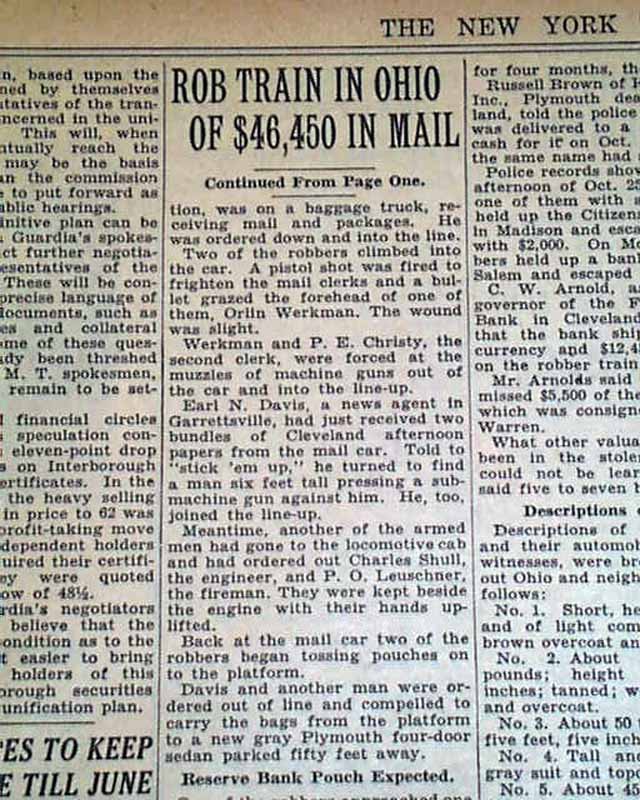 A return to the days of the Wild West, but the robbery is also a leap into the future, for after driving to the town of Port Clinton, Karpis makes his getaway in a red four-seat Stinson airplane flown by former bootlegger John Zetzer (purchased by Karpis before the caper for the sum of $1,700).
Stinson Reliant
The escape through flight however does not go nearly as well as the robbery had ... over southern Indiana the plane runs out of fuel and Zetzer is forced to land in a field outside of Evansville and hitchhike into town for forty-seven gallons of gas from a Standard Oil station, then aloft again, the same thing happens over Missouri. Sleeping in the plane, the next morning the winged outlaws make it to Memphis, and by lunchtime the next day they are safely back at their hideout in the city of Hot Springs, Arkansas.
At the top of its most wanted list, J. Edgar Hoover and his men have no idea that Alvin Karpis has masterminded the crime.