6/11/1962 - Horribly drowned or successfully free?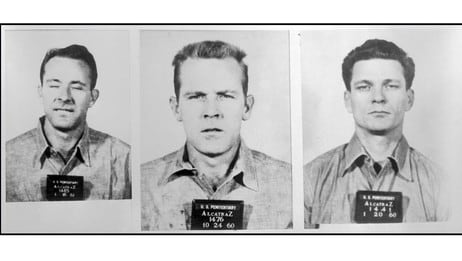 C. Anglin, J. Anglin, and Frank Lee Morris
After over two years of using smuggled kitchen utensils to chip away at cement near ventilation holes in their cells, and time also spent creating dummy heads made of soap, concrete, paint, and barbershop hair to fool passing guards, producing fake grills out of cardboard, and manufacturing life preservers from waterproof prison raincoats, Alcatraz convicts AZ1475 John Anglin, AZ1485 Clarence Anglin, and AZ1441 Frank Lee Morris (played by actor Clint Eastwood in the movie "Escape From Alcatraz"), exit their cages, climb up a utility corridor three stories to the top of their cellblock, force their way through a fan opening onto the roof, shimmey down a drainpipe, surmount a 15-foot fence of barbed wire, and escape into the chilly 54 degree waters of San Francisco Bay ... never to be seen again!
Escape head left as if sleeping in cell
Raincoat life preserver
Adios hole
Did they make it? At 7:15 the next morning the alarm is sounded and a massive search for the missing bank robbers begins in which police soon find remnants of a raincoat raft, a paddle, and personal effects of the Anglin's on Angel Island, two miles to the north of Alcatraz. A manhunt that lasts decades, in 1979 the trio is officially declared dead and the FBI closes it's books on the case, but in 1993 the U.S. Marshal's Service reopens the quest to locate the men when former Alcatraz inmate Thomas Kent tells Fox TV's "America's Most Wanted" that Clarence Anglin's girlfriend was meet the men and drive them to Mexico. Arrest warrants still open, planned by an inmate with a 133 IQ (Morris), Angel Island evidence, fellow inmate Clarence Carnes receiving a postcard with the code that meant the outlaws had made it (it reads simply. "Gone Fishing"), and a successful recreation of the swim on the TV show Mythbuster all point to the possibility that the Anglin's and Morris did what none of their fellow inmates could ... escaped from Alcatraz!